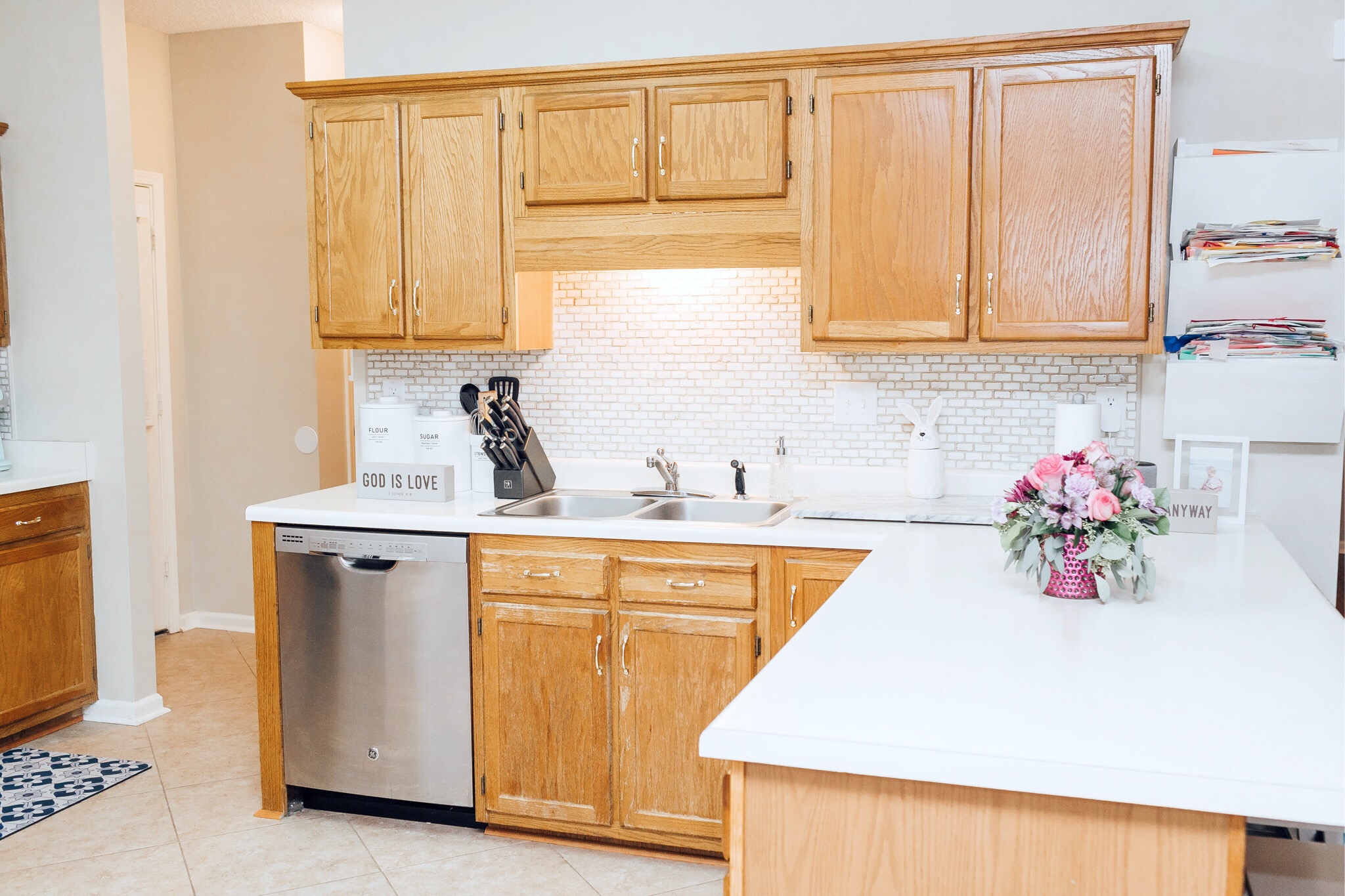 Come spring I am always ready to switch things up and update our home. I don't know if it's all the sitting indoors all winter long, but when spring gets here, I'm ready to make some changes in the house. If I'm going to be stir crazy in the house during all the cold and rainy weather, I might as well be indoors in a home I love! From house projects to spring decor to organizing and cleaning, I love making a little change at the house this time of year!
I'm not ready for any big projects at the moment, but that doesn't mean I can't still make a difference. It doesn't take a huge budget to update your home.
Even small projects like adding or updating a backsplash can really transform a room and give it new life.  America's Best Carpet & Tile in Memphis added this gorgeous backsplash in my kitchen last month, and it is amazing what a difference it makes in my home!
America's Best Carpet & Tile was founded by a local Memphian and has been serving the Mid-South area for nearly 30 years. They remain family-owned and operated and have the best customer service. They have a showroom in East Memphis with a variety of products on display, but they also offer free, in-home consultations and will bring samples to you for your convenience.
They came to my house after work one day last month and brought several samples of backsplashes for me to look at. It was SO convenient! I honestly only looked at this one sample, and I was sold. I knew it was THE perfect one for me! I love the pretty different shades of white and grey, and I picked out at light colored grout to brighten up the kitchen.
Aside from the convenience and the broad range of products that America's Best Carpet & Tile carries, one of my favorite features is that you can upload a photo of your room on their website here and see what various flooring would look like in your space. And their entire catalog is available to view online. You can easily request an appointment for a consultation online or by calling the store at (901)726-3000.
Other Ways to Update your Home on a Budget:
After adding a backsplash I decided to make a couple more small changes. I swapped my coffee table out for this silver one from Safavieh. I love the reflective silver and think it adds a little more visual interest in there. Before I had a white table, and I think it was just too much white in the room. Then I added a few new Easter decorations throughout the house from HomeCentric. Add some fresh blooms, and I feel like I have a whole new house. It's amazing what a difference a few inexpensive changes can make! Are you going to be making any updates in your house this spring? Have you thought about adding a backsplash?
PS: Loving these tips on how to update your home? Click here now for my recent living room update feature!