This back to school clothes shopping post is sponsored by Walmart, but all opinions are 100% my own. Thanks for helping me to support the brands I love.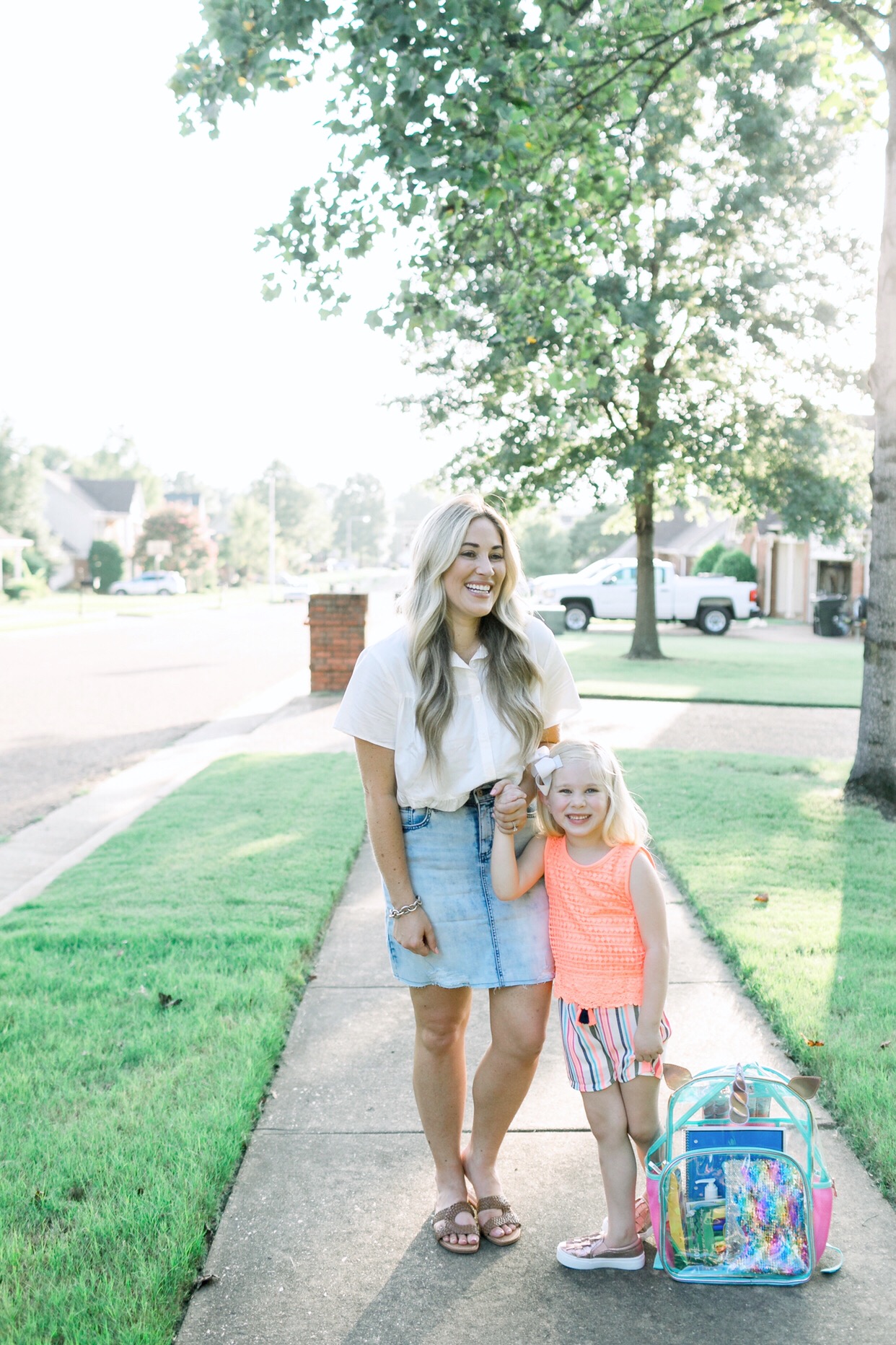 Shop Mine and Leighton's Back to School Looks:

I'm not ready for all the pool days, last minute summer getaways or long movie nights to be over yet! But…back to school will be here for most parents and kids in just a short week or two. I can't believe this is Leighton's last year before she starts kindergarten (and she will be 5 in just a couple months!)
If you didn't get your back to school clothes shopping done this past weekend (when it was tax-free in Tennessee), I'm going to be sharing some tips on how to save money today. On top of already low prices at Walmart, there are still some great tips to stretch your dollar even further.
5 Tips to Save Money on your Back to School Clothes Shopping
1.) Shop Online.
Walmart offers free shipping on most purchases over $35 and free returns so you might as well shop online! Heading to the store with kids in tow to do clothes shopping is just not always as productive as you want it to be. Leighton and I usually make it about 5 items in and she is asking for toys or saying she's hungry and ready to go. It's best to shop online or go by yourself. = )
2.) Size Up.
I always size up when shopping for Leighton. Too many times in the past I bought the cutest little top that fit her perfectly only for it to shrink up in the dryer and be too short or have her outgrow it in just a few weeks. I buy Leighton 5T and 6x right now, and she has a little extra room to grow in the torso and in her legs; it's perfect! And for these adorable little rose gold ruffle sneakers that are less than $13, we sized up one size to give her a little extra room with socks and to easily get them on and off. Now they'll fit all school year long!
3.). Check your Phone for Coupons or Check for Sales.
You can sign up to join Walmart's weekly newsletter list here. On top of their already low prices, they sometimes have additional sales or coupons you can use too, so make sure you keep an eye on the items you love. It's easiest for me to add my favorites to my shopping cart and track the price from there. Once Leighton's little short set went on sale, it was time to pull the trigger. Once I bought that along with these sneakers and the cutest little unicorn backpack, it all come to $35 and I got free shipping too!
4.) Buy Clothing Sets instead of Separates.
You can save so much more money by buying sets together instead of separately. Leighton's adorable little eyelet tank and shorts set comes in both peach and blue and is on sale for only $12! That is 2 pieces for $12 when one piece may sometimes cost almost that much alone!
They have always had such cute clothes for great prices, but they seriously carry some of my favorite brands now. I can always find something cute for Leighton from Wonder Nation, Disney Princess and Btween. And for me, I am IN LOVE with their Sofia Jeans and Time and Tru clothing collections.
Have you finished up all your back to school shopping yet? What are your best tips to stretch your dollar? Let me know in a comment below!
Shop My Back to School Clothing Picks:

Shop My School Supply Picks: