This No Kid Hungry campaign post is sponsored by Gordmans, but all opinions are 100% my own. Thanks for helping me to support the brands I love.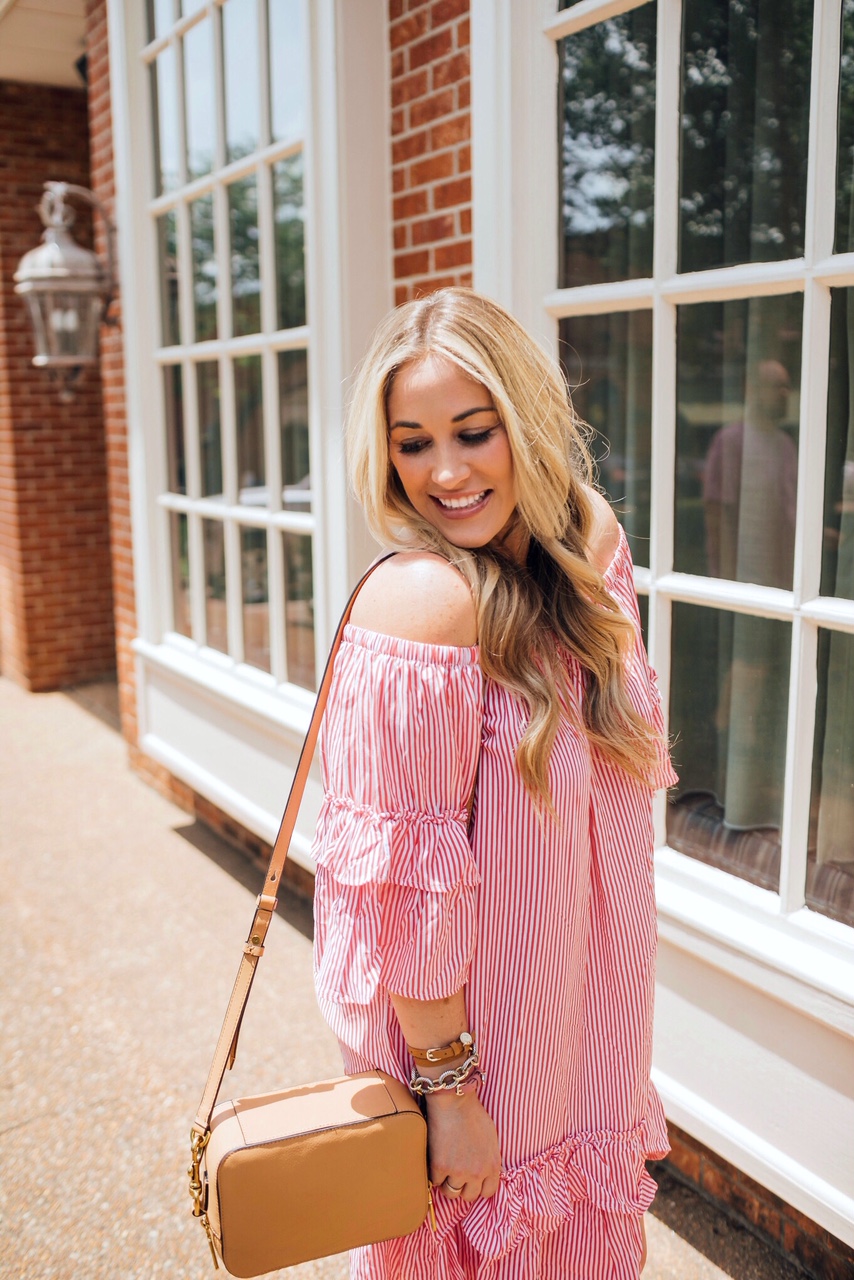 I have a few different passions, but my biggest has always been helping children in any way possible since I was just a kid myself.  From tutoring children to volunteering at the hospital to helping run fundraisers, it is something that has always been close to my heart.  And now that I have an almost 5 year old running around the house, it is even closer to my heart. I am a firm believer that there is ALWAYS a way we each can help – our time, our money, our mentoring.  Whatever your talent is, there is a way to use it for good.
You've heard me talk about how much Leighton and I love shopping at Gordmans many times (here, here and here.) It is a great one stop place for the entire family, homegoods and even food items. And it saves us SO much money! I scooped up this pretty striped dress recently and love the ruffle hem. I paired it with a denim jacket this day (not pictured), but it would also looks so good belted!
This summer, Gordmans not only wants to help us save money on clothing and essentials, but they also want to help children who really need it. Now through August 31, Gordmans is partnering with No Kid Hungry® organization to help raise awareness for childhood hunger.
Why Participate in the No Kid Hungry Campaign?
Right now, there are 13 million kids in the U.S. who struggle with hunger. Over half of public school students in the U.S are from low-income families, and 22 million rely on free or reduced-price school lunches. Through August 31, as you shop Gordmans, 50% of the retail sales from select items will be donated to the No Kid Hungry® organization. So while you're doing your back to school shopping this year, you can know that you can make a difference in the lives of other children too.
No Kid Hungry® knows how important good meals and education is, and they want to set kids up for success. So how can you get involved?? Shop a Gordmans store now through August 31 and buy participating products. 50% of the sales from these items will be donated to No Kid Hungry®.
You can also help online by posting a photo on your Instagram feed using the hashtag #FuelKidsFutures, and Gordmans will donate $1.00 for each post (up to $10,000!) .So whether you're shopping for a great outfit for yourself, your kids or family or stocking up on some home décor pieces, think about helping the No Kid Hungry campaign this month and next.
Will you be posting on Instagram or shopping in store to help the No Kid Hungry campaign? Let me know in a comment below!