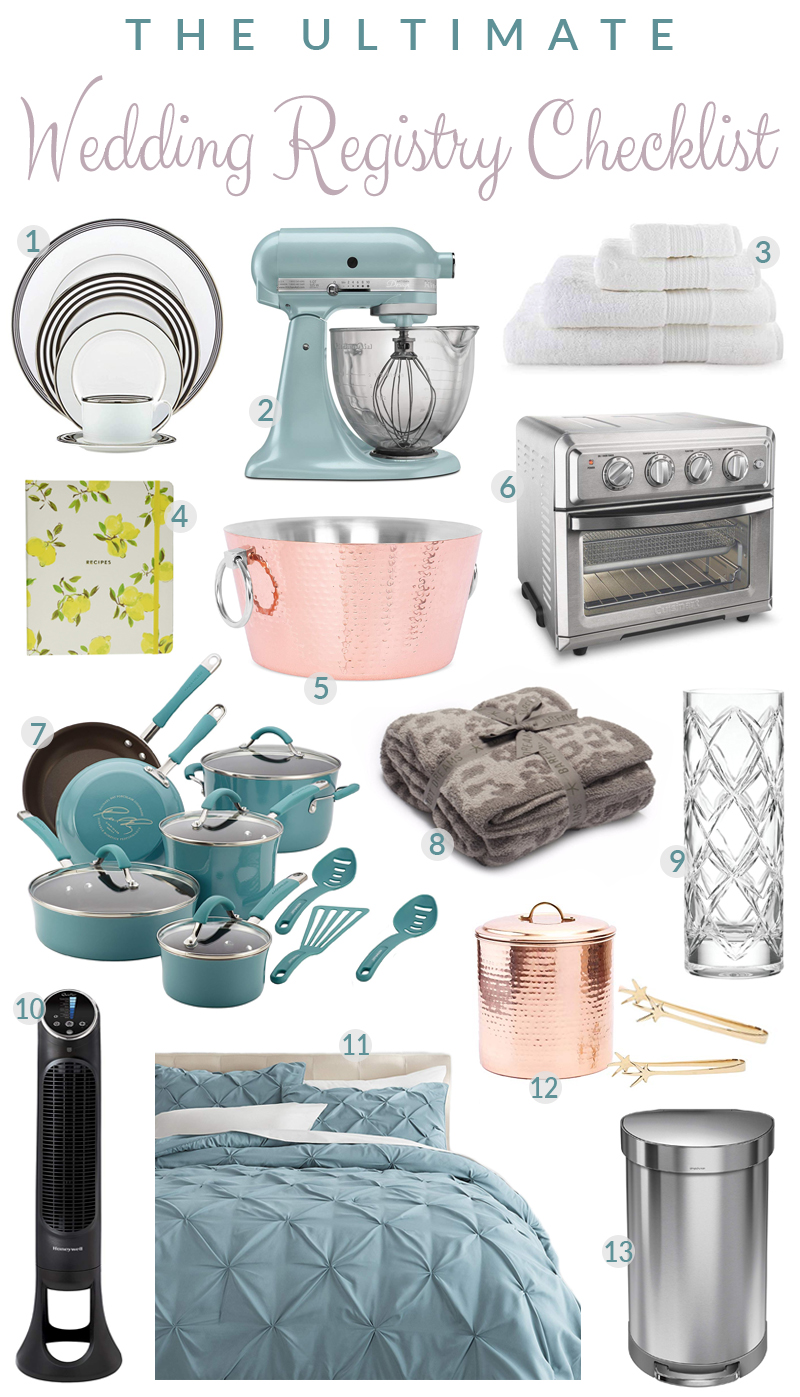 SHOP MY WEDDING REGISTRY CHECKLIST:

Our wedding day is just around the corner (only 38 days!), and I can't believe it's so close! I feel like I just announced to y'all that I was engaged, and now we're almost ready to say "I do"!
For those of you that have gotten married recently (or anytime really), you know that saying "yes" to that proposal comes with a lot more work than you ever knew!
In all the best ways, being engaged is a lot of work! You have to plan the wedding, pick the bridesmaids dresses, decide on your dress, wedding colors, location, food…the list seems never-ending.
To add to that, you also have to come up with a wedding registry for those that want to buy you gifts! This is both of our second weddings, so we aren't registering for anything, but that doesn't mean we don't have some of these on our list to get ourselves. : )
I always found a wedding registry to be so daunting. When you are starting this new life together with your husband-to-be, you have no idea of what you need and knowing where to start can be really challenging!
So I wanted to make that a little easier for those of you who may be going through this right now. I've assembled a list of just about everything you might want to think about putting on your wedding registry checklist!
The beauty of this wedding registry checklist is that you can totally make it your own. Take what you like and leave what you don't!
A Complete Wedding Registry Checklist:
Kitchen Electrics
The things that make our lives run so much smoother and more efficiently!
Blender
Hand mixer
Stand mixer
Coffee maker
Slow cooker
Toaster
Toaster oven
Can opener
Tableware
These things might not come out everyday but having them for all of those occasions when you'd want to pull them out is really nice!
Tablecloths
Place mats
Napkins
Napkin holders
Knife Sets
Never underestimate a really good knife! I've had too many bad knives in my life, and now I know better!
Knife block
Kitchen shears
Knife sharpener
Steak knives
Chef's knife
Pairing knife
Utility knife
Bread knife
Dinnerware
I think that a set of 8 is always a safe move!
Dinner plates
Salad plates
Cereal bowls
Salad bowl
Butter dish
Serving trays
Serving bowls
Salt and pepper shakers
Fine china
Glassware
Some of these aren't necessary if you're not big drinkers. But I definitely think that always having at least a couple beer mugs and wine glasses on hand is a good idea!
Coffee mugs
Beer mugs
Highballs
Shot glasses
Champagne flutes
Wine glasses.
Barware
A good hostess always has a well-stocked bar cart 😉
Coasters
Cocktail shaker
Wine fridge or rack
Ice bucket and tongs
Cookware
These are items you'll use just about every day!
Skillets
Sauce pans
Saute pans
Wok
Pot
Dutch oven
Griddle
Casserole dishes
Storage bowls with lids
Deviled eggs holder
Bakeware
For the many cookies, cakes, muffins and brownies you are sure to make at some point!
Cookie sheets
Cake pans
Muffin tins
Mixing bowls
Cake stand
Kitchen Tools
These are essential! You're definitely going to want to add most, if not all of these to your list for sure!
Pot holders
Trivets
Spatula Flipper
Sauce spoons
Whisks
Measuring spoons & measuring cups
Tongs
Graters & peelers
Pizza cutter
Garlic press
Slotted spoon
Basting brush
Utensil holder
Colander
Cutting board
Apron
Dishtowels
Trash can
Soap dispenser
Paper towel holder
Furniture
You may already have a lot of this, but definitely keep these in mind!
Patio furniture
Kitchen table and chairs
Dining room table and chairs
Bed & mattresses
Nightstands
Console table
TV stand
Couch
Accent chairs & ottomans
Desk & desk chair
Rugs
Light fixtures
Fans
Bedding
Is there anything better than fresh bedding to tuck into at night?
Mattress pad
Comforter/Duvet cover
Duvet
Sheet sets
Pillows
Blankets
Storage baskets
Laundry basket
Bath
Registering for about 6-10 of each kind of towel is a safe bet, I think! You can never have too many towels!
Hand towels
Wash cloths
Scale
Bath mat
Shower curtain & shower curtain liner
Lighted mirror
Home Decor
These are some of those most fun things for me to gift at showers, personally! It's so fun to be able to gift a little personal touch to the bride and groom!
Lamps
Picture frames
Vases
Electronics
Clocks
Art
Mirrors
Candles
Which of these items made it on your wedding registry checklist, and which were your favorites? Let me know in a comment below!