This weekend in Tulsa OK post is sponsored by avid hotels, by IHG , but all opinions are 100% my own. Thanks for helping me to support the brands I love.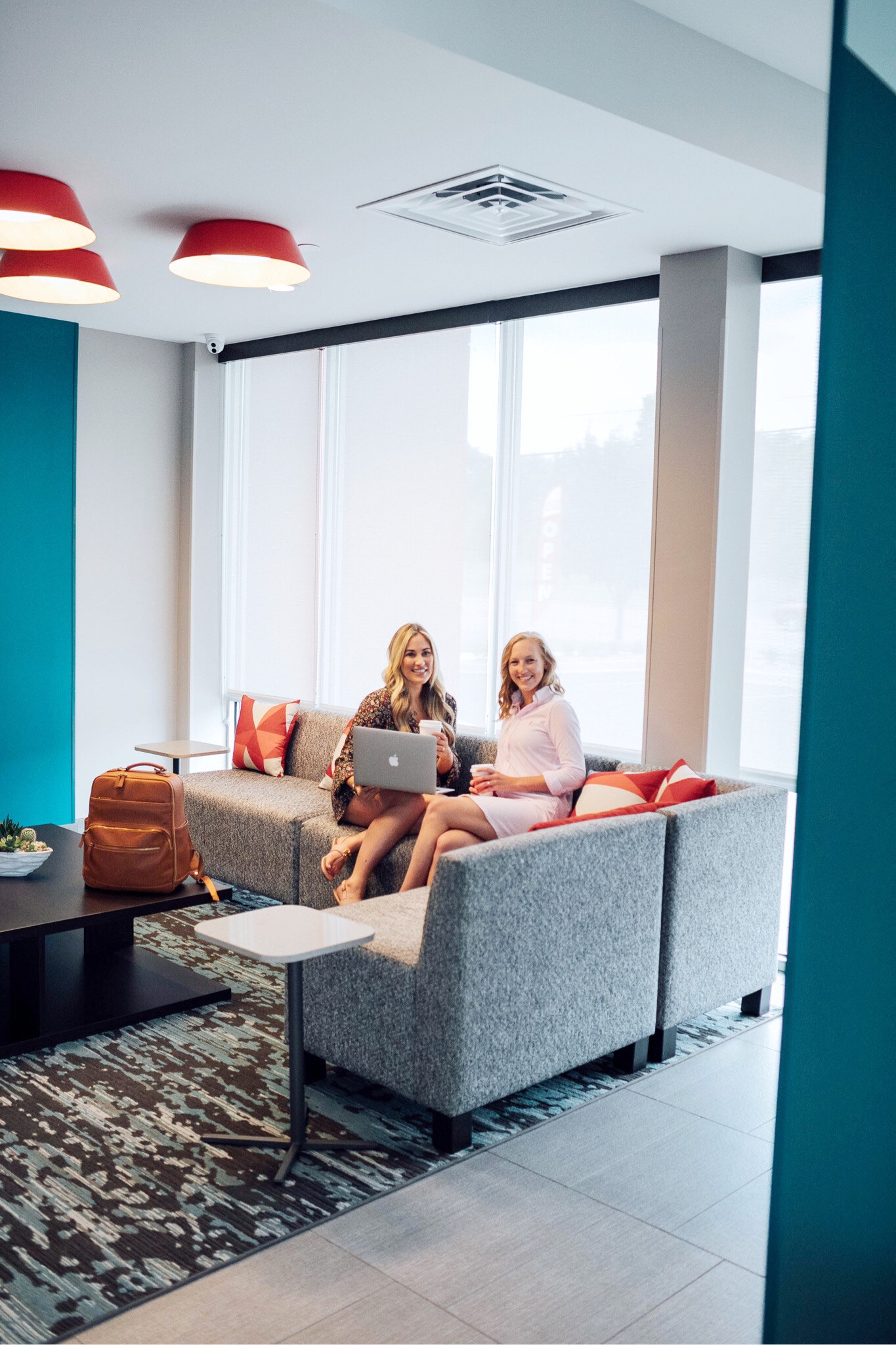 Shop my Tulsa OK Look:

It's no secret that Matt lives in Tulsa, so I spend a decent amount of time there some weekends. In case you didn't know, my amazing assistant, Noelle from Happy Hotalings, also lives nearby. So it's a win win when I'm in Oklahoma!
As long as I've been traveling to Oklahoma over the years for work, I realized I haven't shared a post on my favorite things to do there in almost 3 years! It's time for an update on some of my favorite ways to spend the weekend in Tulsa. = )
The Best Things to Do on a Weekend in Tulsa OK:
Turkey Mountain has been a favorite of mine for a while now, and Matt and I have hiked there together several times. Turkey Mountain encompasses over 300 acres by the river. Most of it is hilly and covered through the woods, but there are also some flatter trails out in the open too. Whether you like to bike, run or hike, it's really a hidden gem right there in Tulsa!
I am so glad that Matt and I finally got to go to Gathering Place a couple weekends ago with Noelle, her husband Ryan and their daughter Macie. This place is AMAZING! My only regret was that Leighton was at her dad's that weekend. She would have LOVED it so much! Next time we go back to Tulsa, we are adding that to our list!
Gathering Place just opened last fall and is 100 acres along the Arkansas River that was created to bring people together in the outdoors. It consists of kayaking, playgrounds, a splash pad, a skatepark, trails and even a sand area for the kids to play in. Basically when I take Leighton, we will be there from sun up to sun down! There is SO much to do there! They also have some great indoor areas and food and drinks too. Come and plan to spend the entire day there; you easily can!
Matt and I had been dying to try out Doc's ever since my blogger friend Thuy recommended it to us a while back. We decided to eat dinner there Saturday night with Noelle and her family. It was SO good! We started with oysters – raw and char-grilled. They were amazing! So amazing that we ordered a few dozen! Granted, it was happy hour so they were on special. = )
The restaurant had such a great atmosphere, a cute little bar and an outdoor patio with a great view of Peoria. This is definitely one of our new favorite spots in Tulsa to eat for brunch or dinner!
4.) Catch a baseball game at ONEOK Field.
I don't know what it is, but every time I'm in Tennessee, the Memphis Redbirds are playing in Oklahoma, and when I'm in Oklahoma, they are playing in Tennessee. Somehow I just barely miss a good baseball game every weekend, but watching the Drillers play is on my list! It would be a great date night or a day out with the kids, and we will definitely be adding it to our list soon!
This hotel ya'll! I couldn't believe how awesome it was! From the moment you got there, it was all about convenience and usable space. There was no place to pull up to the door to drop off your luggage and check in because all the parking is just right there by the door. All of the spots were so close, so no worrying about having to pull up and wait for a spot by the door to get out and unload. Just park and go.
When you walk in, the lobby area was a lot bigger than I thought it would be, but it wasn't just empty, wasted space. There were tons of couches, chairs and benches for people and families to lounge on and gather. The tables had outlets in them so people could work on their labtops in the open space or sit down and grab a good breakfast or something quick from the healthy grab and go selection.
When I made it to the room at avid hotels, by IHG, I was shocked at the size of the room too! It was big, bright, open and modern. There was open storage right there in the room to put your luggage on or hang up your clothing on. The bathroom was just as big and open and had shampoo, conditioner and body wash dispensers in there…so nice for busy moms on the go or when traveling with kids! Just one less thing you have to remember to pack, put in the shower with you or request more of when your toddler decides to dump the entire bottle out. = )
There was a fitness room too that I wish I would have had enough room to visit. It was SO nice with free weights, machines, medicine balls, stability balls and kettlebells.
Right now there are 10 avid hotels, by IHG and several more are opening up this year. If you are looking for a nice hotel that has comfy beds, pays attention to details and is a steal of a price (I paid less than $100 with tax included per night!), you will definitely want to check out avid hotels, by IHG.
What about you? Have you ever spent a weekend in Tulsa OK? If so, what were your favorite things to do? Let me know in a comment below!