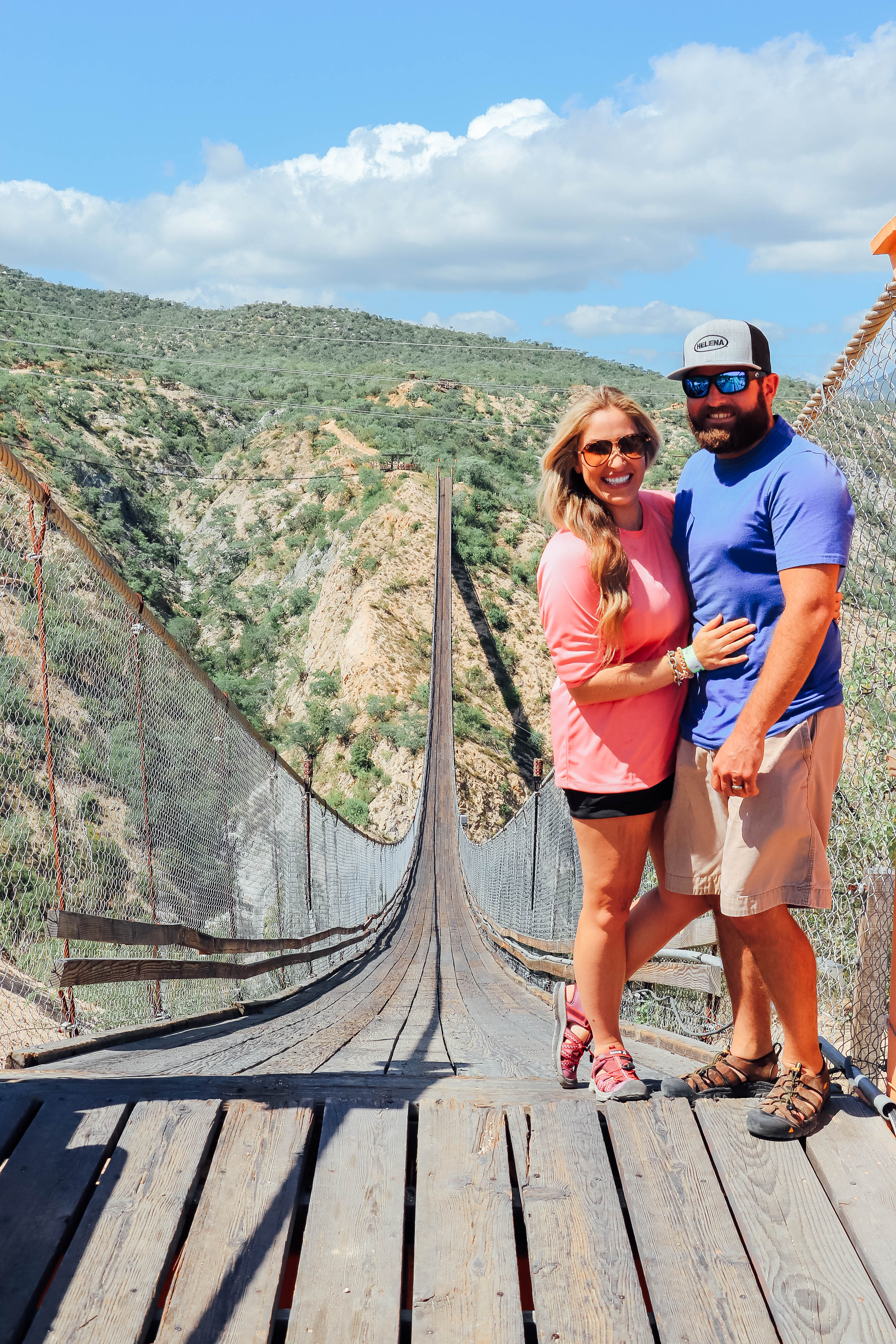 SHOP OUR LOOKS:

How has it already been about 3 weeks since Matt and I got back from our Cabo San Lucas honeymoon??
Goodness do I miss that trip already and wish we could do it again! They say it all goes by fast – the wedding, the honeymoon, and it sure does! This was my second time to go to Cabo and Matt's first, and we had the best time I've ever had in Cabo! Cabo is so dreamy, the resort was awesome, the food was to die for, and the company made it even more magical. I'm excited to FINALLY be sharing about our trip below!
Where to Eat on your Cabo San Lucas Honeymoon:
Edith's – One of our absolute favorites while we were there, Edith's is a fusion of Baja California with a Guerreran (Guerrero is a Mexican state on the coast) flare. Edith's features delicious local ingredients, steaks and seafood that you are definitely going to love! Matt and I even got the special privilege of being serenaded by a wonderful little mariachi band!
We got the Tomahawk steak and lobster, and they were absolutely incredible. The restaurant is over by the water in downtown Cabo on a cute little street on a hill. The vibe when you walk in is so unique. And I love that you can see the grill when you walk in and watch them cook your own steak from your seat at your table. The staff there was amazing, and seriously the food was some of the best we had in Cabo! You will definitely want to add Edith's to your list!
Sunset Monalisa – Sunset Monalisa is a super unique restaurant. It is carved into a cliff overlooking the bay. It was directly next-door to our hotel, so it was perfect to just walk there for dinner, and we did just that 2 different nights of our trip. Sunset Monalisa is dubbed one of "The 5 Coolest Restaurants in the World", and it's no wonder why. They serve really delicious and unique Mediterranean cuisine. Our experience here was so romantic and we loved it!
We had steak and fish, and the other night we both got a charcuterie board for an appetizer and pizza. We even got to meet the restaurant's agronomist the last night and take a look at several planets and the moon. It was such a cool experience! If you're looking for amazing steak, seafood or Italian food with a unique experience and a great view, Sunset Monalisa is just that!
Where to Drink on your Cabo San Lucas Honeymoon:
Cabo Wabo – Cabo Wabo is a super popular cantina throughout Mexico and the world. It's also a popular place to eat and party. October is a big month since it's Sammy Hagar's birthday. When we were there, it wasn't quite peak season yet (we planned that on purpose!), so it was nice getting to check out the restaurant, get some street tacos, drink some Miami vices and just relax downtown. Cabo Wabo has a really fun envirionment! It's colorful and vibrant and full of life, and it's just one of those places you just have to cross off your list.
The Giggling Marlin – The Giggling Marlin was opened in 1984 and used to be the only bar in all of Cabo San Lucas! Cabo now has over about 400 bars and restaurants, but The Giggling Marlin continues to be one of the top places to be! From the quiet of breakfast to the busy-ness of dinner and the night life, this bar is full of nothing but fun and adventure! Since we were there in off-season, it wasn't crowded at all which was super nice! We stopped to have a drink and of course we just had to have a picture! It's a must when you're in Cabo!
Cachet Beach Club – If you've decided that you've had enough of the craziness that the touristy Cabo bars can bring, kick back and relax at this exclusive haven! They've got a full-service bar and kitchen with some really great daily specials at breakfast, lunch and dinner. At the beach club you can enjoy drinks poolside, beach side or just soaking up the sun in a lounge chair! This was a really great little oasis for us after some of the adventures we had. We stopped by one night after dinner at Edith's since it was just right down the street. It overlooked the water and had such a nice cool vibe and a pretty outdoor bar.
Where to Stay for your Cabo San Lucas Honeymoon:
The Cape – The Cape is a Thompson hotel, and it is absolutely stunning. I had stayed here before, and the moment I told Matt about this gorgeous hotel, we just knew we had to go together! We had the panoramic view room with binoculars and a breathtaking view of the arch. Our room was gorgeous, and honestly the entire hotel was.
The food at every restaurant at the Cape was amazing, the drinks at the swim up bar were so good, the coffee at the coffee shop was just awesome! The staff was so friendly and helpful all week long! If you head over to my Instagram highlights, you can check out the room tour that I recorded while we were there! I already wish we were back there now!
Things to Do in your Cabo San Lucas Honeymoon:
Stand up Paddle Boarding – High Tide, a company based in Cabo San Lucas has a ton of really fun and exciting tours and adventures to offer, and we took advantage of a few while we were there. High Tide's offers so many different activities, but stand up paddle boarding was our favorite! I had been before, and this was Matt's first time. He was such a natural, and we had the best time! We got to paddle all the way up to the Arch, get some pictures and then paddle back. It was quite the view and workout too!
Snorkeling – On the way back from paddle boarding, we stopped and did a little snorkeling for about half an hour. There were SO many pretty and colorful fish! It was so neat getting to see them up close. Matt and I had both snorkeled before, but it was our first experience together, and we definitely plan to do it again soon!
Hiking – Cabo is actually very hilly and mountainous and is the perfect place to do some hiking. They have so many great trails, but we decided to do our hiking right by our hotel over the rocks. We wore our hiking water shoes, and it was the perfect activity to do before hitting the pool. Definitely pack water though! It is hot, but just cool down in the water afterwards.
ATV Tour with Wild Canyon – Matt and I were totally in our element on the ATVs! Both being from the country, we know a thing or two about 4-wheeling. We both grew up doing a lot of that, and so this was just a really fun, laid-back experience for us both! We rode on trails and along the beach, and it was so pretty. We even stopped at the beach for some beautiful views, and it was totally worth it! My favorite part was definitely going across the longest wooden bridge in the world. I would ride 4-wheelers again there just to go across the bridge!
Pedicab Tour Downtown – There are a couple different companies that can take you for a pedicab tour downtown, and I highly recommend them. If you're heading into the downtown area, there will be no shortage of options. For less than $50, you can ride around downtown and get a tour of the pier, some great shops, landmarks, hotels and restaurants and other insider knowledge along the way. This was one of our favorite parts of our trip to Cabo!
What about you? Have you ever been to Cabo San Lucas? What are your must see and must do things? Let me know in a comment below!