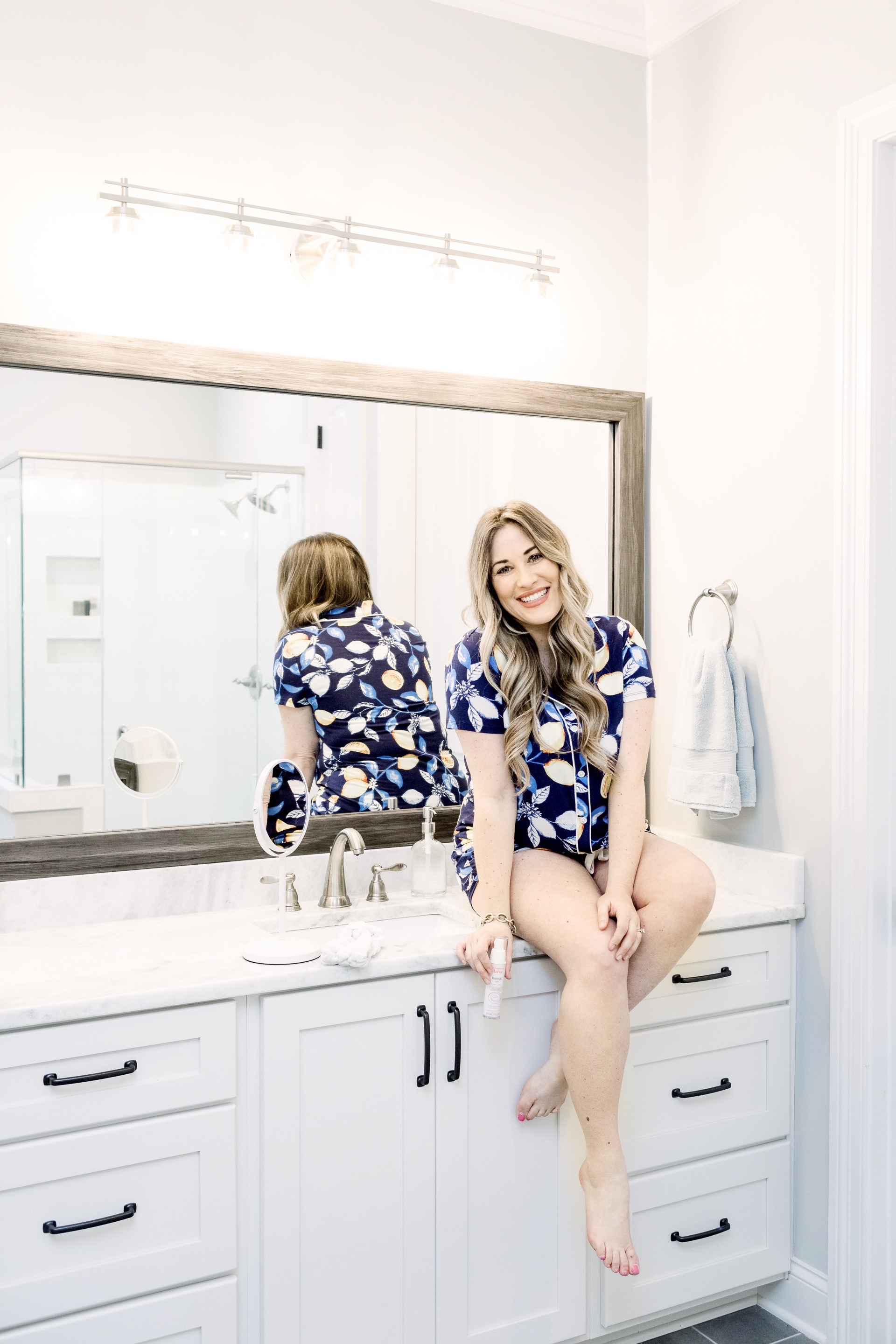 If y'all are anything like me, you are used to going to a salon where they specialize in taking care of skin. I have a skin care routine that I use each night, but I do love my visits to my favorite salon (Ivy Spa & Wellness!) for a treatment.
Y'all know I'm no stranger to Botox and have gotten a few treatments (you can find them here, here and here!) Since salons are closed for now, I've been missing out on my Botox treatments, and I have been looking for more ways to care for my skin.
When you're wearing a mask, constantly sanitizing and washing your hands, it can be hard to know how to care for some of those "hot spots" that can be affected by all of these quarantine measures. So today, I'm sharing some tips on how you can care for your skin at home!
How to Take Care of your Skin At Home:
Something I noticed immediately when all of this started was that I was washing my hands more often, and my skin was getting so dry! The trick to keeping your hands moisturized after constant hand washing is having a great moisturizer. My personal favorite is the Lait Hydratant Detox
Regenerating, Hydrating Body Milk. It goes on really smooth and does an amazing job of keeping your hands from drying out!
#2: Find Yourself a Facial Kit
Needing a facial at home? Ivy Spa & Wellness can ship an at-home facial kit right to your door! You can choose between their Antioxidant Pick-Up and Glow facial kit or their Fresh Future & Radiance Kit. You can find the descriptions of each kit right here. Once you decide which kit you'd like, just send an email over to Ivy and they will get one shipped out for you!
These are a really fun way to pamper yourself at home and get some me time!
#3: Use the Right Cleanser for your Face
Washing our faces is so important, but something you might not know is that there are a variety of cleansers for different skin types. You want to make sure you aren't using a cleanser that is drying out your skin if it's already dry, or on the flip side, one that tells your pores to create more oil if you already have oily skin.
If you're unsure if you're using the right type of cleanser for your face, shoot an email over to ivyspawellness1@ivyspwellness.com and schedule a virtual consultation and let them help you find the right products for your skin!
#4: Help Reduce and Prevent Wrinkles with a Retinol Cream
My personal favorite cream is the Avène RetrinAL DAY Cream. This cream is full of antioxidants that can help to restore your skins resiliency and elasticity, helping to keep you looking more refreshed. If you're a mama, looking more refreshed is what we're all looking for, am I right?
#5: Protect your Face from the Sun
While we're all at home, we may be spending more time outdoors. That means more sun exposure. When you're outside, be sure you're lathering up with a really good sunscreen (be sure to use a face-specific SPF for your face!) My favorite sunscreen for my face is this one by Tula. As for a sunscreen for the rest of my body, I'm a big fan of this spray sunscreen by Coola!
Another great, super easy tip is to wear a great hat! One of my favorite sun hats is this wide-brimmed floppy hat from Nordstrom I also love a good baseball cap, and my personal favorite right now is this adorable monogrammed baseball cap from Marley Lilly.
#6: Get some Rest
I know, I know…cue the eye-rolls from all the moms out there. It can be tough to get extra rest when you've got littles running around. But, it's seriously good for your skin, I swear. So when time allows, sneak in a little nap, head to bed a little earlier and yes…maybe even try to sleep in a few times a week if your kids will let you!
While you're getting that rest, I high recommend trying out a silk pillowcase! It keeps your face looking refreshed and it helps your skin retain moisture! You can grab this pretty one from Amazon!
#7: Exercise Regularly
When you exercise, your body is getting extra blood-flow to your skin, allowing it to stay clear of toxins. Exercising on a regular basis also reduces stress. Stress can take a toll on your skin as well (who knew?!)
So whether it be yoga, jogging, or even just a solid walk each day, get plenty of exercise in whatever way you can!
#8: Drink More Water
Going along with exercise, make sure you're getting enough water in you! Dehydration is a known cause for dry and cracked skin. It can also contribute to dark under-eye circles and even acne.
Water feeds your skin from the inside, and it keeps it looking clear and clean! I really like carrying around a cute water bottle to remind me to drink my water. Since I'm expecting, it's even more important for me to ensure I'm drinking enough water, and this cute bottle from Swell is one of my favorites to keep your water cold. And this one motivates you to drink more water and let's you know how much you've drank!
#9: Try not to Touch your Face
Y'all have probably been hearing this super frequently with COVID-19 afoot. It really is a good tip though. Our hands can harbor all kinds of germs and nasties and you definitely don't want that on or near your face.
You also want to try as much as possible not to pick at your skin. No matter how tempting it might be to pop that pimple, it's better to just leave it. Try to fight any acne or other spots that pop up with a good cleanser!
#10: Book an Online/Virtual Consultation with Ivy Spa & Wellness
If you're still struggling with your skin, email ivyspawellness1@ivyspwellness.com and book a consultation. The staff are all super sweet over at Ivy Spa & Wellness, and they are always happy to help with whatever skin concerns you might have!
And, if you're local to the Memphis area, you can book an in-person visit for the future one they open back up or pick up a gift certificate for a future visit as well!
What are some of y'alls best tips for taking care of your skin at home? Let me know!