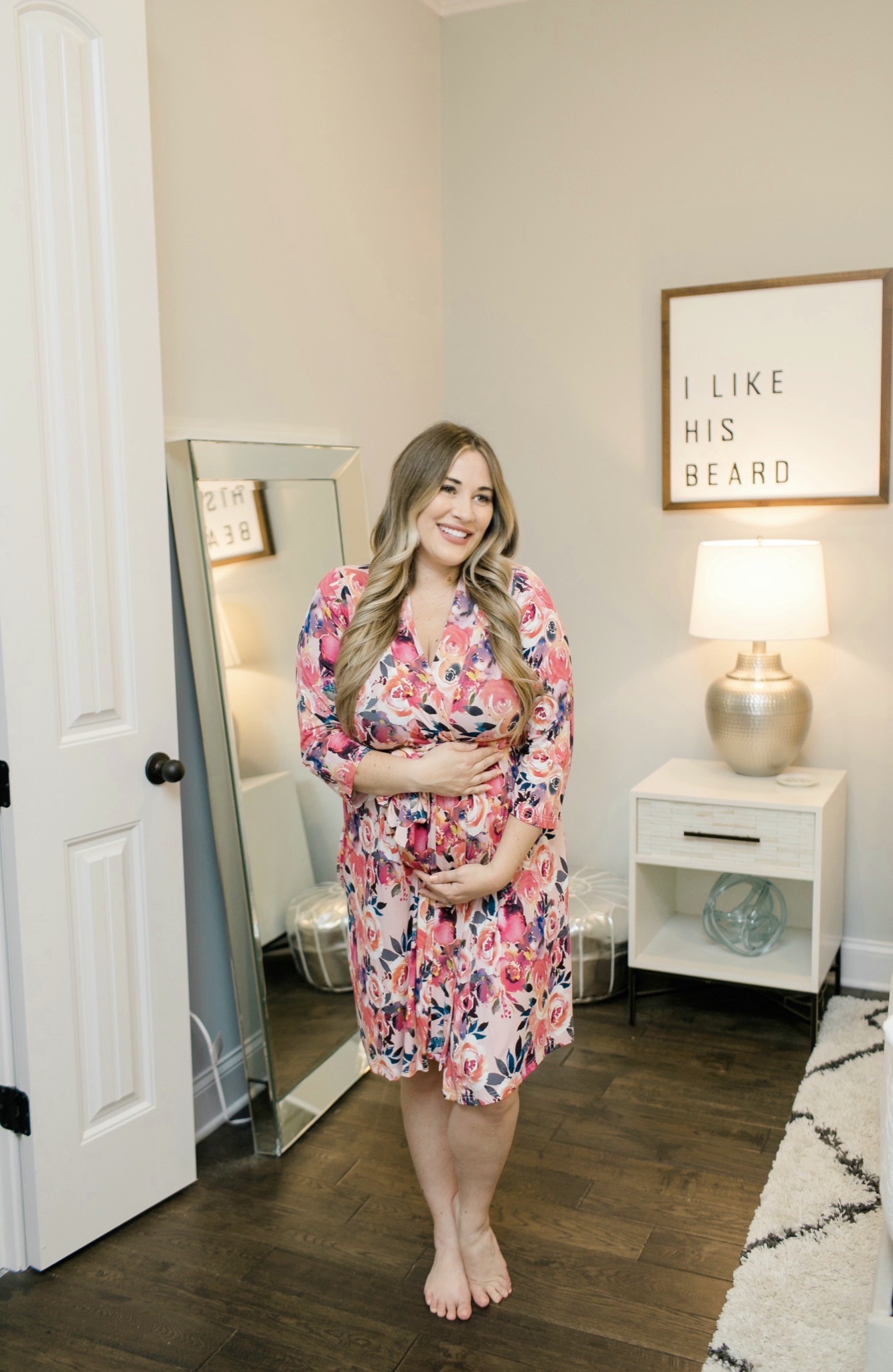 SHOP MY SECOND TRIMESTER LOOK:

In true Laura fashion, we are almost a month into the third trimester, and I'm finally sharing my third trimester bumpdate. It happens! = ) I can honestly say the second trimester went SOOOOOOO much faster than the first (thank goodness!)
If you missed my first trimester bumpdate, you can catch it here, our pregnancy announcement post and pictures here and our gender reveal announcement and pictures here We only have a couple short months left to go, and I think the reality is sinking in. I felt like I was SO on top of everything, and now I'm sitting here with 2 months left wondering when I am ever going to get the nursery decorated lol!
I've been feeling so great that I've been focusing a lot on work, Leighton starting kindergarten and other things that I got behind on in the first trimester. Now, it's time to focus on the baby's room this month!
Second Trimester of Pregnancy: Weeks 13-16
More morning sickness. It didn't get better; it actually got worse. It lasted all day long with headaches, dizziness, exhaustion and not feeling like I could eat or drink anything, eek! And the acid reflux continued. The good news is that the morning sickness is gone now, woohoo!
Second Trimester of Pregnancy: Weeks 17-20
All of a sudden one day, I woke up and I felt okay. It was the first time in months, and I was almost scared to get my hopes up. The acid reflux is still here to stay for now, but that is absolutely nothing compared to morning sickness all day and night. The acid reflux tends to be worse right after I eat or drink, when I lay down to go to bed, in the middle of the night when I get up and in the morning when I wake up.
I'm back to sleeping more like a normal person, meaning I go to bed at a normal time and get up at 6:00am without naps and without feeling like death when I wake up. I have plenty of energy, and it's been great! This was perfect timing with work picking up, Leighton starting school, some travel we had planned and it getting hotter and more humid in Memphis
At our 3rd ultrasound appointment, we were told that they suspected a VSD which is basically a hole in one of the chambers of the heart. We were trying to stay calm, but it was so hard. We were referred to a high risk doctor and had our first appointment in a month. I 'm sure you can imagine how slowly that month went!
Second Trimester of Pregnancy: Weeks 21-26
A month later, we had our first doctor appointment with our new high risk doctor. After the longest ultrasound of my life, we were told with pretty good certainty that they don't see anything that would lead them to believe that Baby Grayson will have a VSD. Thank goodness! We had been praying for a month, and it felt so good to make it past that hump and have a little relief.
Sleep is starting to get a little harder at night. I am currently still sleeping on my stomach and my side, but I'm sure the stomach sleeping won't last much longer! I toss and turn a little more, but it hasn't been too bad yet! With Leighton, I remember the last 2 months being the hardest (I never had morning sickness with her though), so I expect to feel a little more tired and ready for baby to be here these next couple months.
Up to this point, I had gained 16 pounds, which is right on track for 1-2 pounds a month in the second trimester. It feels so good to finally have an appetite and be able to eat food and drink something without feeling sick all day. Now…the countdown is on!
What about you? What was your second trimester like? How many kids do you have? Do you want anymore? Let me know in a comment below!