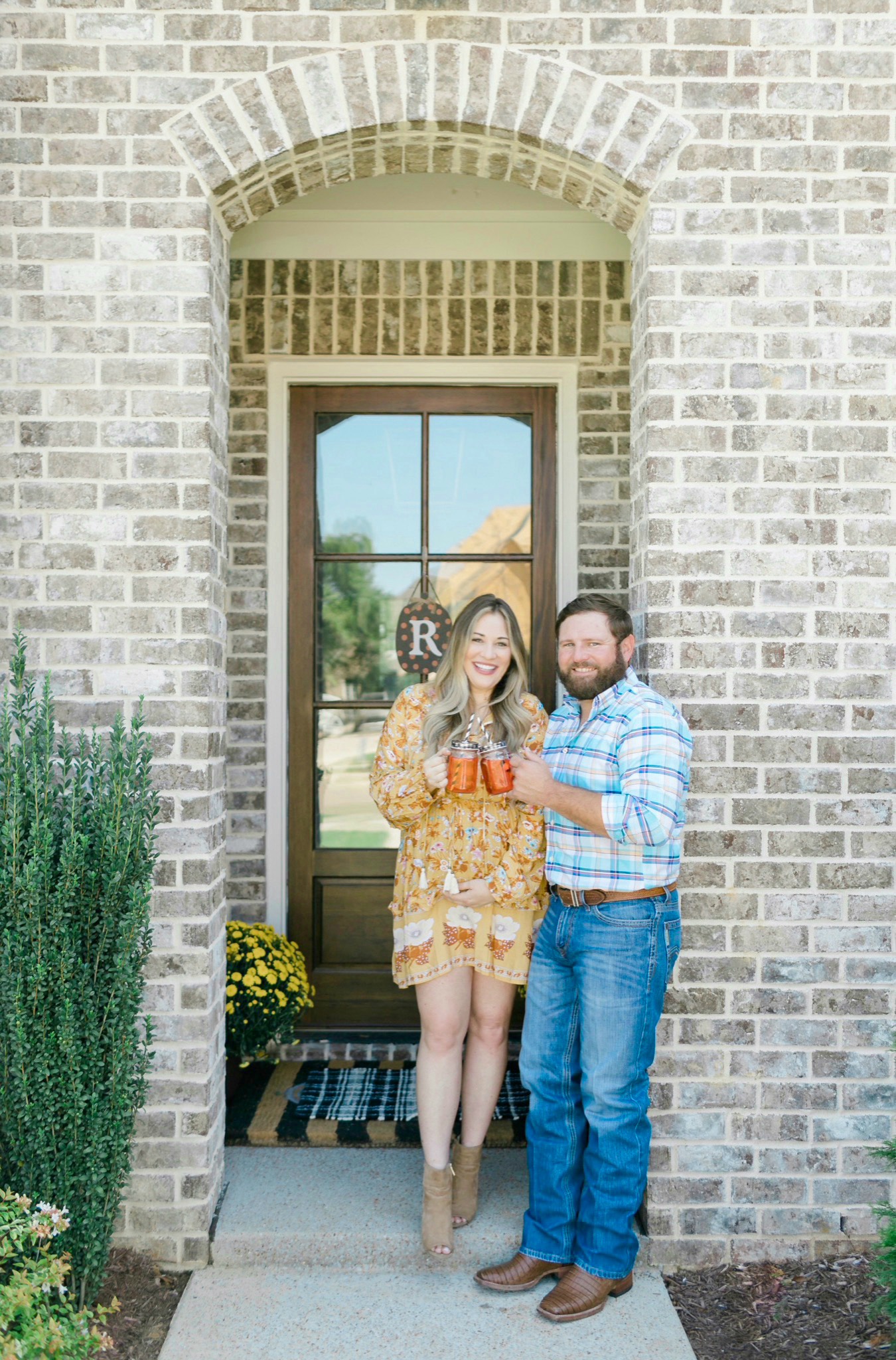 SHOP MY FALL LOOK:

With Halloween this weekend, you may be looking for new and different ways to celebrate. We are actually going to my sister's house to cook and watch Halloween movies together. If you're like us, and staying in this year, I've got the perfect Halloween treat ideas to make with your family or friends! Don't worry, the drink can be made alcoholic for the adults or non-alcoholic for the kids. = )
Scroll down for the recipes!
Fun Family Halloween Treat Ideas:
Witch Hat Peanut Butter Cookies
Ingredient List:
Peanut Butter Cookie Mix ( I used Betty Crocker.)
Frosting (I used Betty Crocker Cream Cheese Frosting.)
Sprinkles (you can get just purple or green, but I used rainbow colors.)
Food Coloring (I used orange.)
Hershey's Kisses
Directions:
Cook peanut butter cookies as package instructs.
Mix orange (purple or green would be cute too) food coloring with icing. Use a plastic bag with small hole cut out of the end to apply icing onto tops of cookies or you can smear it on with a small knife.
Apply sprinkles on top of the icing.
Press a Hershey's kiss onto the middle of the cookie.
Enjoy your tummy witch hat cookies! 🧙‍♀️
Candy Corn Punch (non-alcoholic version)
Ingredients & Directions:
1/3 Fanta Orange Drink
1/3 Pineapple Juice
Add whipped cream and candy corn for kids!
Spooky Halloween Cocktail (alcoholic version)
Ingredients & Directions:
1 can of Fanta Orange Drink
1.5oz of Vodka
Add red food coloring for blood effect if you want.
Top with lemon or lime zest or fake eyeballs for a fun festive drink!
The cookies were SO good! And you can never go wrong with a festive drink. If you're making the drinks for the kids, tip, add orange sherbet, yum! It is sure to be a hit! If you end up trying either, let me know what you think!