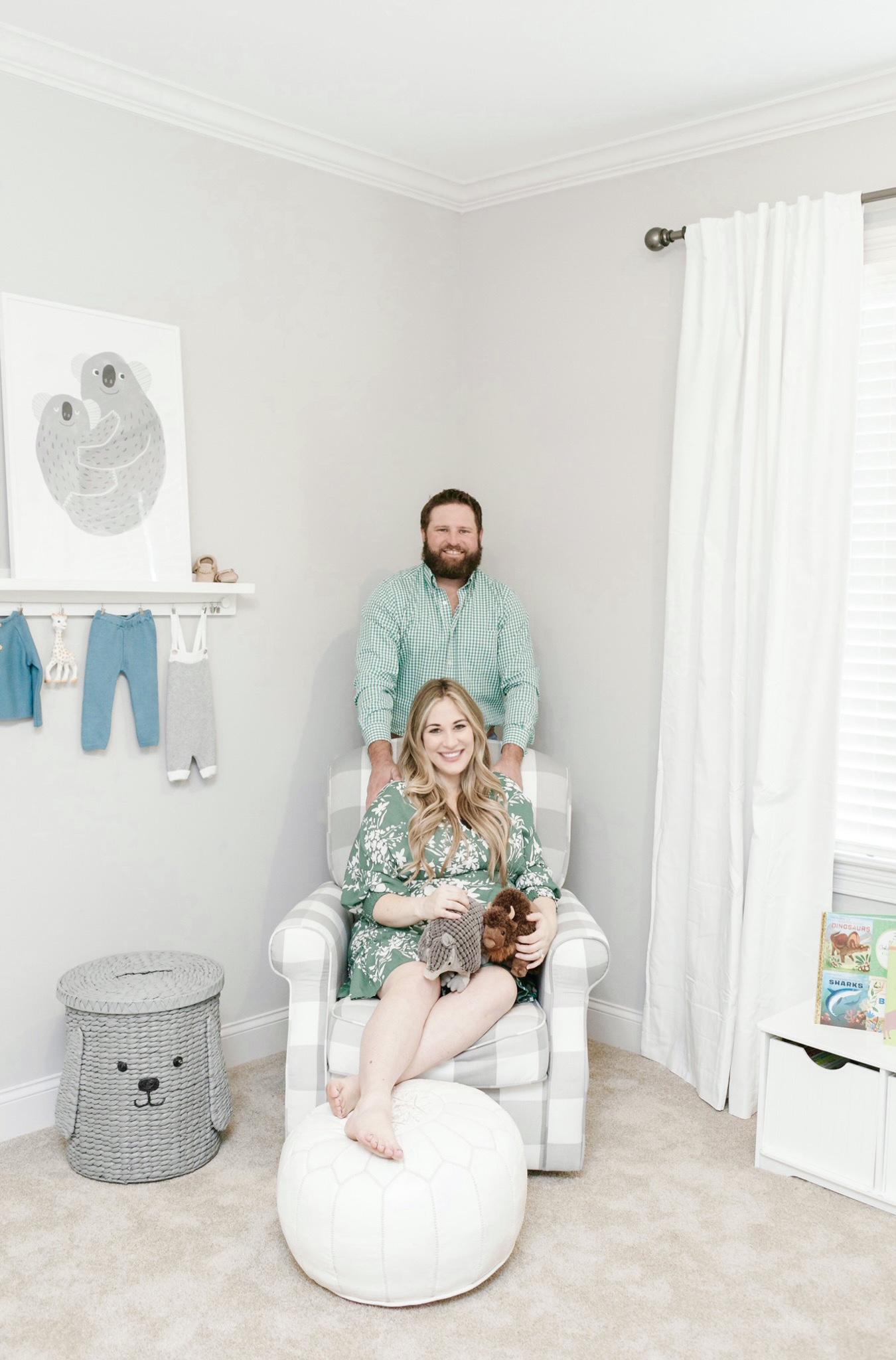 SHOP THESE MODERN FARMHOUSE NURSERY IDEAS:

I am SO excited to finally share Baby Grayson's farmhouse nursery with y'all!
Just when I was beginning to think it was never going to come together lol! I still want to find the perfect rug, get a chest, some more shelves and hang up more pictures, it is good enough for now! Considering he won't even be sleeping in his own room for a bit, I am SO happy with how it turned out so far!
When we started decorating Grayson's nursery, the first thing we started with was the crib. I immediately knew I wanted a grey crib. Once I saw this one, I fell in love with it. It is such a nice, sturdy, classic looking crib. After we picked out the crib, we decided on this coordinating dresser. It's a good size too to hold plenty of clothes and blankets!
I also knew pretty early on that I wanted a neutral, monochromatic look to go with the farmhouse nursery theme. I'm not super big on very specific themes in nurseries, and I like something that can last for years without having to constantly change out every baby looking piece in the room. With that said, it was only natural that I added in lots of grey throughout the room.
When I found these little stuffed animal mounts, I knew they were perfect for right above the crib! Leighton has a unicorn one over her bed, so I thought some animals would be super cute in Grayson's room too. I feel like they add the perfect fun touch for right above his crib!
We have had these little bookcase benches for years, so I decided to move one into Amelia's room to go underneath her window and one underneath Grayson's window in his room. It's perfect to house all his baby books and give him a little spot to sit and play when he gets a little older. Leighton has a toy box bench in her room underneath her window, so all 3 kids have a nice little bench under their windows that hold books. = )
Pretty early on, I found these cute rope storage bins, these baskets and this adorable little hamper. Then I ordered and added my absolute favorite shelves. I have been using these shelves for years, and they are my favorites. You can put them up high enough so kids won't pull all the books or pictures down or climb on them like they would on bookcases. And as a bonus, they have these little clips on the bottom row so you can hang up pictures of baby or even the kids' artwork as they get older. I have some in my office too and love them!
The nursery was really starting to come together at this point… and then we finally found the perfect glider! I had been searching for one for a while. Though I never used one much with Leighton, I figured it would be nice for breastfeeding when I'm in his room. I originally thought about a recliner, but ended up falling in love with this pretty gingham print glider and thought it was just perfect for Grayson's room!
We put the Micuna bassinet in his room along with this sweet woven basket. Then we hung up his baby monitor this past weekend. I think we finally have about everything we need in there! Now…we just need the baby. = ) What do you think about the nursery? I love how it turned out and how it fits perfectly with both mine and Matt's styles.