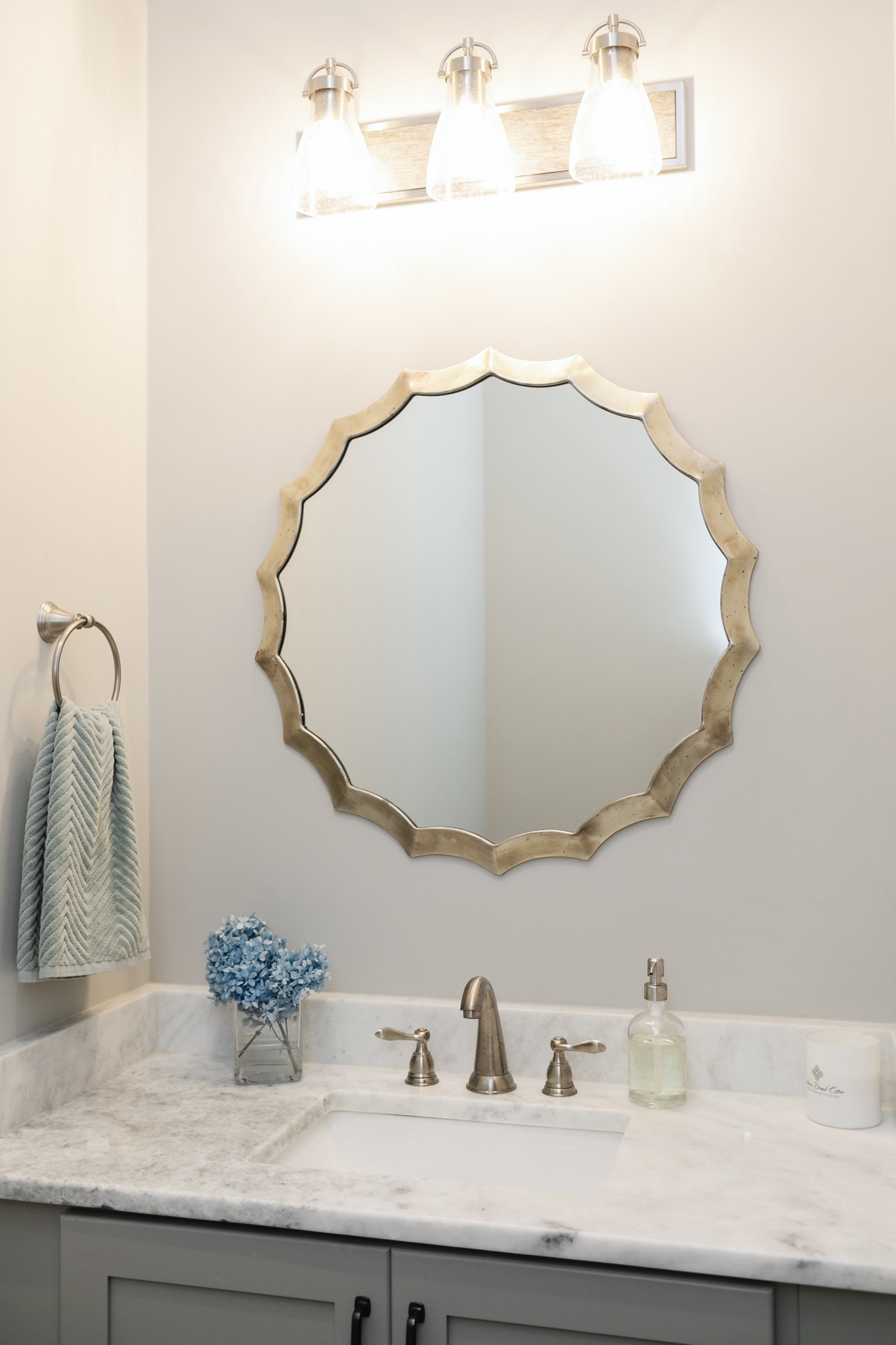 SHOP MY SMALL GUEST BATHROOM DECOR:

I know that most people like to really go all out in their master bathroom, but that can get so pricey! And what if you end up not even liking the floors, or the counters, or the color on the walls or cabinets or floors? That's why I love really making your guest bathroom a great statement room! I'm sharing my favorite tips below to step up your guest bath game.
Tips to Decorate your Small Guest Bathroom
I actually had this pretty mirror before we moved. It was hanging in my last house over the master bathtub, and when we bought the house and saw the size of the guest bathroom, we knew this mirror was just perfect for it! The fun shape really adds a unique touch.
2.) Pick out a fun printed tile floor.
I LOVE this floor so much. It's actually my favorite floor throughout the entire house. And if I didn't love my master shower so much, this would be my favorite bathroom too! Adding a fun touch of modern, retro or trendy is perfect to make just enough of a statement in a small room like your guest bath.
3.) Paint your cabinets.
We painted our cabinets a pretty grey color, but I am also loving ones in shades of green or blue. It's just a small room and a small vanity, so why not make it stand out?!
4.) Update your cabinet pulls.
The cabinet pulls are like the icing on the cake. I'm all for mixing metals and choosing something super sleek and refined. I love our gunmetal pulls on our cabinets so much! If I wouldn't have gotten gunmetal, I would have 100% wanted gold. So dreamy!
5.) Upgrade your lighting.
Sure you can get the standard bulb lights over the mirror, but why not do something a little different? There are so many great lighting options these days, and for a small room, the size you would need would only be a fraction of the cost of a larger master bathroom. So…the guest bathroom is a great room to upgrade in!
What do you think about our small guest bathroom? What are your tips to really elevate your guest bathroom? What are your favorite touches in your guest bath?