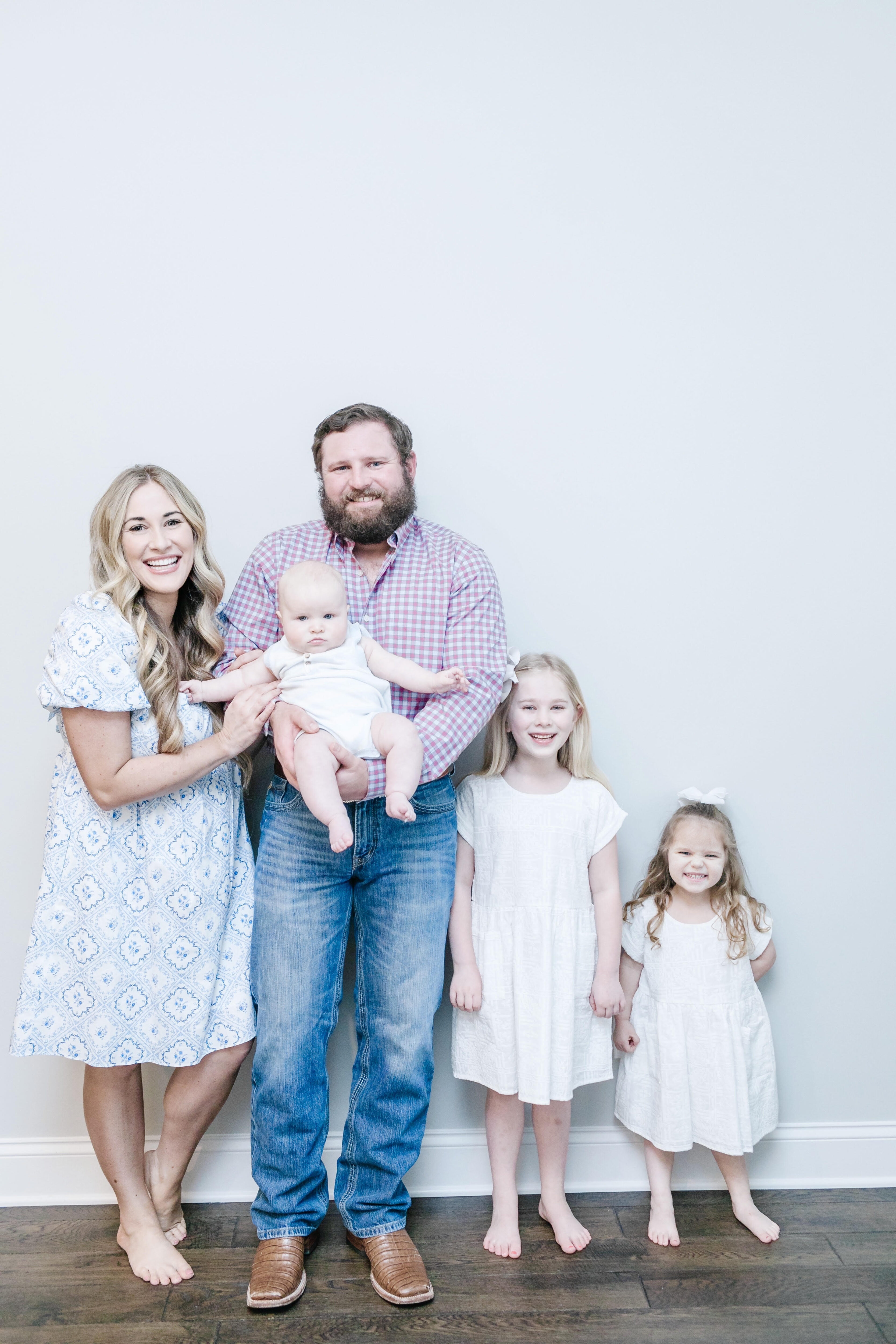 SHOP OUR SPRING FAMILY PICTURES LOOKS:

It's spring, and that probably means it's time to take some new family pictures. The last (and only other) time we took family pictures as a family of 5 was when baby Grayson was a week old (and I was a week postpartum, eek!) So I knew that we were taking family pictures while the kids were on Spring Break, and I'm so happy we did!
Baby Grayson is growing like crazy, Amelia's hair is getting long, and Leighton is getting taller and older looking. They just change SO much! I think people thought I was crazy when I told them what all we were wearing for family pictures, but trust me on this.
What to Wear for Spring Family Pictures:
1.) Do not ALL wear matching outfits.
Just like an outfit, decor in a room or anything else, you WANT dimensions and layers. Your family pictures are exactly the same! Having a couple people match is cute. Having everyone look identical in the picture gives no dimension.
2.) Pick 3 different complimentary colors you want to go with.
We chose a light red, blue and white. You definitely want the colors to compliment each other. The red was light enough that it paired perfectly with the pastel blue for spring.
3.) Pick 2 different shades of the same color.
We picked light blue and royal blue. The colors together really compliment each other. When you look at our outfits, I feel like the darker blue adds that perfect amount of contrast! This is what helps to make the pictures pop.
4.) Add 2-4 different textures or patterns in your pictures.
It will add more visual interest. Dimension is good. If everything looks the same, nothing will stand out and you'll end up with just blah or stale pictures.
Matt went with gingham, the baby went with stripes (good choice Grayson), the girls have a woven design, and I have a pretty tile and trellis print on my dress. The trick is not adding too many textures or patterns. Though we have 3 different patterns, they are all similar and subtle and go together. And the girls pretty woven design is on all white dresses, so it is just enough that it isn't distracting but gives some pretty visual interest.
5.) Choose the right background.
I always recommend something simple as a blank slate. It was raining the day we took pictures, so we used a nice, neutral wall as our backdrop. If it would have been sunny, we would have used a field with trees and flowers of just one color. If we would have chose a background likes flowers of several different colors, we would have just stuck with 1-2 colors in our outfits and kept them more simple. But since the background was plain, our outfits did the talking instead of the background.
6.) Think about what will look good in your home.
For instance if you don't like red, don't wear red in the pictures. If you don't have any yellow in your home decor and think it will clash, don't wear yellow. Think of your style and what would look good framed in your house. You want your style, your pictures and your home decor to represent you.
Are you taking spring family pictures this year? What do you think about my tips? What are your family colors or prints to wear for family pictures?