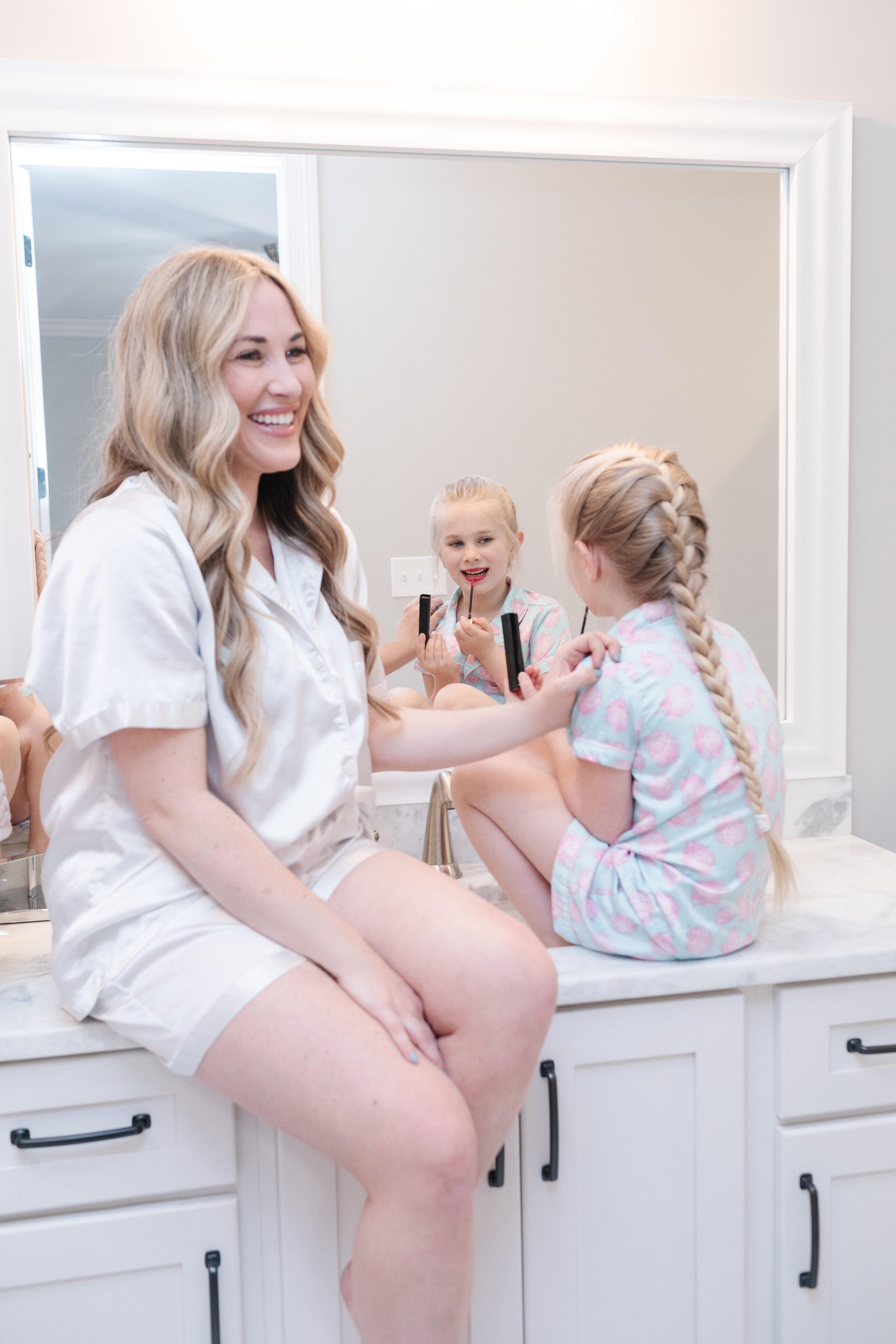 It happened. I woke up one day and realized that Leighton is not a toddler, preschooler or even a little kid anymore… she's getting older! I felt like we just recently redid her room, but I just recently realized it was over HALF her lifetime ago when we did! Talk about time slipping by!
I asked Leighton what she thought about her room, and she said she doesn't use her kitchen or her doll house anymore… what?! Where did my little girl go? We will have to save that sob story for another day! That's when I decided to add Leighton's room onto my list of projects this year.
7 Tips to Transition to a Big Kid Room:
It's time to update her room and bathroom to a big kid room, eek! As we start working on updating her room this year, I wanted to share some of my best tips on how to go about updating their room and bathroom.
1.) Make it fun, and involve your child!
Ask them what they would like. I'm not saying they have to decorate their room and have it filled with toys and mismatched prints everywhere, but definitely let them join in on the fun!
2.) Donate old items or items that are too young for your child.
This is a fun task that your children can help with. Let them know that their old things will be going to other children who need them more than they do. Let them help decide what they want to give away; it will be something special to do together!
3.) Keep items that are special to your child.
Toys or items of clothing that have special importance or meaning for your child are definitely worth keeping in a safe place. Personally, I love keeping their clothes that have been monogrammed, special toys that they held onto for a super long time and loved playing with time and time again. Those special things that they'll want to remember someday.
4.) Make changes that can last for years.
Think a full sized bed that they can use for years to come, an adult sized chair they will use even when they're older, and even framing their mirror to have it look more like a "big girl" room and bathroom. I find that investing in those pieces now, when they're young is worth it tenfold in the long run!
Something we knew we wanted to do was create a bathroom space for Leighton that she would love for years to come. Y'all might remember that, in our master bathroom we used MirrorMate to update our own mirrors. We loved the process so much, that we decided to use MirrorMate frames again in Leighton's bathroom. We let her help us pick out just the right frame for her bathroom, and she decided on a pretty white frame that I thought was the perfect, girly touch!
5.) Create lots of "zones" in your child's room.
Zones help children understand what to do where. If not, they will end up either not using their room and their toys in it, or they will pull everything out and just destroy their room because they don't have a specific area for anything. As they get older and have more homework and also start to enjoy reading for fun, a cozy reading nook or homework space is a must! Think of a creative area like an art station, a board game station…the possibilities are endless!
6.) Storage space is always essential!
Take this time to re-organize first and then create more storage space as best you can. So they don't use a toy box anymore? Add a storage bench with built in cubbies instead. A note on storage: I find in this situation it's best to have your child help you! Ask them to help you come up with systems for their room that make sense to them. It's all well and good if something makes sense to your grown up mind, but sometimes, in their own space, giving them the power to find systems that work best for them works really well!
7.) Add fun (age appropriate) little accents.
It will cost a lot less to just update pillows, pictures, cute little banners, etc. than having to update bedspreads, chairs, bedding, etc. It's much easier (and cheaper!) to swap out as many accessories as you can without having to do an entire overhaul.
Most importantly, have fun with this process! Or try to have fun anyway. Transitioning to a big kid room doesn't have to be a stressful process. Get all hands on deck, include your kids and give them a little power over their own space. It can be a really fun time of connection for y'all! What tips have you found for updating your kids' bedrooms and bathrooms? Let me know!