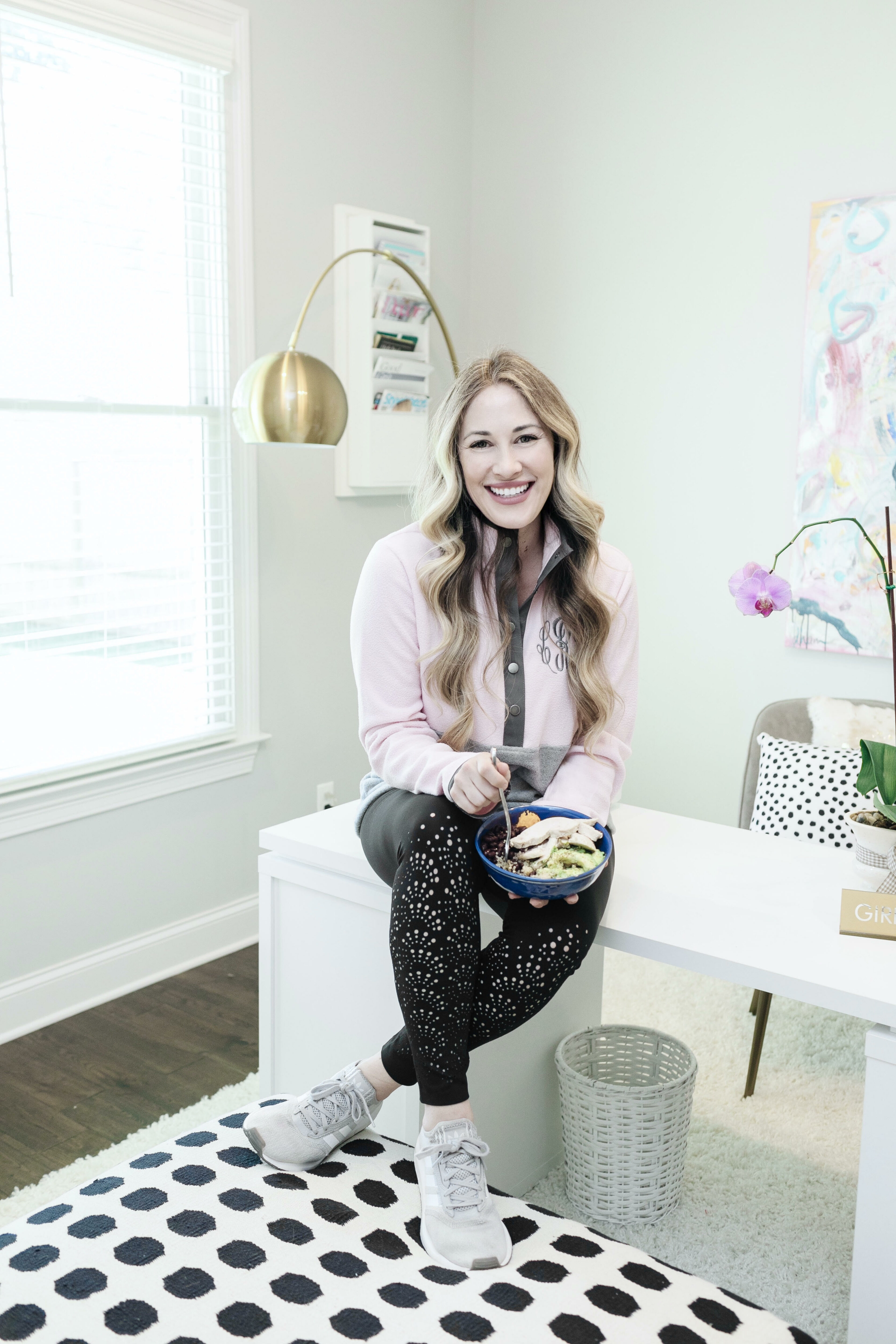 Happy Monday! I'm back on a Monday with a yummy and easy recipe! I started my latest round of FWTFL a couple months ago and wanted to share one of my favorite easy, go-to meals that I eat often. It fills you up and has plenty of healthy fats, proteins and carbs in it. That's right; carbs aren't the enemy! I'll save that for another post, but for now I wanted to share this meal.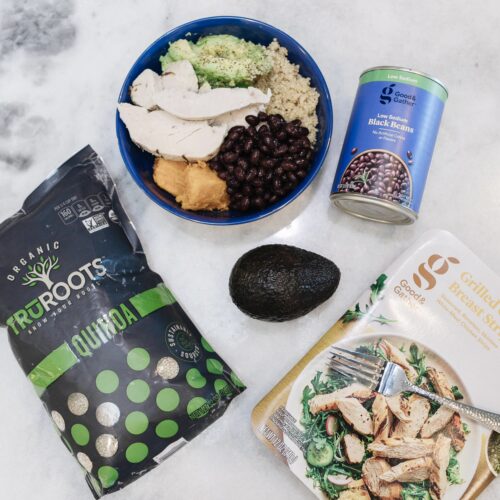 Easy Mexican Chicken Bowl Recipe
Ingredients
1

lb

chicken

1/2

cup

uncooked rice or quinoa

1/2

cup

sweet potato

1/2

avocado

1/4

cup

black beans
Instructions
If you are using raw chicken, boil, roast, blacken or grill however you prefer. This time I used cooked chicken strips, and they were so easy and good! For the potatoes, I usually just bake a sweet potato in the oven for 45 minutes on 375 degrees, but you can also dice them and put them on a cookie sheet with olive oil if you prefer them roasted instead. Grayson loves baked sweet potatoes, so I usually keep several cooked ones on hand at all times.

Prepare your rice or quinoa (I used quinoa this time, but I also love jasmine rice or brown rice) per the instructions on the box. Even Minute Rice works great that you can just microwave! It's all about what is easiest for you!

Warm up your back beans on the stove or in the microwave, and then you have all your cooked ingredients. Since we eat so many of these things regularly, we keep chicken, rice, and sweet potatoes cooked and in the refrigerator weekly.

It's time to start making your bowl now. Add your black beans, rice, chicken and sweet potato to the bowl. Then slice up your avocado and add to the bowl. I typically use 1/2 an avocado, but feel free to adjust your sizes of each item depending on which are your favorite. I also love to add a little salt and pepper to taste to the avocado.

You can also add any extra toppings you like like cilantro, onion, dressing, lemon or lime juice or even salsa. I prefer mine plain or with some cilantro, but Matt loves adding some ranch dressing, taco seasoning or salsa. It is great either way, just be mindful of what you're adding onto it as there could be some hidden sugar. = )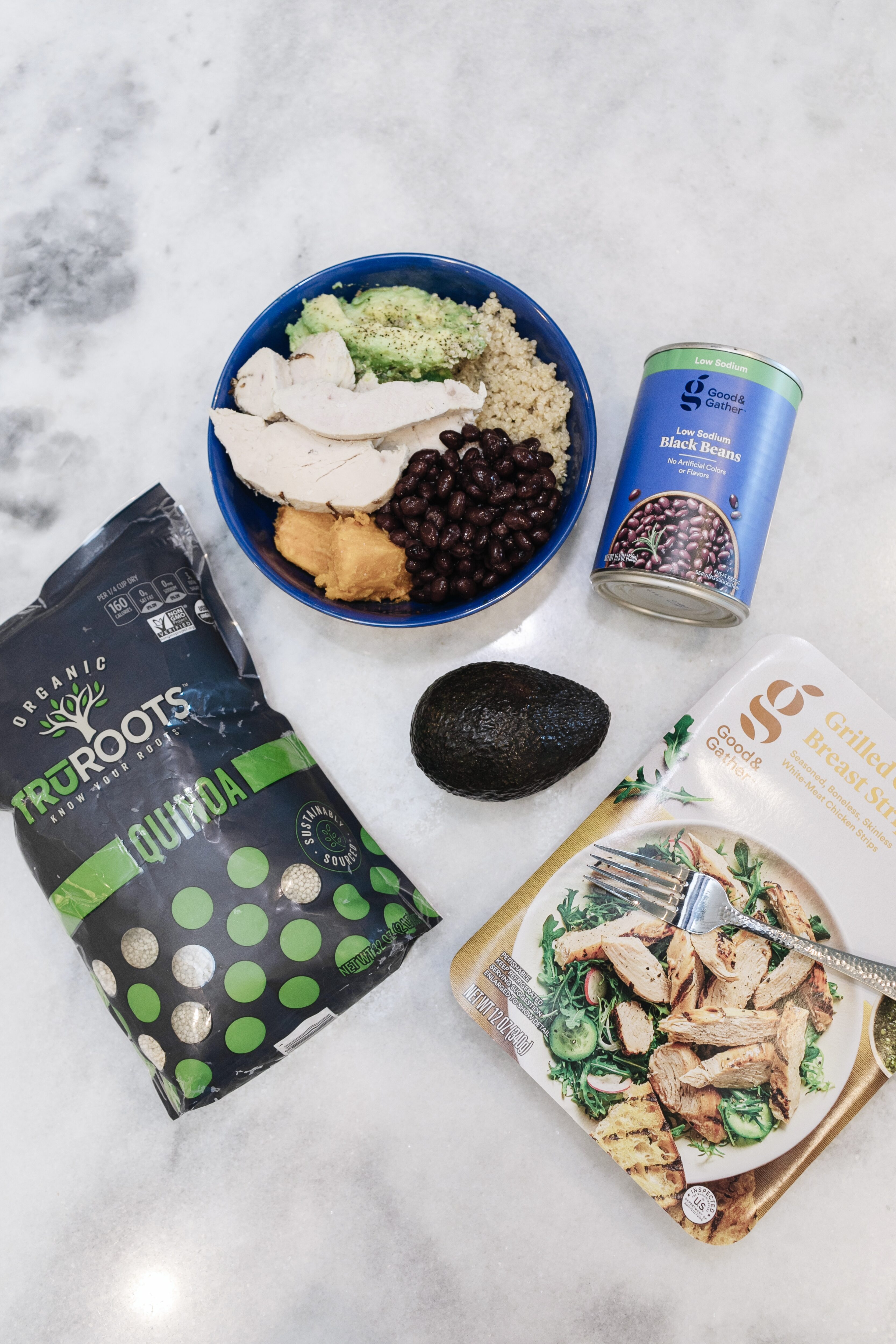 I love how yummy, easy and balanced this meal is. Even baby Grayson loves it. Win win! My friend Heather from My Life Well Loved is sharing her recipe for a Low-Carb Egg Roll in a Bowl. Be sure to head over to her post and check out her yummy recipe also! What are some of your favorite FWTFL approved meals that are quick and easy? Drop them below!