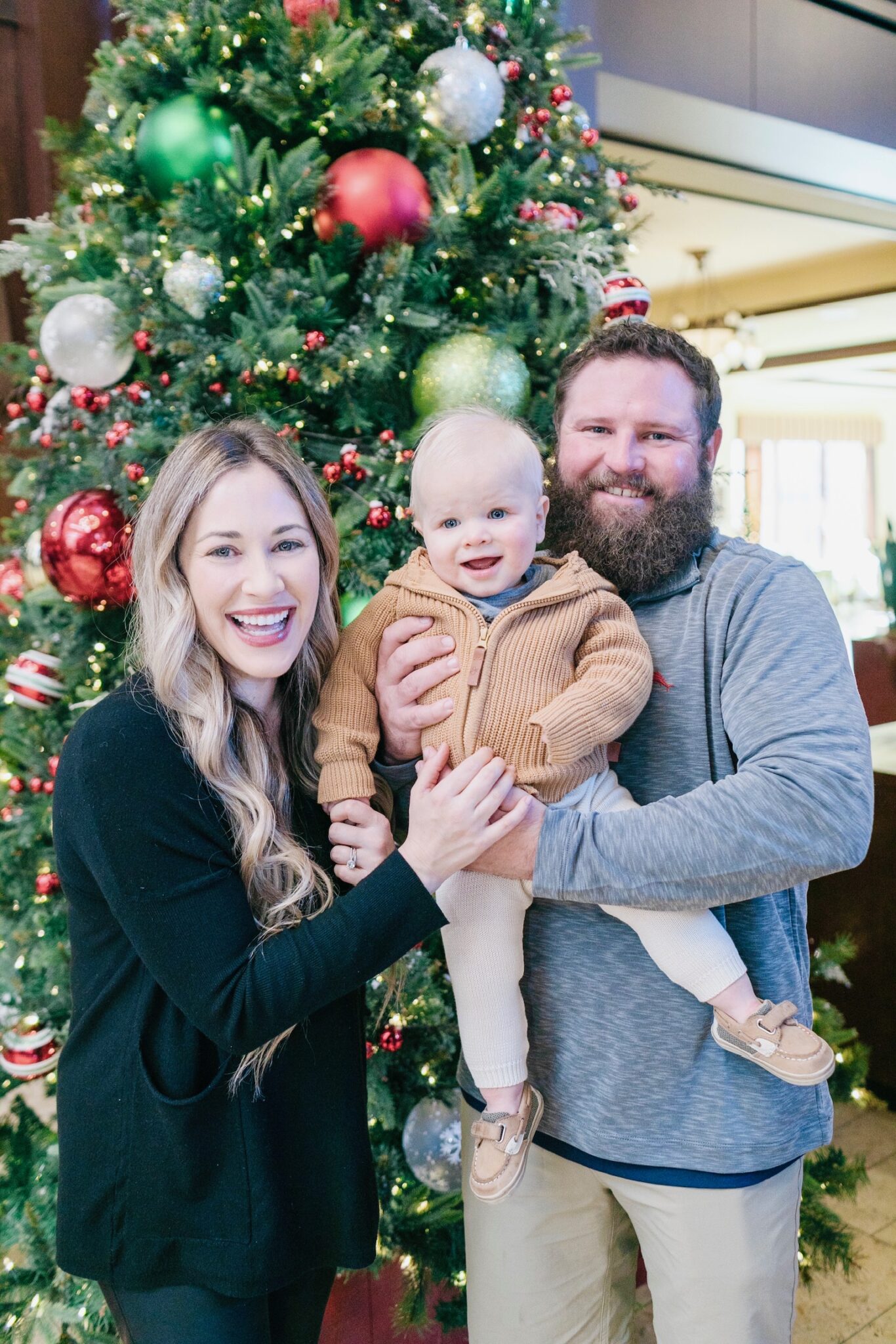 It's been a couple years since I've had to travel for the holidays to visit family. Don't get me wrong, we love seeing family, but it can be a lot… especially with 3 kiddos! That is why we plan in advance to at least try to set us up for success as much has we can. Though, those 8 potty breaks on the way there will always happen lol! Today I'm sharing my best tips to help you if you're traveling with kids during the holidays too.
How to Travel with Kids During the Holidays
1.) Pack days in advance.
First of all, this makes things SO much easier when you're not doing it the day before or even the day of while tending to kids. Plus, it gives you time to think of anything you may have forgotten. The day of, I do add in the things we use daily like toiletry items for each of us, phone chargers, etc. But if I can pack it in advance like clothing, strollers, snacks, extra sippy cups, sound machines and pack n plays, I do! I also make a list, this really helps to make sure you got everything! But if not, don't stress. There is already enough of that. You can buy most anything you need if you really have to.
2.) Get plenty of sleep the week before your trip.
That goes for both you and the kids. The best thing you can do for their mood and their immune systems (and your mood too!) is to make sure you are well rested. You will be tired and burnt out the day of, so try to have a relaxing week leading up to it. After we arrive at our destination, we typically plan for an early bedtime that first night too. Then the rest of the trip, we have a little fun and stay up late visiting with family. The same thing goes near the end of the trip. We get to bed early the night before we leave!
3.) Get up early (before the kids) to get yourself ready and have everything to go.
Then, you just get the kids up and go. That way, you're herding less cats all morning. = )
4.) Pack snacks, snacks and more snacks.
I usually try to pack things that won't go bad or get too messy. Grapes for the older kids usually aren't messy. And I premake mini pancakes for the baby. And for Matt and I, I always make my almond butter protein balls. We also make sure we take plenty of water to stay hydrated on the way.
5.) Prepare the kids for where you're going and what you're doing.
And also for yourselves, set realistic expectations! With each kid, there will be more stops. Everyone will be hungry, tired and restless. Plan accordingly. Take bathroom breaks and rest breaks when you need to. It will usually take longer than you think! And if you think any of the kids will nap on the way, make sure you plan your bathroom break before then. Our kids will wake up when we stop, so the last thing we want to do is stop for a bathroom break right after one of them has fallen asleep just for them to wake right back up.
6.) I know it's hard, but try not to overpack.
I usually plan out outfits when I can (especially of the kids!) I do throw in a couple extra pairs of underwear, socks, outfits and pjs, but I do plan their outfits in advance to cut down on space. I roll up their outfits within their suitcases, and it takes up less room. And if you're going somewhere with a washer and dryer, you can pack even less outfits which is nice.
7.) Pack toys in a bag to keep the kids busy.
We don't use tablets, so we usually pack car games, small board games and coloring books. And now that Leighton loves to read, I pack her some books and her Kindle Reader too. The trick is packing a new game or book or something they haven't played with in a while. It will be like it's brand new again, and exciting things are always nice on a long road trip!
8.) Once you get to your destination, don't forget to try to have the kids eat somewhat healthy and take their probiotic daily.
With traveling, sensitive stomachs, lots more sweets and being around a lot of people, the last thing you want is for the kids (or you!) to get sick while on vacation. That is why sleep and diet is so important. Also remember though, it's the holiday and it's a vacation. Just do the best you can!
9.) Have fun!
This probably isn't a vacation, and it probably isn't really that relaxing. But it is about visiting family and trying to make sure your kids have a good time too. Just relax, set realistic expectations and know that things will go wrong, but it's okay! Enjoy the holidays with the people you love!
Have you ever traveled for the holidays? What are your best tips? Drop them below for us all to use!