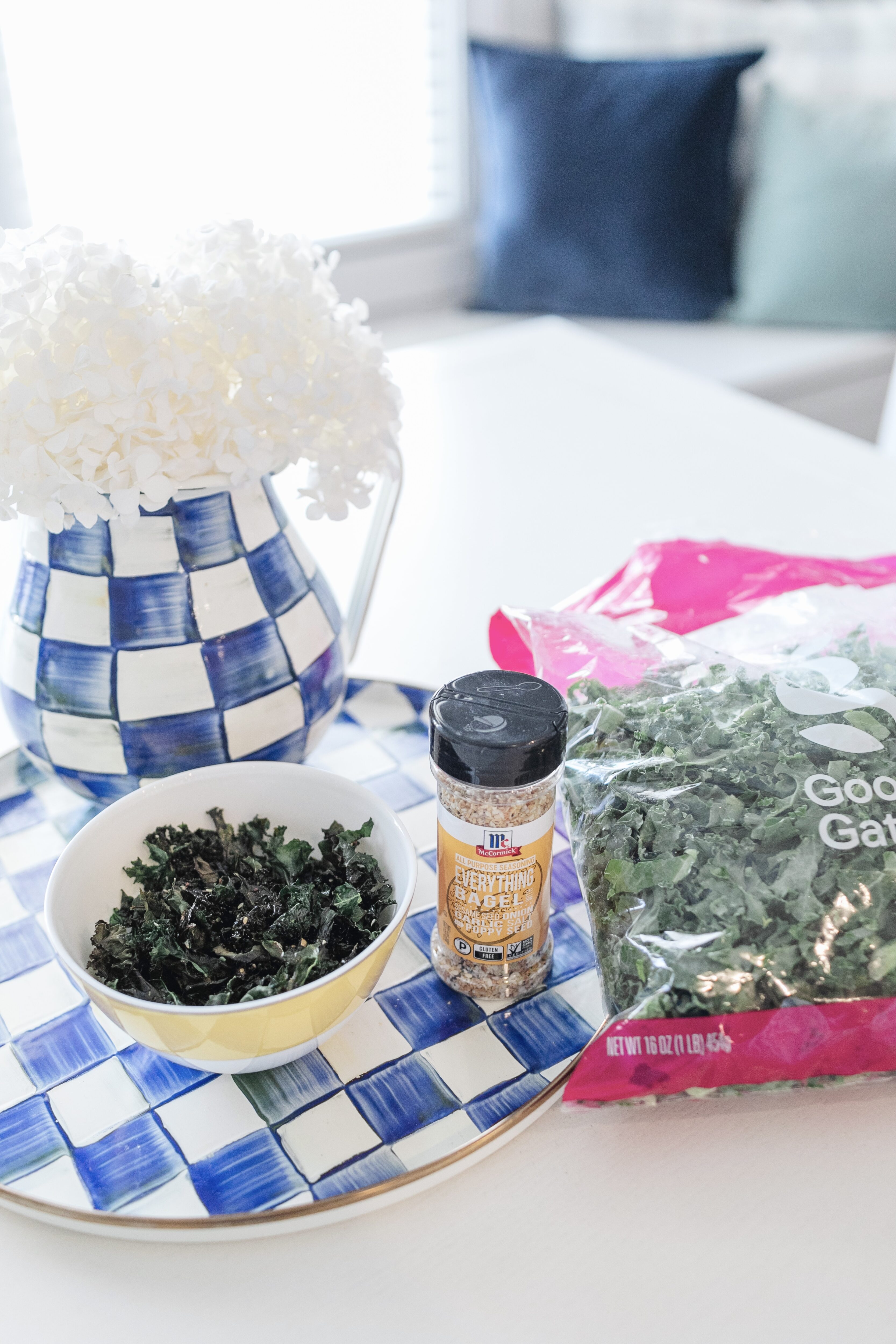 SHOP THIS AIR FRY KALE CHIPS RECIPE:

Y'all have been loving the healthy living posts, so I wanted to share another one today. If you're looking for a healthy, quick snack, air fry kale chips are great. And if you don't typically like kale, this one will be a good one. Once air fried and tossed with salt and pepper or everything bagel seasoning, they actually taste really yummy (and nothing like kale in my opinion!) Think of a healthy thin potato chip. = )
You can also cook your kale chips in the oven, but I just love how fast and convenient air fryer ovens are! I will usually cook several cups of it at the beginning of the week and split them into 1 or 2 cup containers and save them to eat for when I'm on the go later on in the week.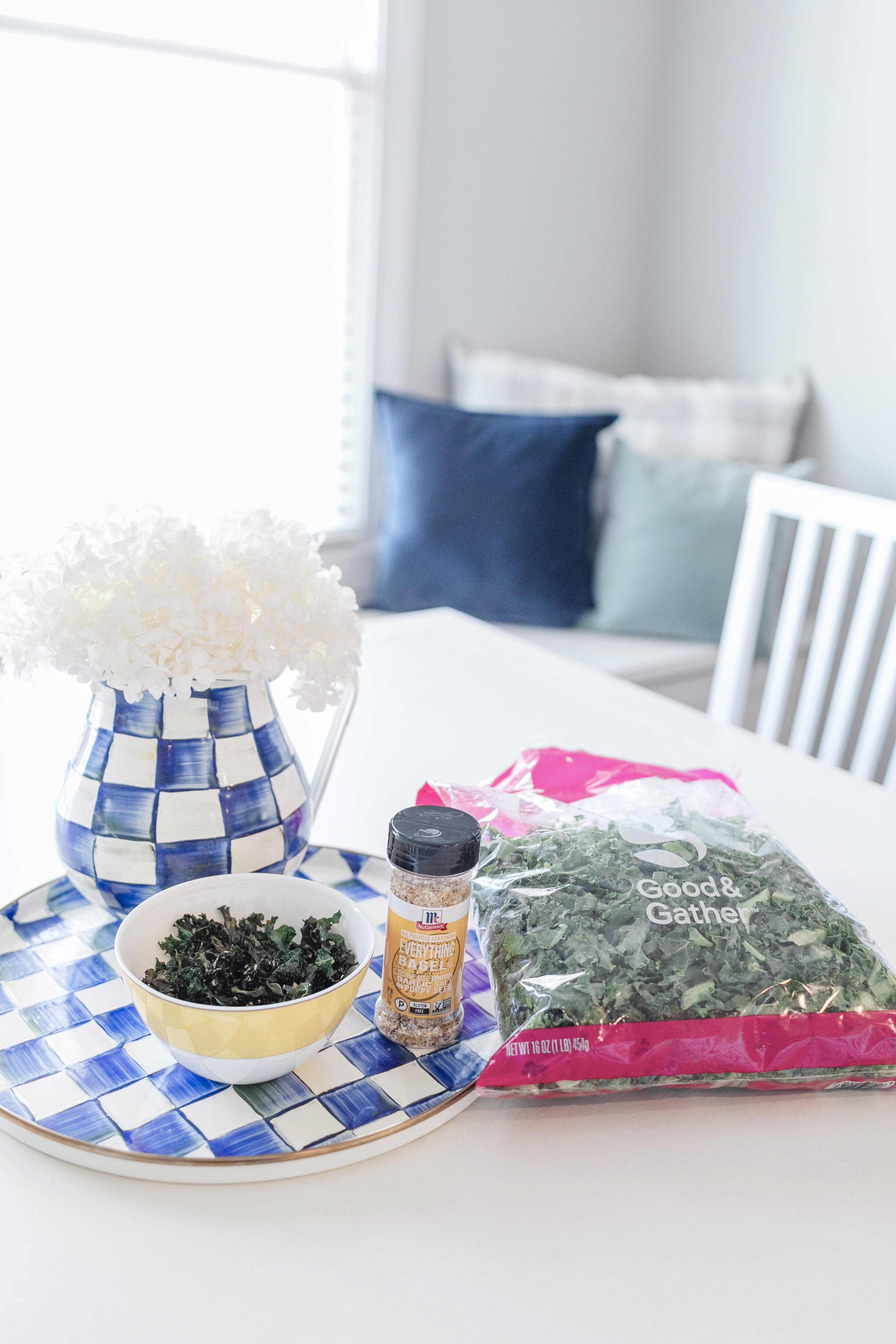 Check out my air fry kale chips recipe below and let me know if you try it. Feel free to leave some of your favorite healthy snack recipes below too. I've also got another great low carb snack recipe for deviled eggs from my friend Heather here you'll want to check out! What are you go-to healthy snacks?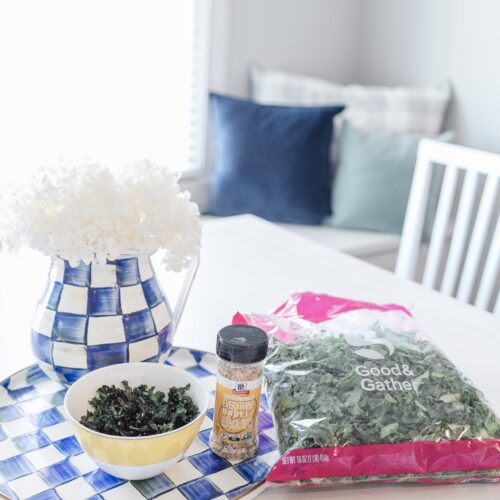 Super Easy Air Fry Kale Chips Recipe
Ingredients
kale

salt

pepper

Everything Bagel Seasoning

olive oil
Instructions
It is easiest to buy kale that is already chopped, but if you can only find fresh kale, you will need to wash and dry it and then cut or pull the leaves off the spine.

Shake them in olive oil. You will just want them to be lightly coated.

I sprinkle a heaping dose of everything bagel seasoning on my kale next, but you can just use salt or salt with pepper if you prefer instead.

Set your air fryer to 375 degrees and cook for 5 minutes until crispy. If your leaves are very small and start to fly around in the air fryer, I will usually cover mine with a rack so they will stay put. 

Once crispy and turning brown, they are ready! Some people like theirs browned more and some people like them browned less. Keep an eye on them after 3 minutes and test them to see how you like them. Personally, I think the crispier the better!
Enjoy! Let me know what you think about this air fry kale chips recipe.