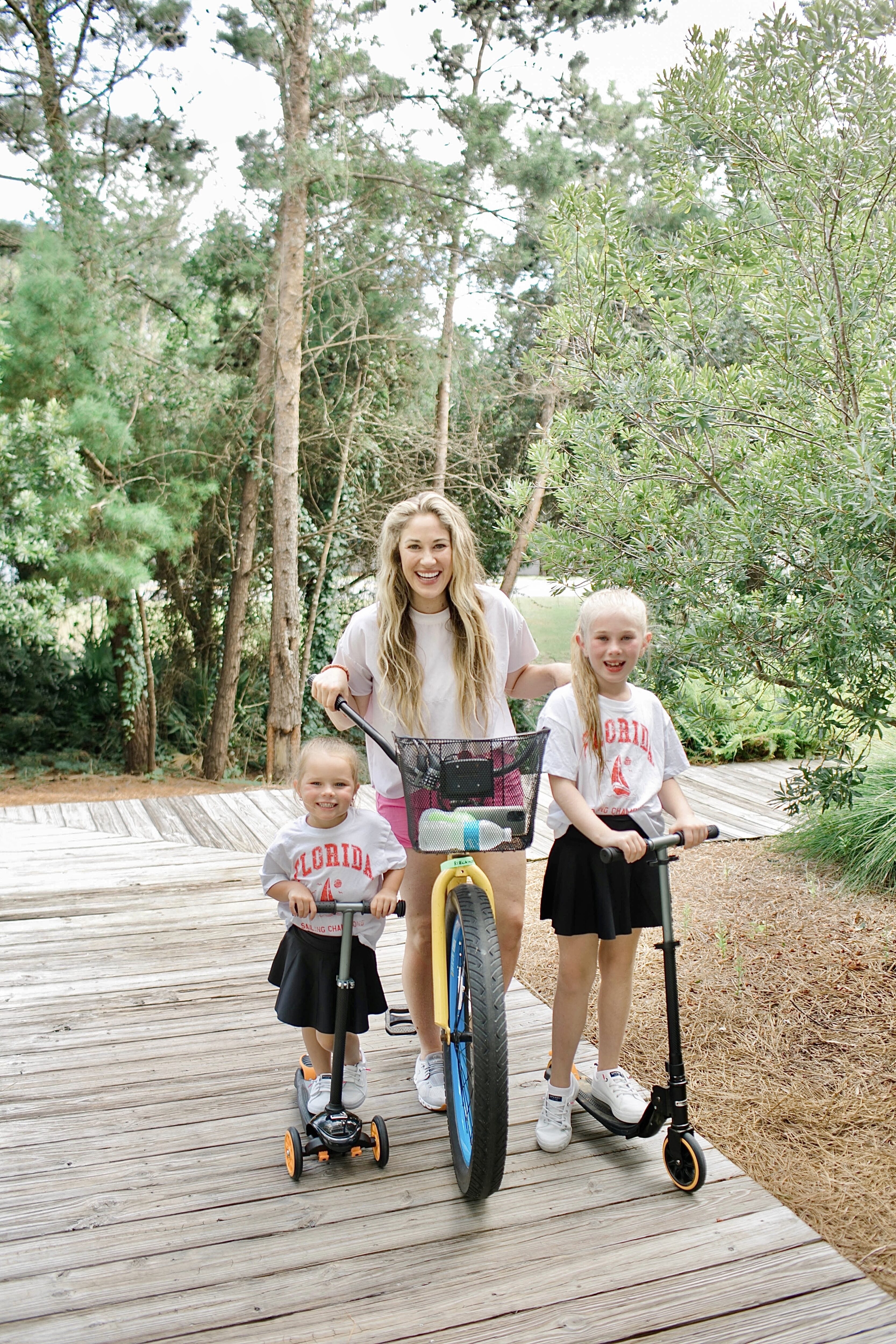 Well, another summer beach trip has come and went! We waited until the end of summer to take our annual beach trip to 30a, and we had a blast! We took my dad, and he got plenty of time with the grandkids. Matt and I got 1 dinner date alone 1 night. The girls got so much pool and beach time with me and Matt. And Grayson got plenty of stroller walks with Pop Pop. We also even got in 2 long family bike and scooter rides a couple days. They were so nice!
We ate lots of good food and way too much ice cream. It was perfect! I feel like we all had such a good time and got plenty of couple, kids and family time. There really is something for everyone in 30a, and that's what makes it so special. You can easily find so many family friendly places and things to do, but there is also plenty for couple or families without young kids too.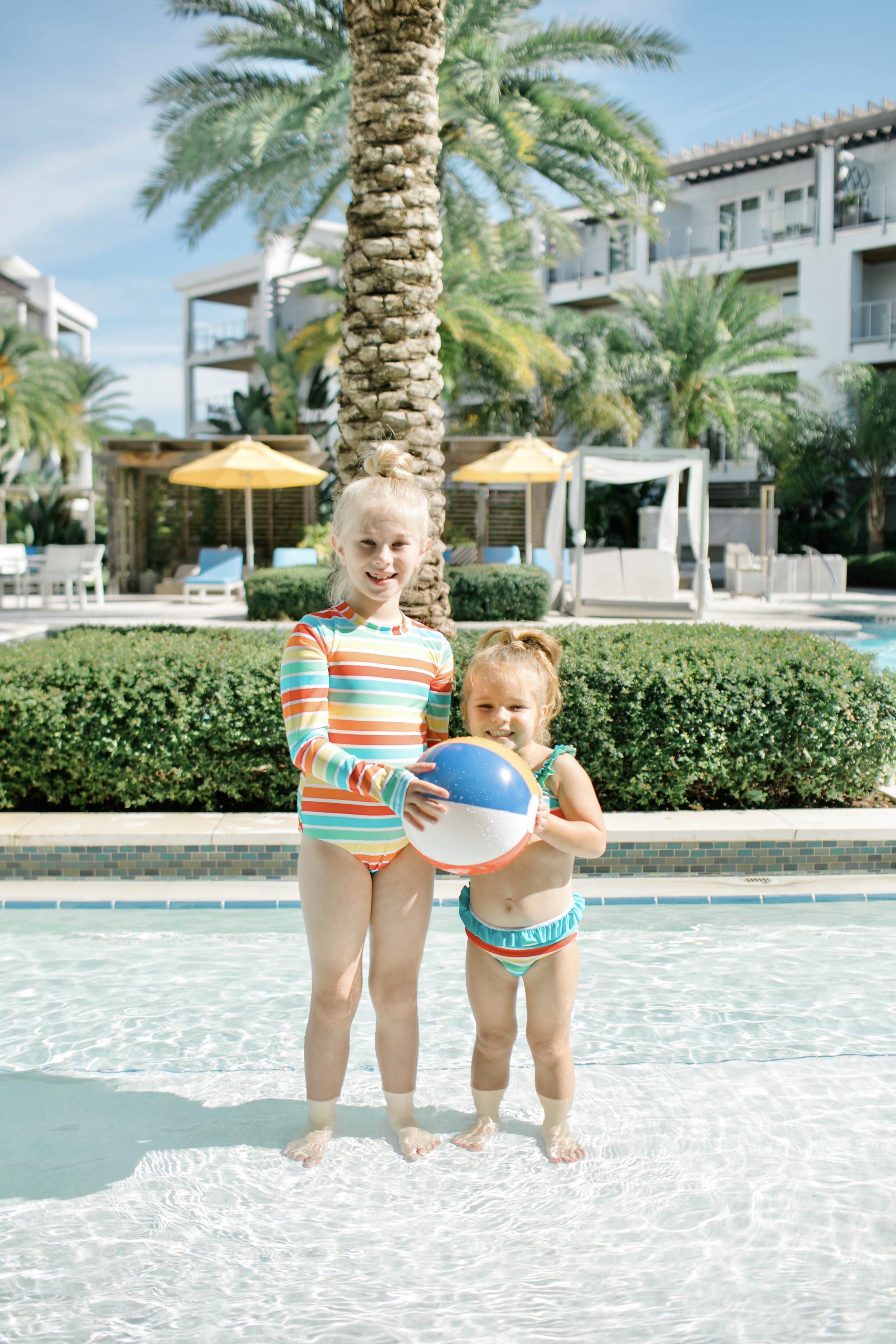 If you're looking for some fun, family-friendly ideas for your next 30a trip, make sure to check out the list below. I've rounded up some of our favorite places to go, and they are all family-friendly and kid-approved. And of course, there is always the number 1 answer. Go to the beach!
Aside from the beach, I wanted to share some options for some other fun things to do in town. Grayson is at that age where he doesn't care much about the water, so it was nice to have plenty of other options of things to do!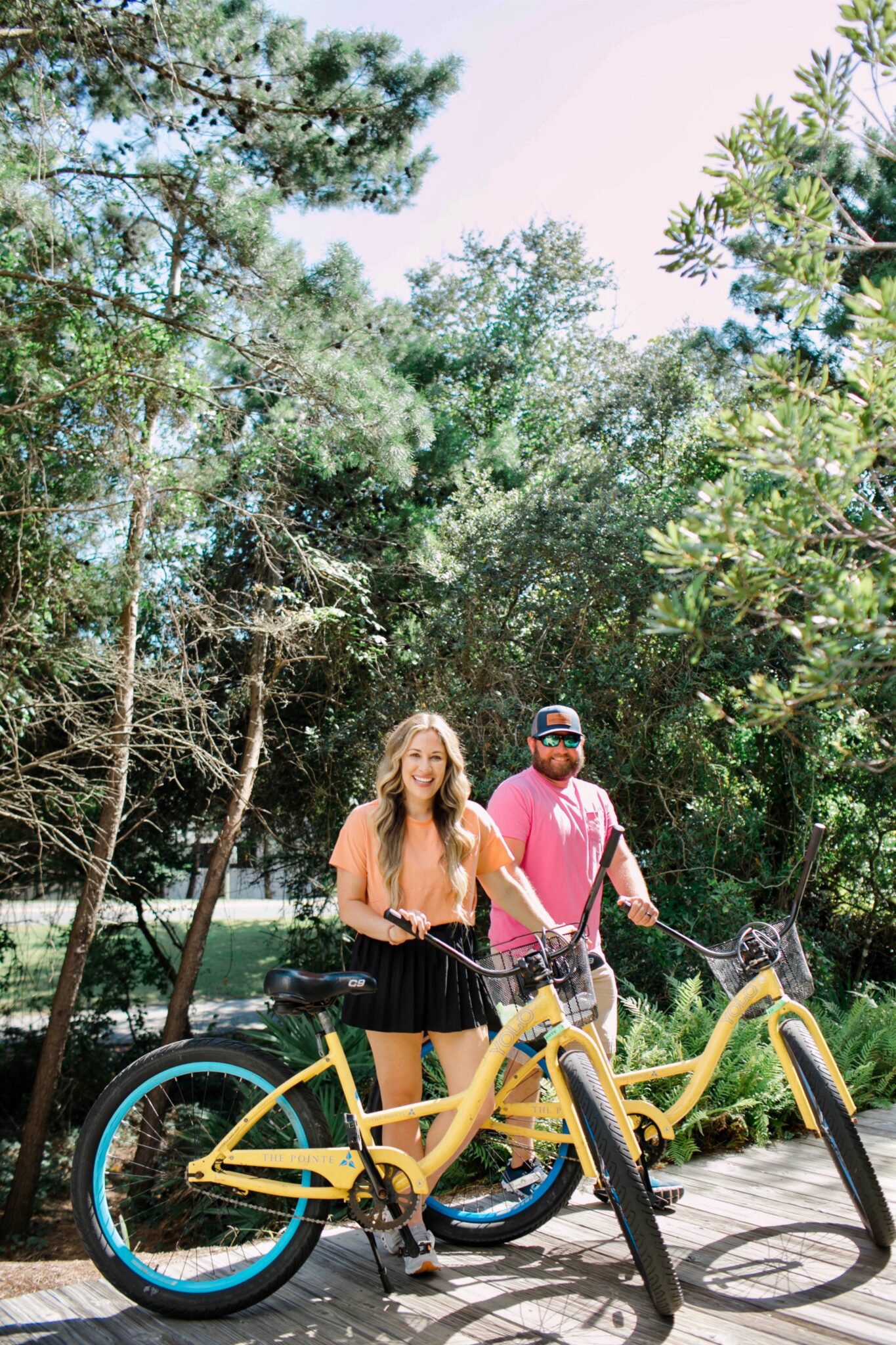 Top 30A Destinations with Family
1.) Grab a charcuterie board from Coastside Beer Garden – It's great for the kids and the adults! It is outside and such a little hidden gem. Go for a bike or scooter ride there, and then relax with a snack and drink before riding the road some more.
2.) Get a beer at Grayton Beer Company – Their open-air space is super kid and family-friendly. We always pack a frisbee or ball that the kids can play with too while outside playing. And make sure to pack some snacks for the kids to enjoy while there too!
3.) Have dinner at Havana Beach Bar & Grill– Matt and I absolutely loved this restaurant! They have both an inside and outside seating area. We sat outside, and it is such a great spot to view the ocean and to see all that is going on across the street. It's such a great location, and there is a great toy shop across the street and ice cream a couple doors down!
We saw several families with young children eating outside here. The indoors had a vibrant, vibe, and children would be just as welcome indoors too (but with a 1 year old, we prefer outdoor seating just in case he gets a little too loud.) = )
4.) Get sushi at Shaka – This is one of our favorites in the area! It is so good! Luckily, we have 2 out of 3 kids that love sushi too! Sometimes we even order it to go since it's just right across the street, and we will eat it while watching a movie at our condo, by the hot tub or pool or even on our balcony or the rooftop of our condo. Perfect and low key for the kids.
5.) Get ice cream and treats at Kilwins – They have SO many great ice cream shops in the 30a area, but this one is our favorite. The ice cream is SO good, and they have so many other great chocolate treats in store too. Their chocolate covered strawberries are wonderful! While we were there, they even had their mascot, a moose, riding a scooter out front. It was the same brand as the girls' scooters, and they thought it was the coolest thing ever!
6.) Ride a bike down the Timpoochee Trail – Our condo comes with free bike rentals located right outside our room in the parking lot. It is so convenient! But if yours doesn't come with bikes, I love Peddlers for bike rentals. We rode bikes and scooters all 3 days we were at the beach and got in at least 3-5 miles a day with the kids. Not bad with 3 young kids and 3 adults.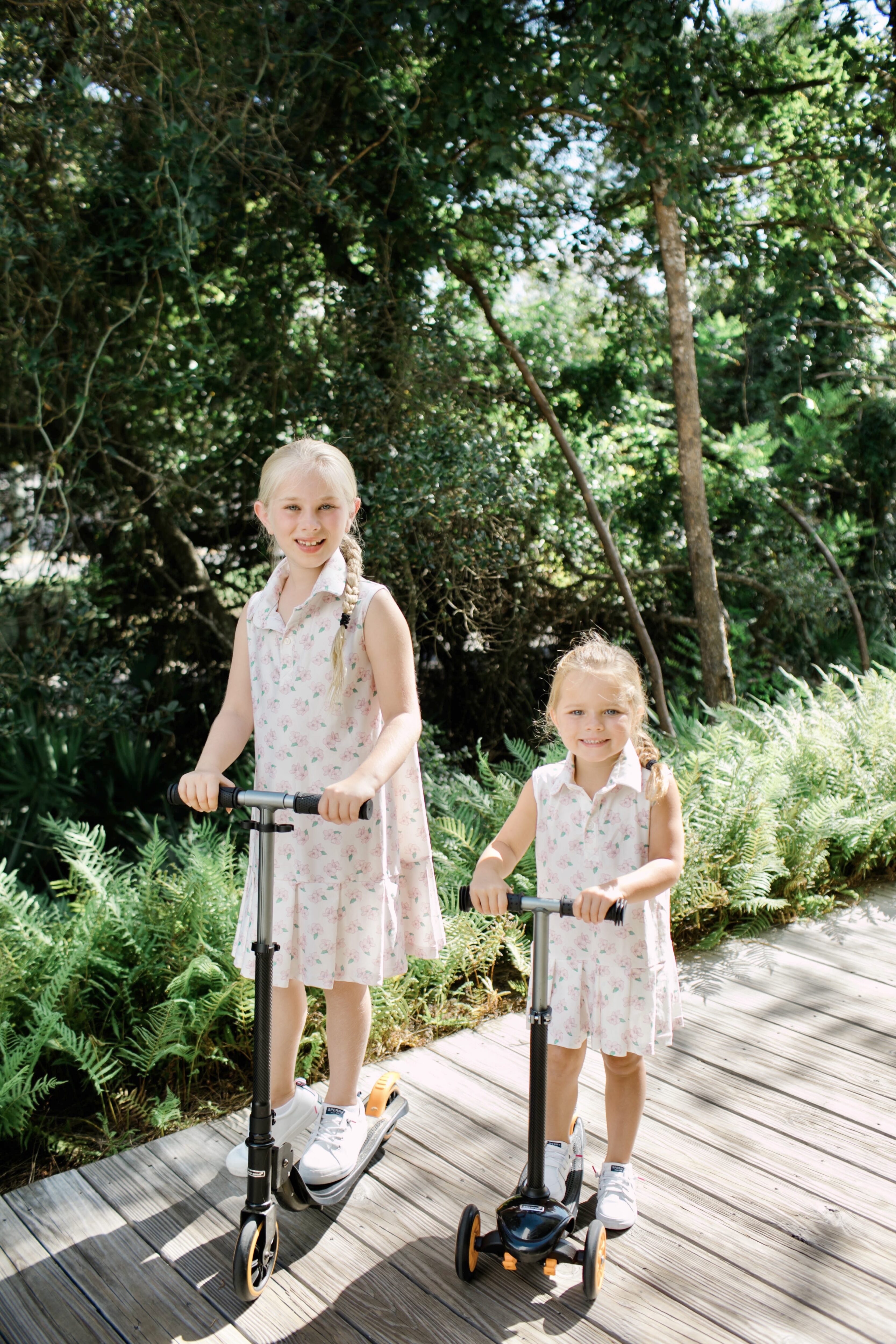 7.) Go fishing with Florida Boy Adventures – The owner, Hunter, was such a great guide! He offers fishing trips for anyone, even kids! He has 2 daughters of his own, so he knows plenty about family fishing. Once the baby gets a little older, we cannot wait to take all 3 of the kids fishing together with Florida Boy Adventures.
The fishing is inshore, and they offer both 2 and 4 hour fishing trips. They even do a fun summer camp that is perfect for the kids! Make sure you check it out. It's never too early to let the kids learn to fish, and have a great time outdoors on the water while doing it.
8.) Hang out and play at the Big Chill – This place is so cool! It is outdoors in the open and has tvs, games, food, treats. It has everything you could want for you and the kids. They can run around and stretch their legs while eating and playing. Just the type of place we love with a 1 year old!
9.) Explore sea life at 30a Sea Life Discovery Center – This place is so cool to learn about sea life. They offer several different summer camps, and they even do a sea turtle snorkel trip, kayaking and bonfires for kids. It is a great way for the kids to have fun and learn more about sea creatures at the beach.
10.) Grab a toy at Gigi's – Located right across from the Pearl, they are in a great location to ride your bike there, pick out some toys and then grab dinner and ice cream. All of the kids each picked out 1 toy. Leighton got an Ariel necklace. Amelia got a pop-it butterfly bag and Grayson got a stuffed animal. They could have stayed in that store all night…until they needed more ice cream!
11.) Stay at The Pointe – This was our 4th trip to The Pointe in 30a, and every time has been great! We always stay in a 3 bedroom. The rooms are oversized. The bathrooms are so spacious. It has a washer and dryer and a full kitchen. Everything you need to cook is there. They all have balconies. The pool and hot tub are never crowded. And you can even get your own pool with an aqua suite. It's literally right across the beach too. And since we typically only go to the beach for 1 day, that is just perfect for us!
The Pointe is also located right next door to Big Bad Breakfast. You can eat out on their patio while overlooking the pool. It is so convenient! They also have tons of lounge chairs and cabanas by the pool. We love coming here and look forward to it every summer. For the adults, they have a workout room which Matt and I loved and used on this trip. And they also have rooftop you can go up on and enjoy great views of the ocean and area.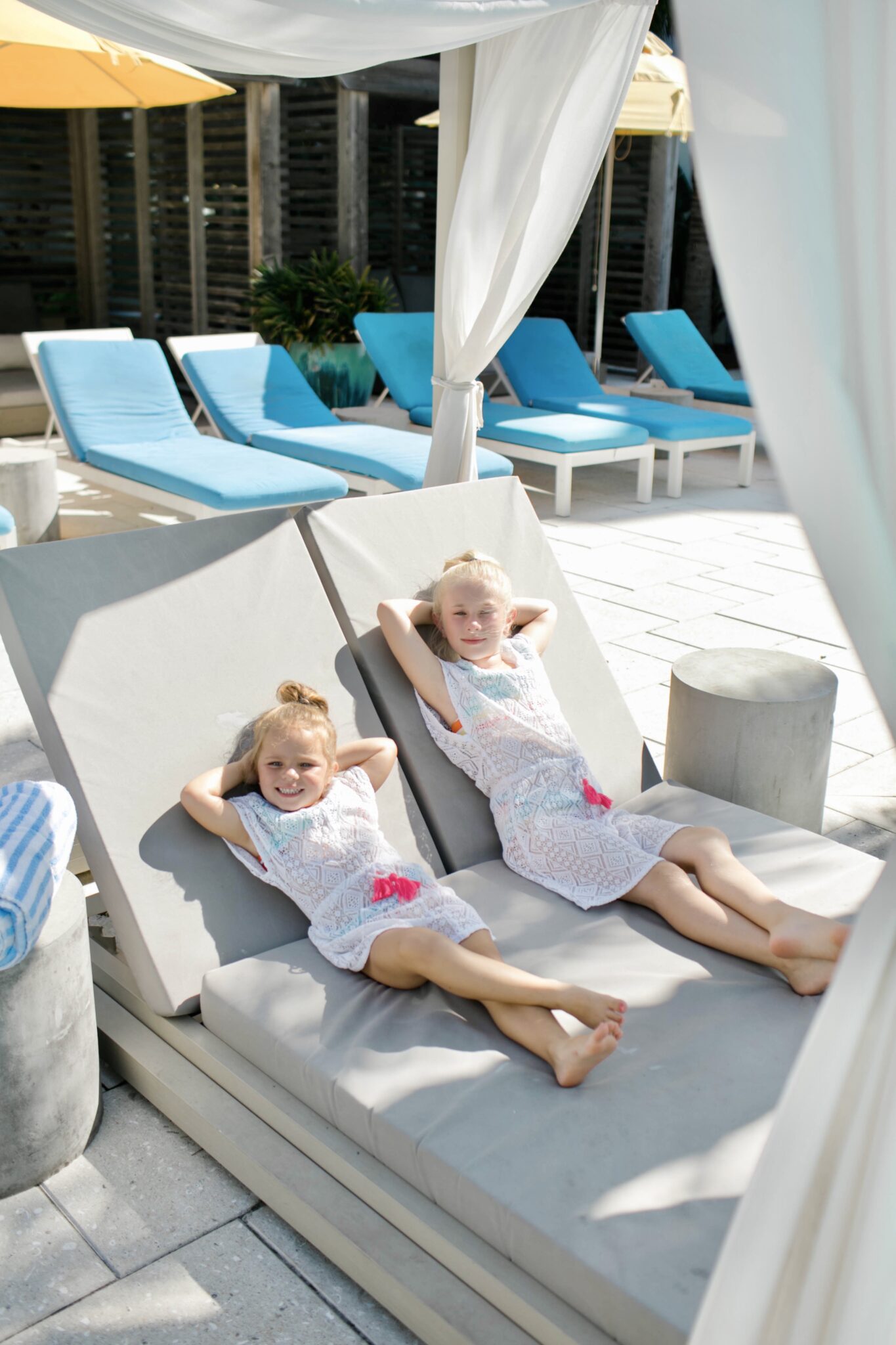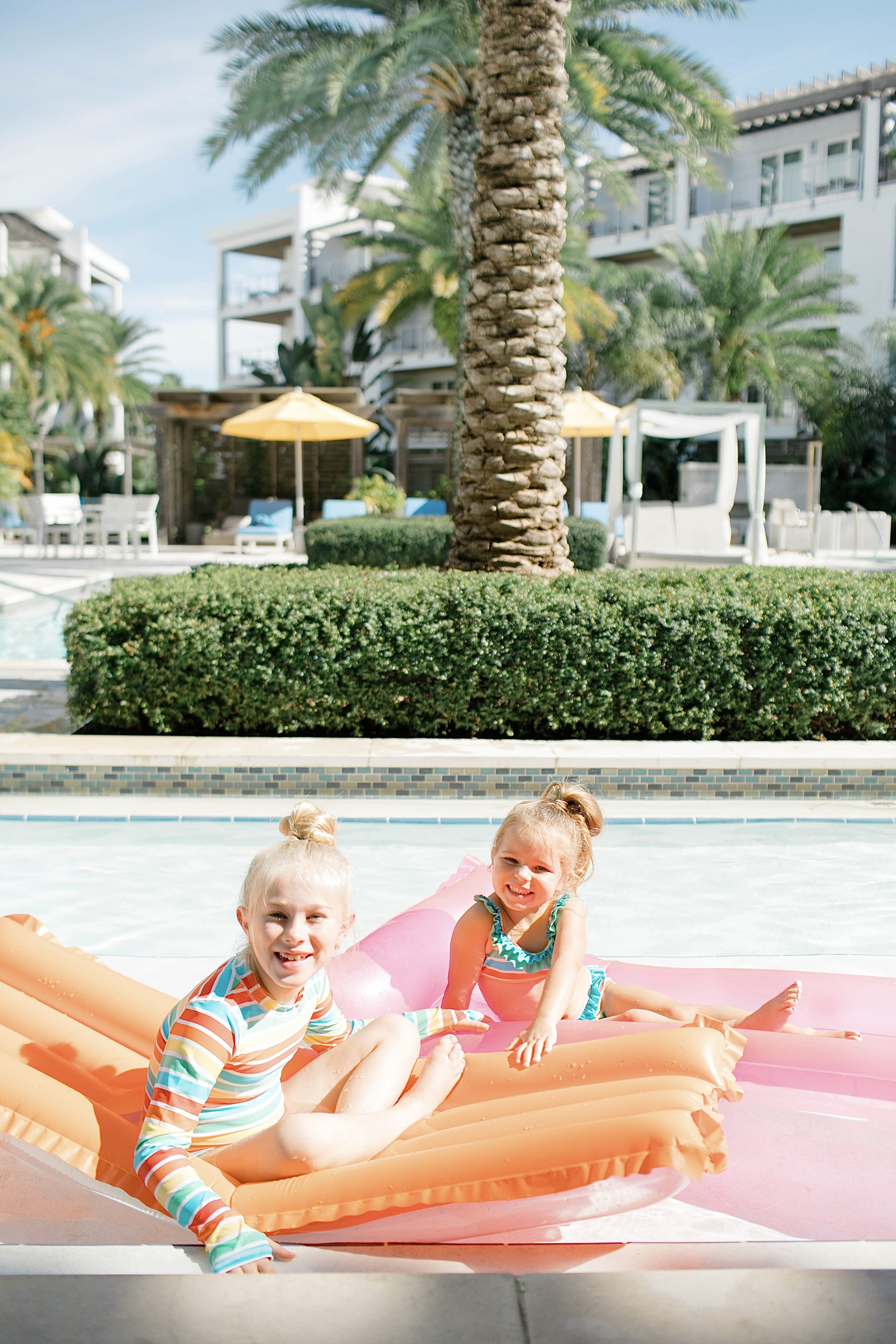 This is definitely our favorite thing about the 30a area. It is so kid and family friendly. And you can walk, pull a wagon or bike most anywhere. That makes it so convenient for families! I love that almost every time we visit 30a, we add another kid to the trip and we always discover something new in the area. There is so much to do! What are your favorite places to visit in 30a that are kid friendly?