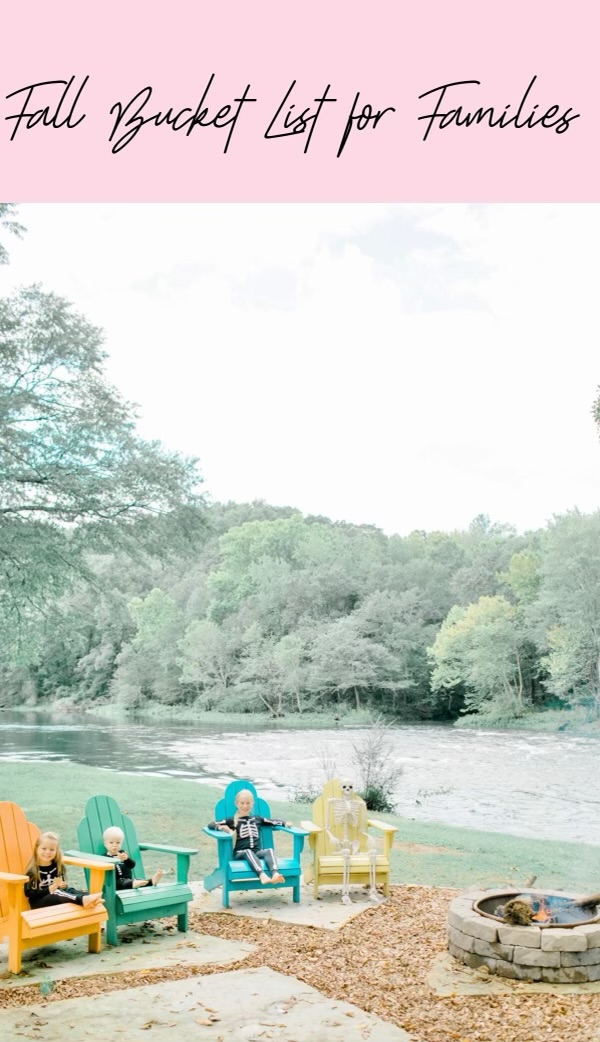 Hello, fall! What is about fall that makes us all want to get outdoors and do ALL the fall things with the kids?! Maybe it's the weather, the smell of pumpkin spice or hot chocolate, or the cheers of the crowd at a football game. It's my favorite time of year, and I absolutely love making memories with my own kids this time of year! I wanted to share my fall bucket list for families!
We have already knocked several of these off of our list last weekend at the river, and we can't wait to add more to our calendar over the next couple of months. I'm sharing my favorite 15 fall bucket list items below. They are perfect for families with kids.
Fall Bucket List for Families
1.) Roast s'mores over a campfire.
2.) Visit a pumpkin patch.
3.) Go on a hike.
4.) Go apple picking.
5.) Visit a corn maze.
6.) Go on a hay ride.
7.) Go tailgating at a football game.
8.) Go to a fall festival.
9.) Have a family movie night outdoors with popcorn and spooky family-friendly movies.
10.) Jump in the leaves.
11.) Have a scavenger hunt with leaves, rocks, acorns, and pine cones. As a bonus, make art with it after you find it all.
12.) Decorate or carve pumpkins.
13.) Go on a fall picnic.
14.) Decorate the house together for fall/Halloween.
15.) Go trick or treating.
Do you make a fall bucket list each year? Which are on your list? Which have you crossed off already?
For more family ideas this fall, see my blog from last year!