This post featuring our favorite new STEAM toy is sponsored by Babbleboxx, but all opinions are 100% my own.  Thanks for helping me to support the brands I love.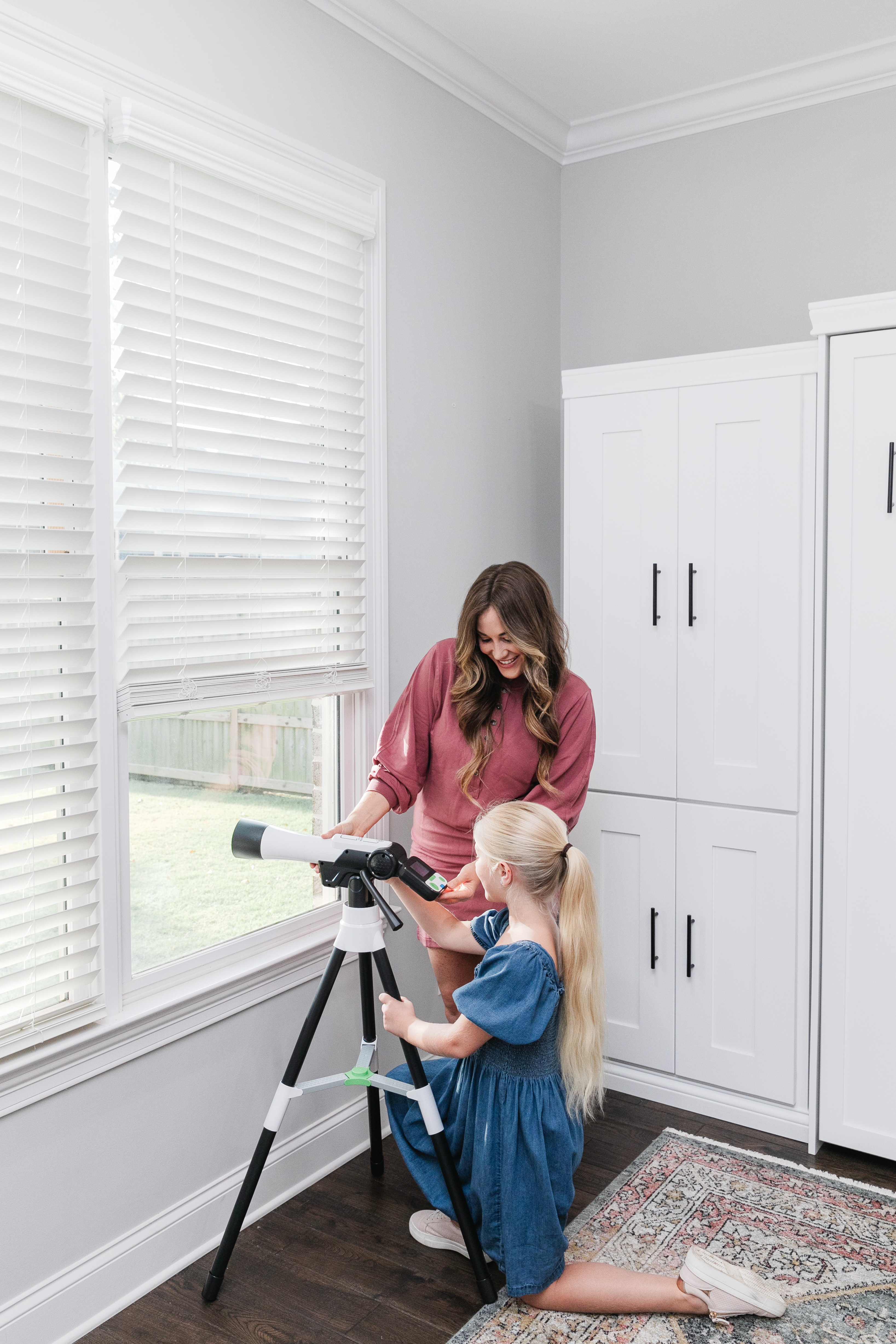 I am SO excited about today's post! I love sharing things that we use and love around here, and y'all know when it comes to the kids, I love sharing things that work, save money, and are educational. And this STEAM toy one is all of the above! We just got this new LeapFrog® Magic Adventures™ Telescope in, and Leighton is absolutely in awe of it! Her eyes just lit up when we got it.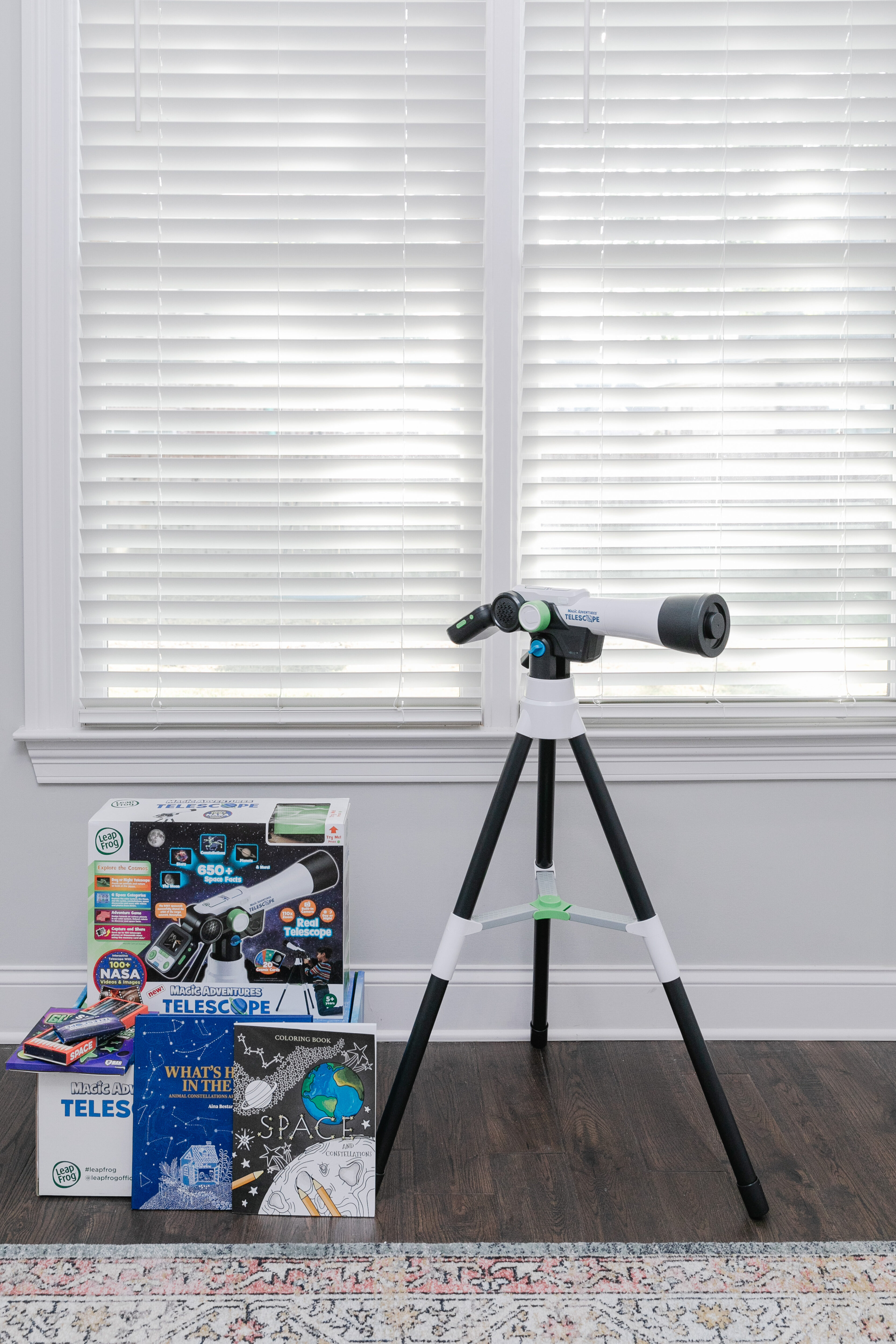 In the box along with the telescope came a Sky Book, Glow In The Dark Stars, and a Space-themed Coloring Book + Colored Pencils. All of the kids love learning about the sky moon and stars, and this telescope will be the perfect educational toy for them! Leapfrog has done it again! This telescope is a real working telescope, and it also incorporates videos and images on a touch screen, you can even take photos that you see with the telescope with a touch of a button. It's like a 3 in 1 fun learning experience!
Why We Love this STEAM Toy
What sets this telescope apart is its digital screen. The digital screen makes it easy for children to see what the telescope is pointing at without needing to look through an eyepiece. This makes it so much easier for small children like Grayson and Amelia. It also allows for multiple people to simultaneously view what the telescope is pointing at. No more fighting and having to take turns when all 3 kids want to use the telescope! Digital learning content complements the real telescope mode, so the kids are equipped to understand what they observe in the night sky.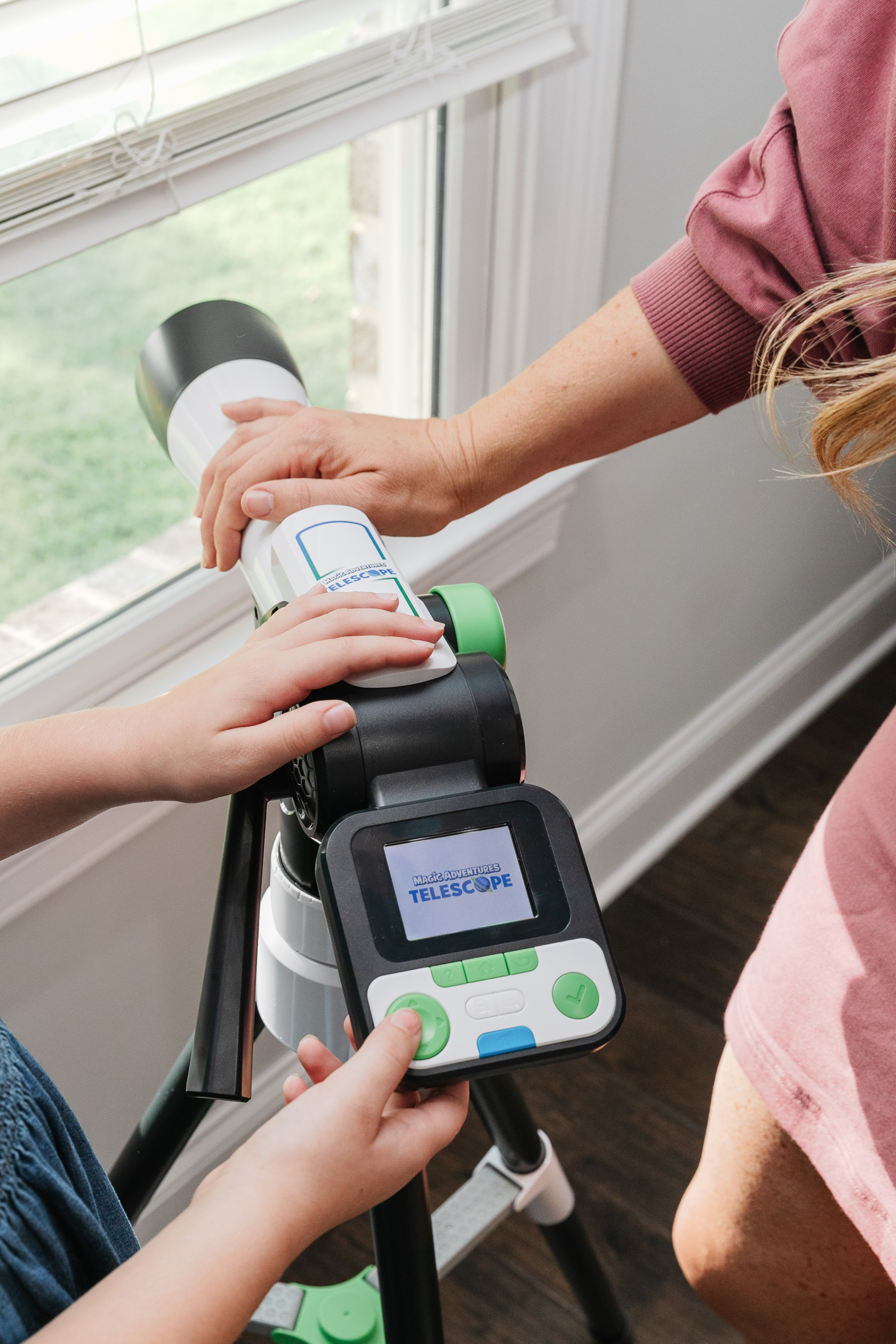 Not only can they use the telescope at night, but they can even use it in the day. Young astronomers can focus on the moon at night or nature during the day. They will be amazed at what they can see with up to 110x zoom on this real telescope. There is a button on the touch screen to zoom in or out on the telescope. There is also a focus, and you can even brighten and darken the image you are seeing. It is fully adjustable just like other telescopes, but only better! You can also capture and save images of fascinating discoveries with the touch of a button that takes a picture.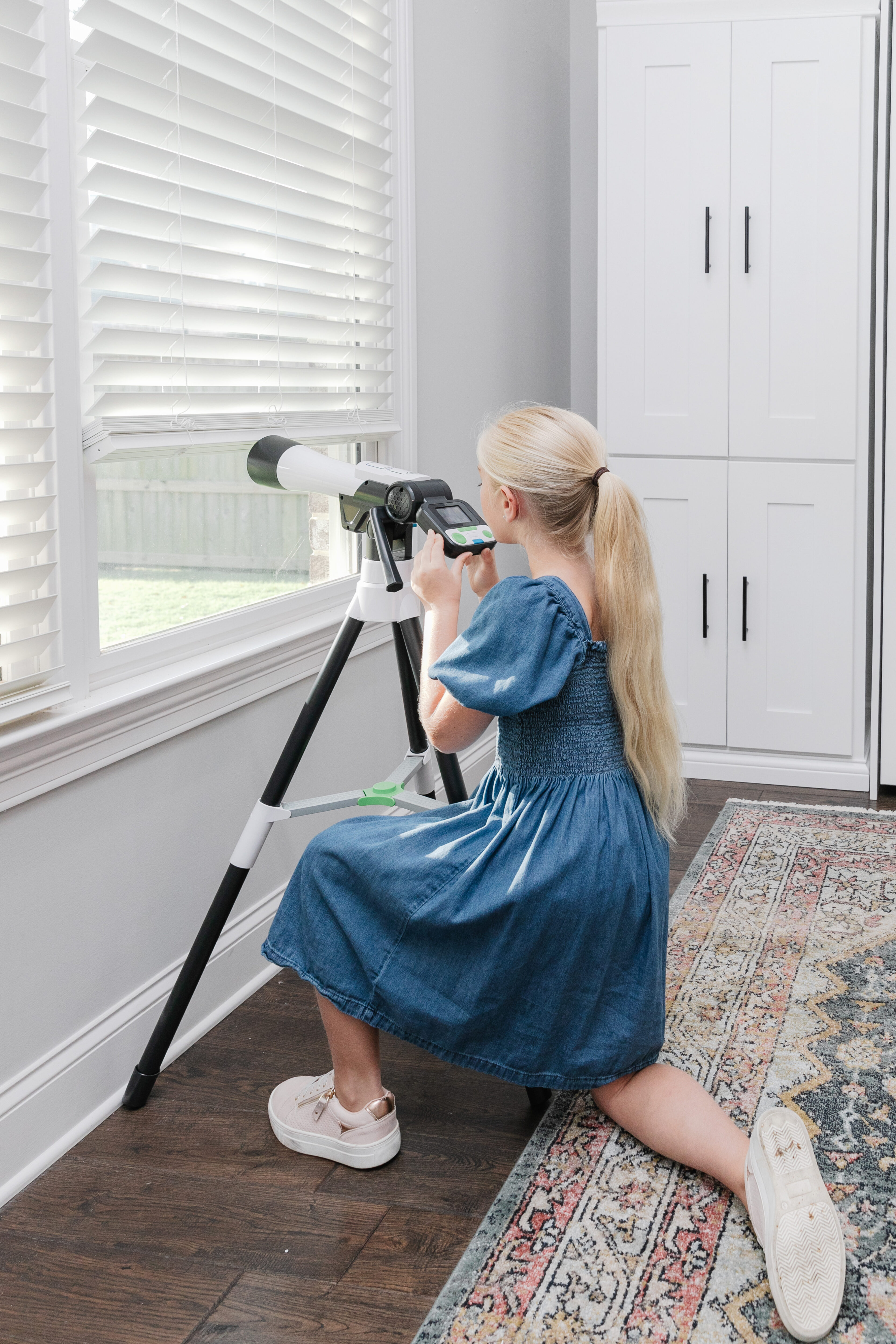 Also, you can activate 100+ amazing videos and images, courtesy of NASA and the European Space Agency, that deepen space knowledge by exploring the solar system, star life cycles, constellations, and more. You can play these thrilling space-themed games and explore Cosmic Cards featuring striking visuals and out-of-this-world facts that kids will love!
I love that this telescope not only is a real telescope, but it has so many interactive and educational components to it. It is also perfect for the entire family. You can be right alongside your children helping them play and learn together as a family. It offers an interactive, hands-on experience of science and engineering principles for kids eager to discover the universe. And it's a great STEAM toy to fuel your kids' learning and galactic journeys right here at home.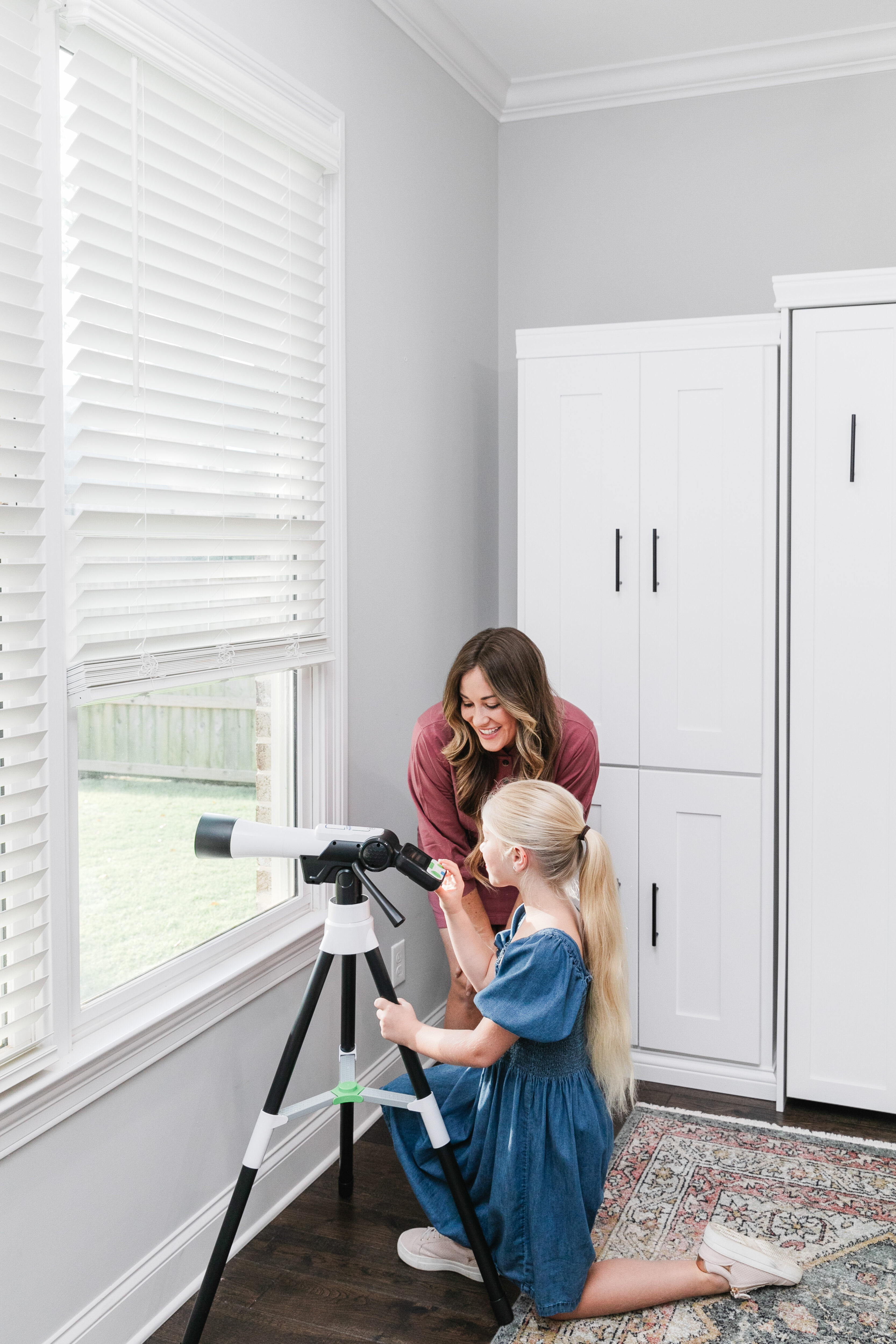 This LeapFrog® Magic Adventures™ Telescope would make the perfect birthday or holiday gift. It will let them explore their curiosities about space while also providing educational opportunities. It's also the perfect thing to do on a family night together while enjoying pizza night together! We are already going to spend this week putting the new glow-in-the-dark stars on the girls' ceilings. Plus, the kids have already been loving the book and coloring book. Discover things that are out of this world with the LeapFrog® Magic Adventures™ Telescope! Do your kids have a love for space? Do you love educational toys for kids? If so, let me know some of your favorites.