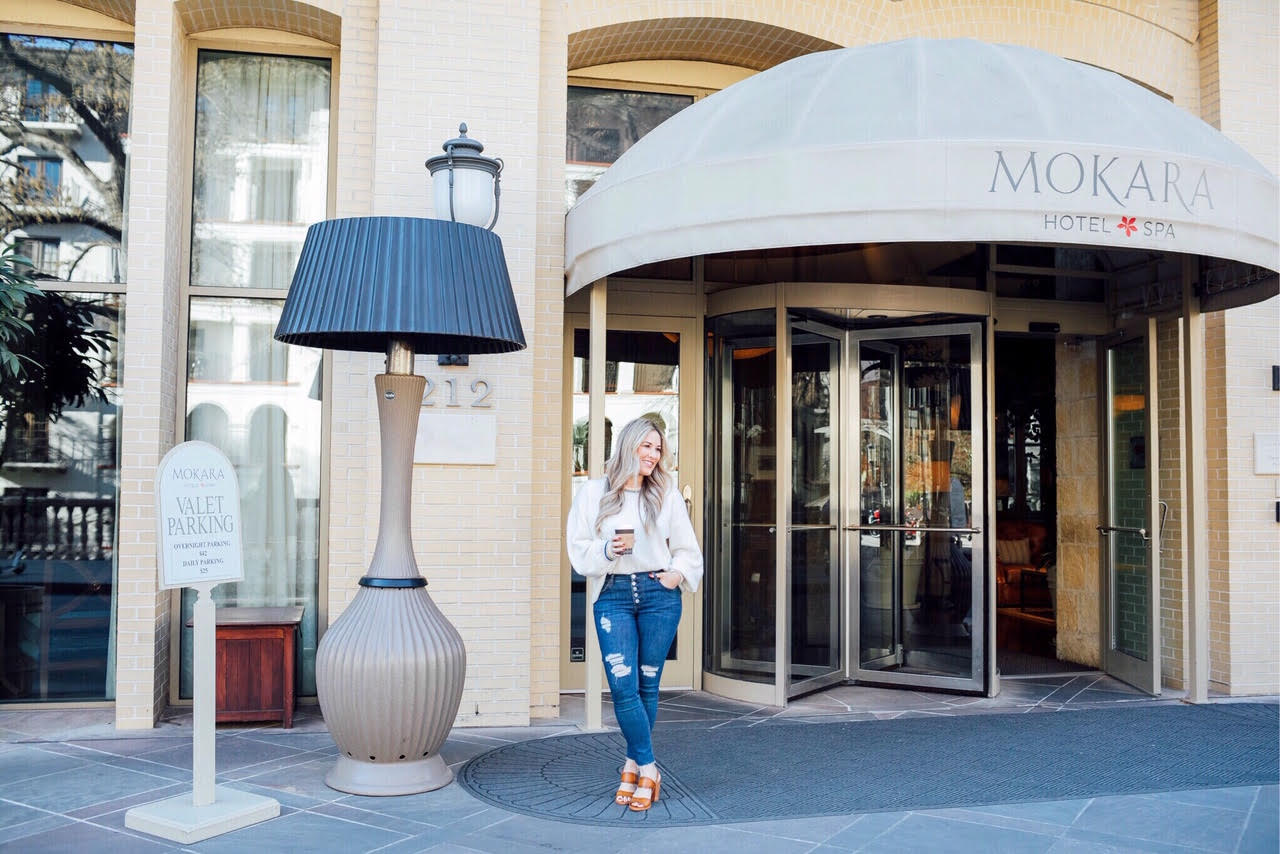 I've been traveling to San Antonio Texas for work for the last few years, but this was actually my first time to actually stay in town for the weekend and truly explore the city.  San Antonio has so much to offer – great shopping, dining, history and a beautiful location to do it all in – on the River Walk.  If you're planning a trip soon, make sure to check out my top recommendations for San Antonio Texas below.
San Antonio Texas Travel Guide:
Where to Stay in San Antonio Texas:
Mokara Hotel & Spa.  This was my first time to stay at this hotel, and it definitely impressed!  My room had a balcony, and I definitely took full advantage of sitting out there each morning overlooking the River Walk, water, boats and restaurants and people watching.  The hotel is located in the perfect spot right on the River Walk.  It's located right beside where you can buy tickets to take a river walk cruise, and it's also located within walking distance of some of the best restaurants on the River Walk.  Though honestly, I have yet to have a bad meal on the River Walk!  The hotel also has an outdoor pool and hot tub that I got to check out one afternoon when the weather was nice.  Next time I come back, it's on my list to check out the spa too; I hear it's amazing!
Where to Eat in San Antonio Texas:
Ostra. This restaurant is located inside Mokara Hotel, but let that fool you, it's more than just a hotel restaurant. You can sit indoors or outdoor on the River Walk. I had breakfast there one morning, and it was SO good! I got eggs, blueberry sausage and fruit. You HAVE to have the blueberry sausage, yum!!
Iron Cactus. If you're wanting some amazing Mexican food for lunch, this is your place! I highly recommend the crab stuffed jalapenos for an appetizer, and the Mexican meatloaf is amazing! I ate right before I left for the airport, and I wish I would have had more time (and more of an appetite!) They are big portions, but man was it good!
Little Rhein Steak House. There were a few good dinners throughout the trip, but this was the only one where we sat outdoors, and that really just made the entire experience. The restaurant is located on a section of the River Walk that was peaceful and quiet. That mixed with margaritas (it was National Margarita Day!), crab stuffed avocados and steak was the perfect dinner!
Things to Do in San Antonio Texas:
Go Rio River Walk Cruise. After watching river walk cruises all week, I finally decided I just had to go on one! Matt and I loaded up and even brought the camera along. The views were so pretty, and I love that you get a good history tour along the way also. One of the restaurants on the River Walk even has dinner cruises that I will definitely be adding to my list next time! Did you know that the River Walk is a whopping 15 miles long throughout downtown San Antonio?!
The Shops at La Cantera. This mall is AMAZING! There are 184 stores at this gorgeous outdoor shopping center! And when the weather is beautiful and not too hot in San Antonio, it's the perfect time to shop there. From Loft to Nordstrom to J.Crew to Neiman Marcus to Tory Burch and Vineyard Vines, this shopping center has it all. Carve out an afternoon and plan a visit to shop and eat and relax! And when you finish shopping, swing by here for a mani and pedi.
Six Flags Fiesta Texas. From Wonder Woman to Goliath to Batman to even more! I am all about the thrill rides, and more specifically roller coasters! Of all the coasters, I definitely recommend Iron Rattler. It was hands down my favorite, and I could have ridden it all day long! The weather was in the 70's, and the park wasn't crowded at all. It was the perfect day to visit Six Flags!
Have you ever been to San Antonio Texas?  If you've been leave me your favorite places to visit in the comments below.  = )