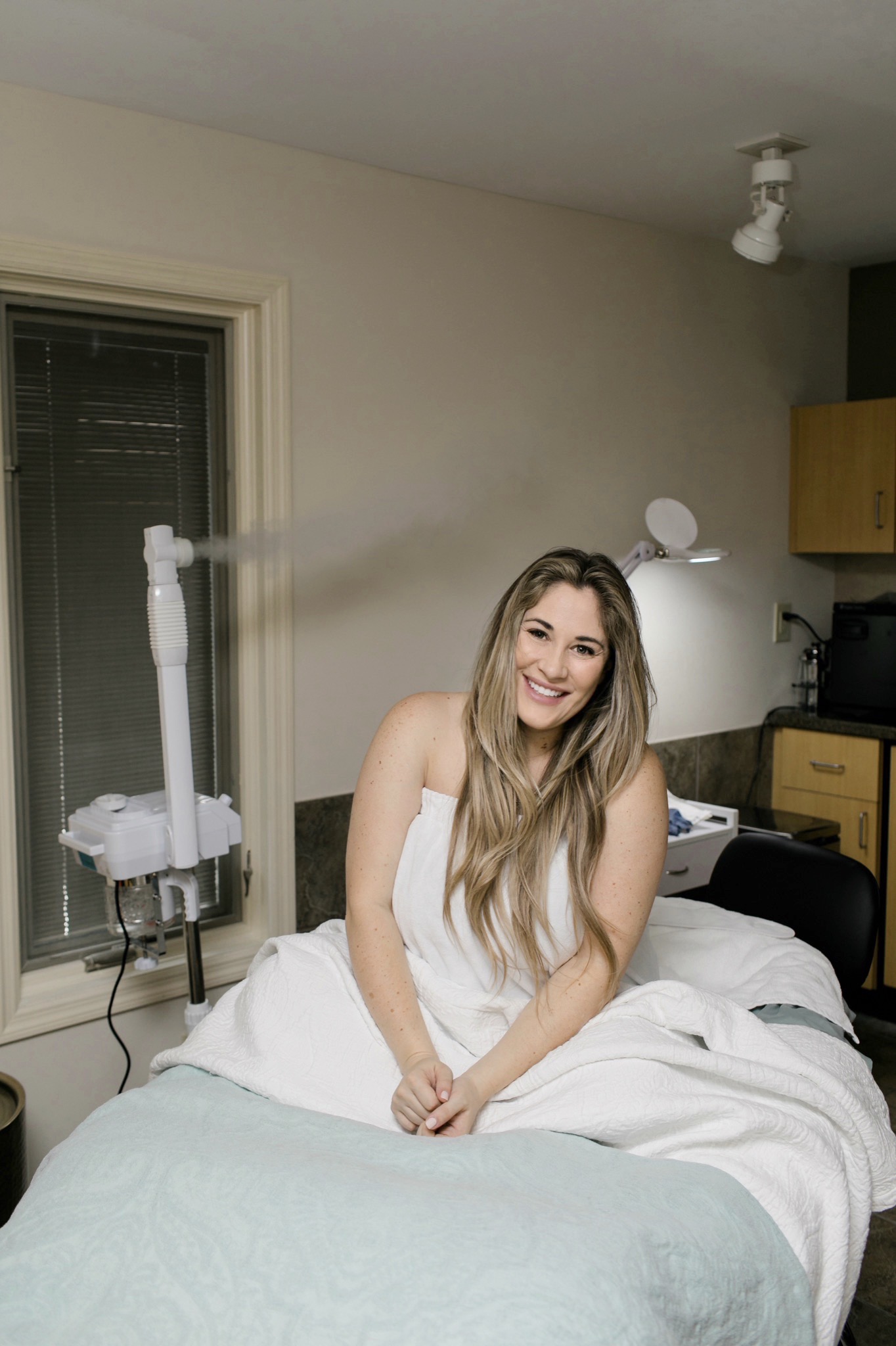 There is one question I have received time and time again while pregnant, and it is "Can I get botox while I'm pregnant or breastfeeding?". There is so much we don't know about what could happen and the possible side effects of getting botox while pregnant or breastfeeding, so it is definitely not recommended.
Safe Medical Spa Treatments While Pregnant:
I have been going to Veronica at Ivy Spa in Memphis for 4 years now, and she is absolutely amazing! She is the owner of Ivy Spa and a registered nurse, so I always feel safe with her and trust her expertise, opinions and guidance. The last time I had botox was before I found out I was pregnant with Grayson back in the winter, so I'm not going to lie when I say I cannot wait to be able to get it again soon, haha!
The good news is, though, that there are SO many medical spa treatments you CAN get while pregnant or breastfeeding. Basically it isn't recommended to get any services that are invasive. What you CAN get are services like prenatal massages, facials and peels. Not only can you get these services, but they are also highly recommended…especially a prenatal massage!
Massages are so good for you!
They relax and loosen your muscles, they increase blood flow, and they help to reduce stress. These are all great benefits for you, and especially while pregnant. Facials cleanse, exfoliate and moisturize your skin. They also usually include a small massage for the face, neck or arms. Bonus! I fully believe that facials are so good for your skin, but they are also so good for your health. De-stressing and relaxing is so important when you're pregnant.
Since I'm pregnant, I had a derma planing facial and a non-medical grade chemical peel.
This was my first experience with derma planing, and I highly recommend it. It removed peach fuzz and dead skin with the help of a scalpel. It is non-invasive, so it was perfect to try out. Afterwards, my skin felt much smoother and softer, and my makeup even went on and looked so much better!
The chemical peel then helped remove more dead skin cells and improve dry skin. Afterwards, my skin was so much more moisturized. I haven't had a peel in 2 years, but I definitely need to start adding peels to my beauty rotation more often. They are actually recommended at least seasonally. Since getting pregnant, winter, and then spring, I immediately noticed just how dry my skin had become this year. Hormonal changes from pregnancy can also have an effect on that.
Since I received my facial and peel a few weeks ago, my skin has felt and looked SO much better! Now when people say I'm glowing, I can actually agree with them. It was also such a relaxing day at the spa. Previously, all my spa appointments were done on my lunch break, or I would rush there after work to squeeze in an appointment. This time since going to just 1 full time job, I was actually able to make a morning appointment and enjoy my morning at Ivy Spa. It was so nice!
I know it is our natural tendency to think that going to the spa is a relaxing splurge. While yes, it can be relaxing, it is also necessary. It fuels your mind, body and soul, and I am a firm believer that you have to fill your own cup up before you can be expected to fill everyone else's up. Take some time for yourself, your health and your skin. You definitely won't regret it.
What about you? Have you been to Ivy Spa yet? What are your favorite medical spa treatments while pregnant? Let me know in a comment below!