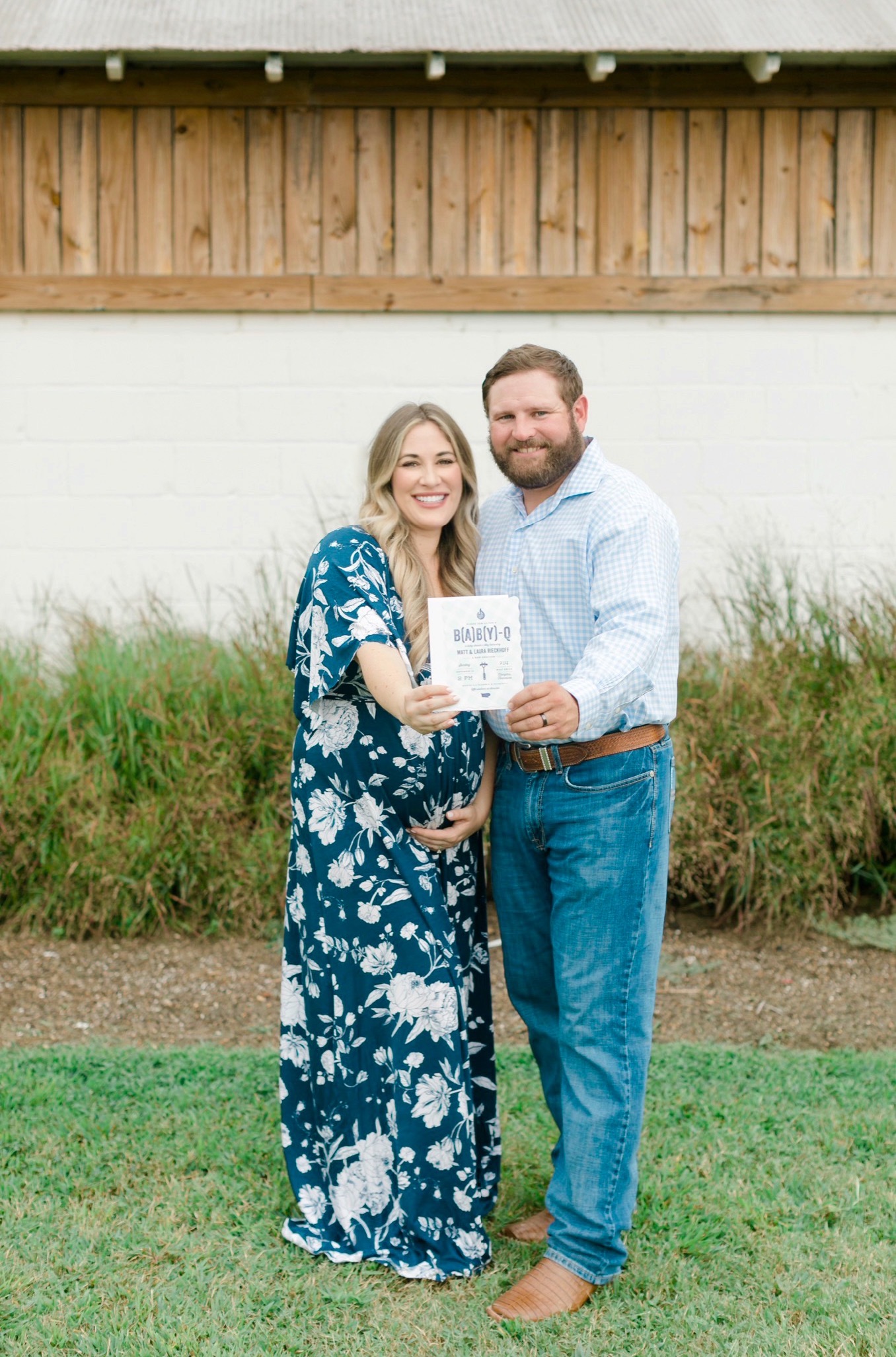 SHOP MY BABY SHOWER LOOK:

My sister threw a small rustic baby shower for Matt and I a few weeks ago, and it was just so cute and sweet!
Thanks to covid, it was really small and was just us 4, my sister and her family and my parents, but it was still nice getting to spend the afternoon with our immediate family.
Rustic Baby Shower Essentials:
Matt picked out the cutest invitations from Minted for our little B(A)B(Y)-Q. He loves BBQ, and I love gingham, so they were the perfect invitations for us lol! My sister had fruit tea, lemonade, BBQ, beans, coleslaw, chips and salsa and fruit and fruit dip. Everything was SO good!
My sister also ordered some custom made cookies from The Autumn Pumpkin in Memphis, and I love how they turned out! I wanted cute little gingham ones, some little sleeper ones and bottle shaped cookies, and I picked out a couple deer and elk designed cookies for Matt. He LOVED them! I think it was the perfect mixture of both of our styles, and I loved the cute little rustic feel of the entire shower.
Leighton helped us open the gifts during the baby shower, and it made her feel so special. We got a box of diapers, wipes, diaper rash cream and gift cards which was perfect, because we definitely needed the essentials! We used the gift cards to get a baby monitor that we could view on the monitor and via an app on our phones, so we can watch baby Grayson from everywhere. If you missed my baby registry list, you can check it out here.
Once Amelia and my niece woke up from their nap, it was pool time. We squeezed in one last swim day in September, and the girls had the best time swimming and eating strawberries, cantaloupe and blueberries all night.
It was so fun celebrating baby Grayson with family, and I'm glad both the girls got to be there. Now, it's just countdown time until he gets here! Did you have a baby shower? How has covid changed your celebrations this year?