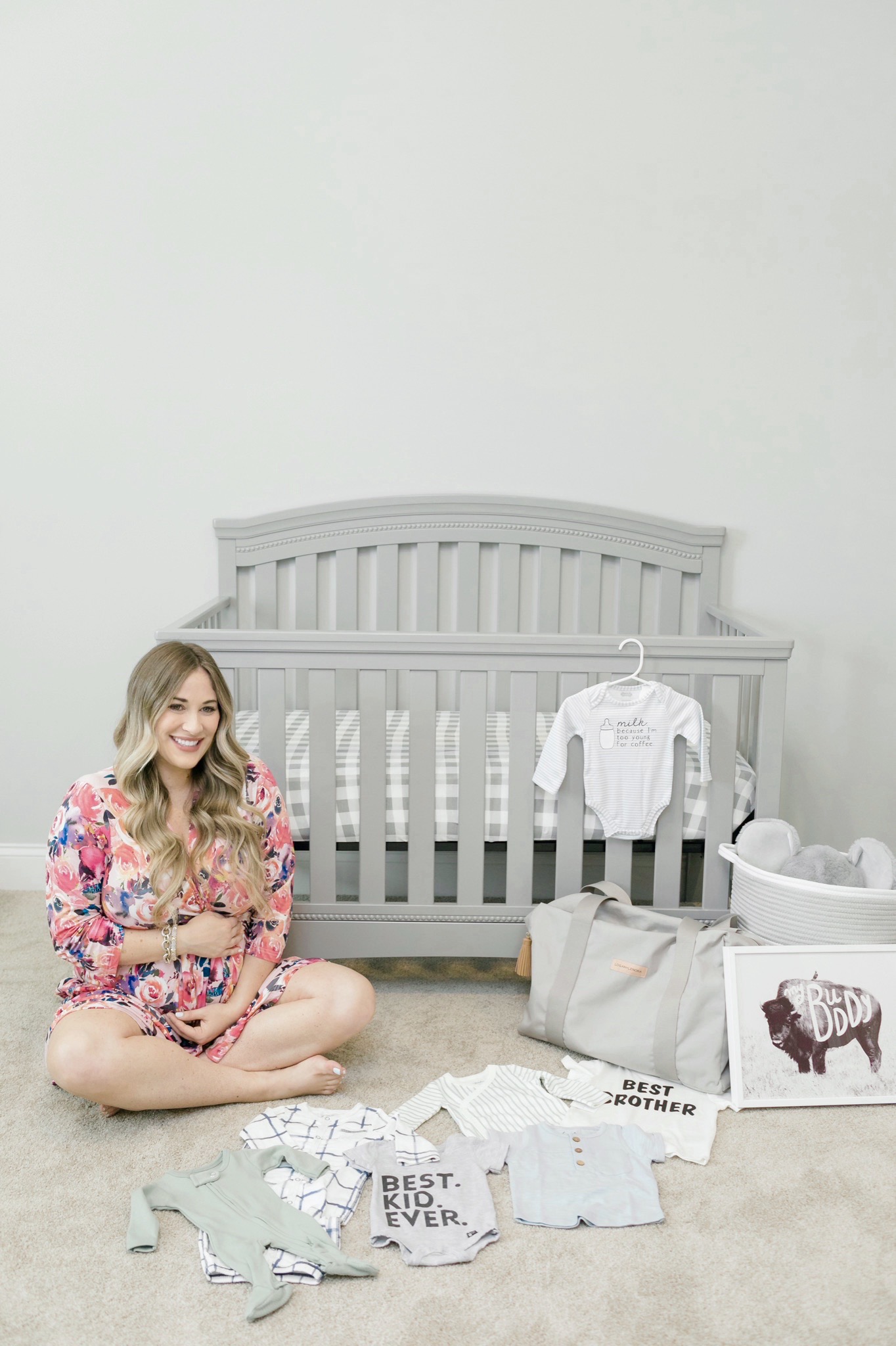 Y'all… I thought I had more time for this! But after our weekly hospital ultrasound since 30 weeks, we decided uh oh, we are getting down to the wire! After another doctor visit, them monitoring me and baby weekly, and them thinking he may come in just a few short weeks, I decided to pack up my hospital bag. Last weekend I packed up my hospital bag in case Grayson decides to make his entrance into the world just a little early!
If y'all have been following along with this pregnancy journey on Instagram, I found out a couple months ago that I was diagnosed with Polyhydramnios. We found this out at the high risk doctor when they were checking for a possible VSD my doctor thought she had seen. The good news is that they don't think baby has a VSD.
And as far as polyhydramnios goes, this basically just means that I have an excessive amount of amniotic fluid. I've been going to the doctor for weekly BPP ultrasounds and stress tests, and they've been keeping a watchful eye on my fluid levels, Grayson's size, his development and his breathing. With my diagnosis, it's possible that he may come earlier than my due date, so I want to make sure I'm prepared just in case!
This time around, packing a hospital bag honestly feels like a totally new experience. When I had Leighton, I didn't really "pack" per se. Not as thoughtfully as I'm packing now anyway. I was in the hospital for 3 days. I didn't get to take a shower while I was in the hospital. And… I didn't know I could take my own gown or robe lol. So this was all sorts of new and fun for me!
What to Pack in your Hospital Bag?
Hospital Bag Essentials For Mom
A Large Bag – There are quite a few things you'll want for the hospital of course, so you'll need the room to fit your stuff. But, once you go home, the hospital gives you so much stuff to go home with. You'll want to make sure you have a bag that's big enough for whatever you're packing but also one that will have some space for all the stuff you'll get to come home with!
Something Comfy to Wear Postpartum – During labor and delivery, you'll be wearing the hospital gown. But after you have the baby and they move you over to the mother & baby unit, you'll want to be in something much more comfortable. I found that a robe and a nursing tank were the perfect combo of comfortable and functionality! You'll also want a comfy outfit including a nursing bra to go home in.
Slippers or Non-Skid Socks – You'll want something to keep warm and cozy in when you get out of bed and step on that cold hospital floor! Sure, the hospital will give you socks, but there is nothing like having some of your own things during this time.
Pads, Underwear, Diapers and a Peri Bottle – Sure, the hospital will provide you with pads and mesh underwear, but I have so many friends who swear by adult diapers. I just got the cutest little pink mesh underwear and a peri bottle from Jenny + Evie that I have packed. The shape of this peri bottle is SO much easier to use than what the hospital gave me with Leighton.
Chapstick – This I did pack with Leighton. I cannot make it without my chapstick, and I kept it right by my bedside lol! After almost a day of not being able to drink anything, your lips tend to get a little dry!
Hospital Bag Essentials For Mom and Dad
Toiletry items – I may not have been able to shower during my last labor and delivery, but you better believe I'm packing my favorite toiletries this time just in case. Toothpaste, toothbrush, hair brush, deodorant, makeup, lotion, shampoo and conditioner, moisturizer or anything else that makes you feel a little more human. Make sure hubby packs these things too, along with any medications you both may take.
Phone Chargers – You might be there for a while. Make sure you take your chargers so you'll have plenty of juice to take tons of cute camera phone pics, text friends and family and share the news on social media.
Snacks – With breastfeeding and waking up around the clock, you'll want to make sure you have plenty of snacks on hand just in case.
Hospital Bag Essentials For Nursing
Breast Pump – With Leighton, I took my Medela pump with me so the lactation consultant could show me how to use it. I didn't start pumping for several weeks, but it was nice to have someone show me exactly how to use it before I got home. If you are looking for an easy manual pump, I highly recommend packing the Haakaa. It's great to use on the side where baby isn't nursing to store up extra breastmilk that leaks during your letdown.
Boppy Pillow – breastfeeding can be a struggle no matter how many babies you've had. Having something to make this a little easier and more comfortable is so nice! I love a Boppy pillow for nursing because it puts baby in a great position to latch. And while you're at it, pack a pillow for yourself too so you'll have a comfy one!
Lanolin Cream – Before your milk comes in (and even after), breastfeeding can take a bit of a toll on your body. Sore nipples are super common and having a lanolin cream of some sort will help to soothe that discomfort!
Hospital Bag Essentials For Baby
2 Outfits for Baby – You really don't need a TON of stuff for baby. You'll want a cute outfit or two for some cute hospital pictures but honestly, most of the time they're in the hospital, they're swaddled and in a hospital tee or onesie. You'll definitely want something cute to snap a few pictures in though. I'm packing this cute, matching gown, hat, blanket and bassinet sheet combo from A Newborn Nest.
Booties & Gloves – I love packing my own favorite little booties and gloves to keep baby warm while in the hospital. These are so soft, and they will keep baby from scratching himself too.
Bibs or Burp Cloths – I love packing these in case there is a little leaking milk or baby spits up, but trust me, you can never have to many burp cloths for little clean ups.
Extra Hospital Bag Essentials
A Memory Book – There are a lot of details about labor and delivery, and those first moments with baby that you'll want to jot down so you don't forget them. Bring along some kind of memory book (or even just a notebook to jot down some thoughts!) so you can record some of those details that you'll want to remember.
Hospital Bag Essentials For Delivery & Going Home
Car Seat and Car Seat Cover- Don't forget your car seat! With all the excitement of heading to the hospital in a rush, I've heard many stories of couples forgetting the car seat, and you can't leave without one.
Photo ID, insurance info, hospital forms and birth plan – You'll want to have all of these items handy. If you have a birth plan, definitely pack it!
What did you pack in your hospital bag? Is there anything else I should add to my list?