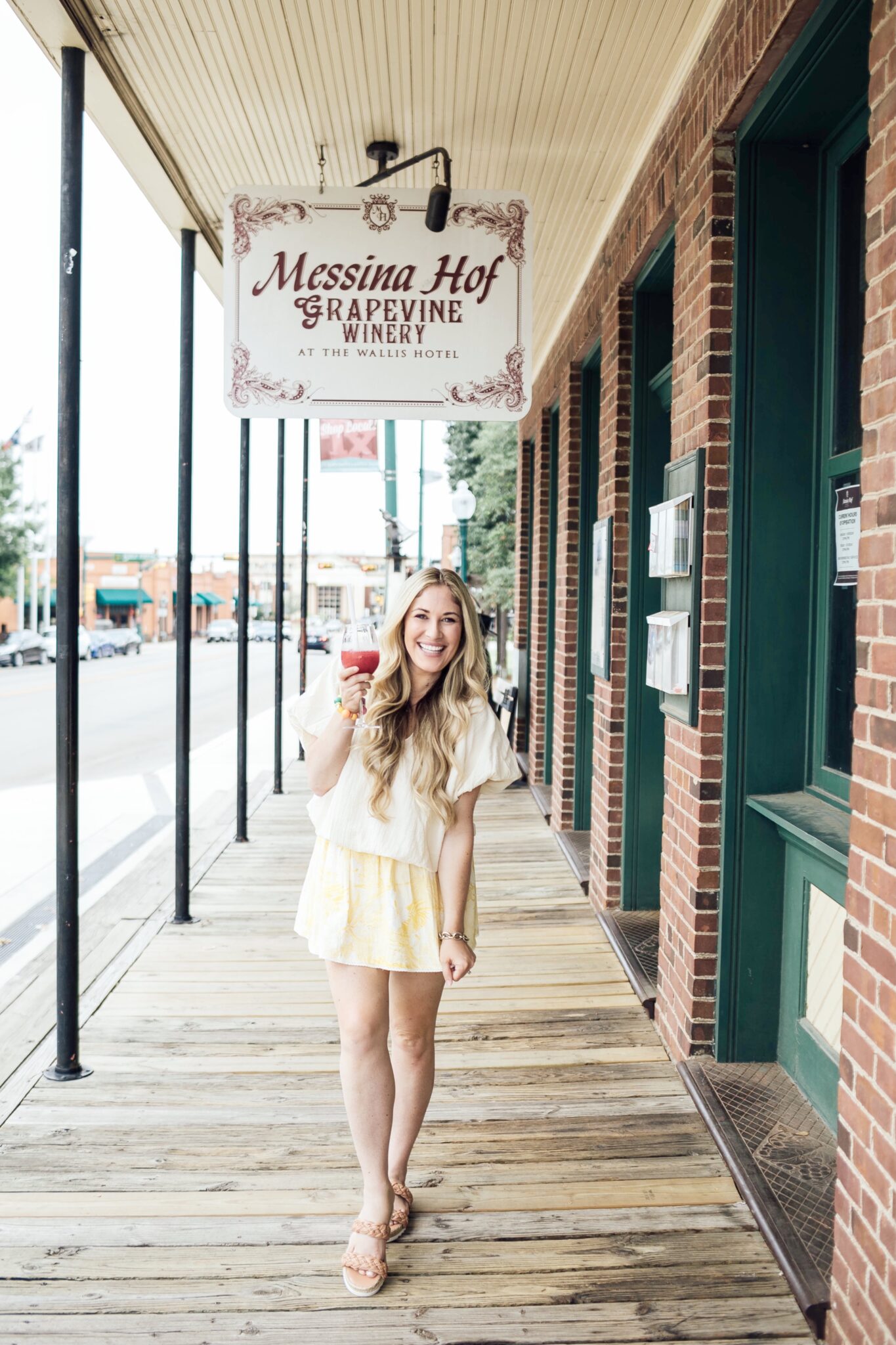 It should come as no surprise that when Matt and I were talking about where to go for our combined birthday trip, we chose Texas. Matt is a Texas boy, and since I worked there for over a decade, it's a favorite place for both of us.
Something we love doing on lots of our trips is get to a winery or two for a quiet little tasting. On our most recent trip, we hit a few different wineries and I thought it might be fun to share some of our top spots to hit in Grapevine, TX.
Best Wineries in Grapevine TX:
I've talked about Messina Hof on here several times, and this is one of our top choices for a winery when we're down in Texas. The environment here is just our speed and it's the perfect place to kick back and relax! You can read a little more about it here on my Dallas, Texas travel guide post.
This is a super unique wine experience. Wine Fusion was voted the winner of the "best wine experience in Texas" and for good reason! They have a really cool offering of a blending class where you can learn how to make your very own red or white wine. What a cool way to spend an afternoon, right?
Located in one of the oldest buildings in Grapevine (built in 1916), Sloan & Williams lets you experience the history of Grapevine while enjoying locally sourced wines.
For those on a budget, Bingham Family Vineyards is an awesome spot! Get that high dollar taste on a low dollar budget. Bingham's Grapevine location is right next door to the Grapevine Visitor's Information Center so you can take part in a great wine tasting while you think on what to do with the rest of your trip in Grapevine!
Set inside what was once a home, you can enjoy an amazing wine tasting of local wines in a super nostalgic setting. This is a great location if you're missing home!
If you're looking for an Italian style vineyard, Bull Lion is it. In Central Texas Hill Country, the high mineral content of the soil really brings out similar tastes of those found in Spain, Italy and Argentina. This makes Bull Lion wine as good as it gets when you're looking for something authentic!
Have y'all been to any wineries in Grapevine that we need to visit? Let me know!