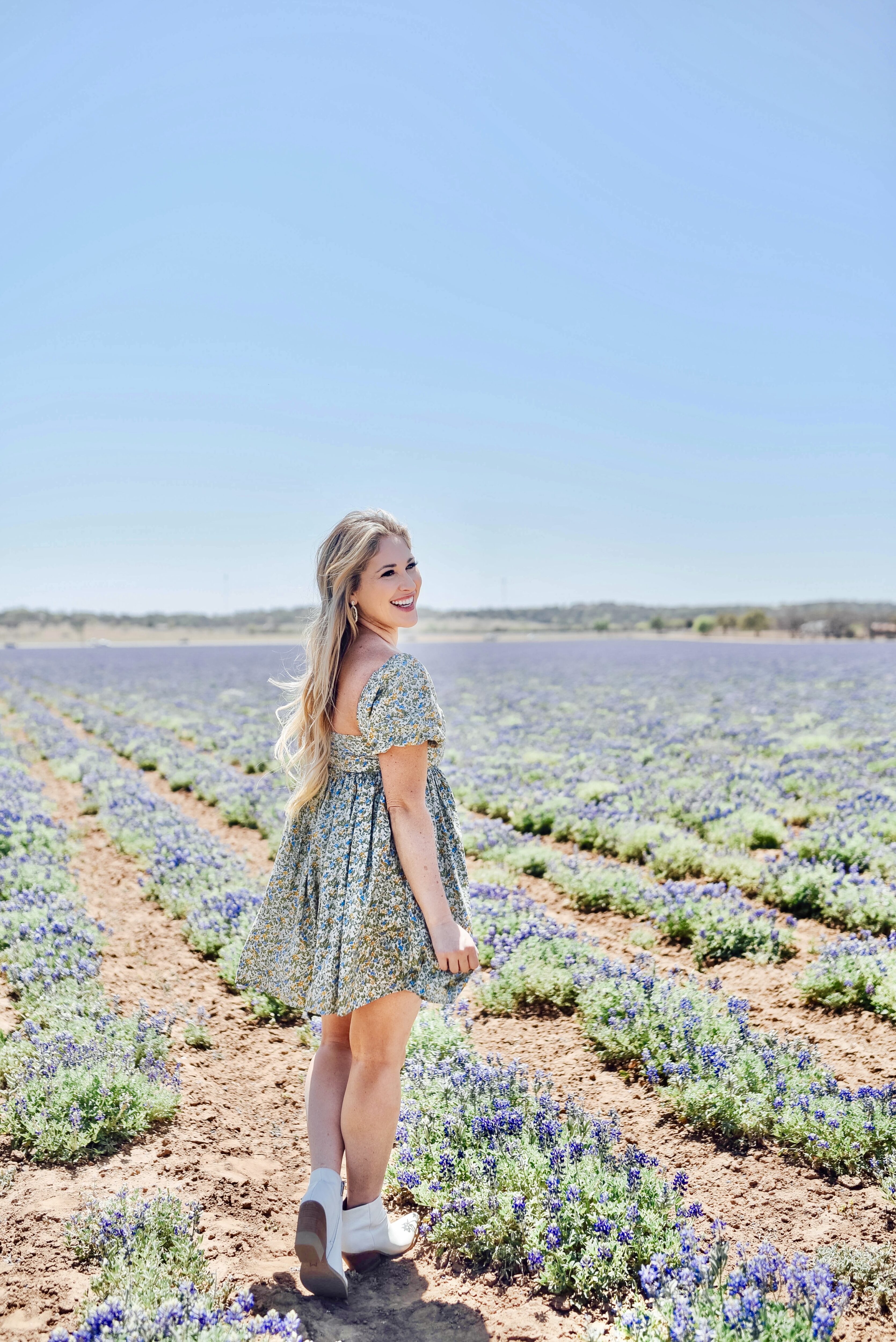 Shop my Fredericksburg TX Looks:

I am still dreaming about my amazing Fredericksburg, Texas trip from last week! You've seen me talk about my love for Fredericksburg before (here, here and here), and I was so excited to finally be back again post-pandemic! I attended a press trip and had such a great time! I've been to Fredericksburg several times, so I was excited and surprised to learn that there were so many new places and so much more to explore and learn!
Fredericksburg was founded by Germans in 1846, and they signed a peace treaty with several tribes of the Comanche Indians a year later in 1847. Fredericksburg is celebrating their 175th anniversary this year, and they have such a rich and diverse culture in this small town. You can learn more about their 175th celebration that goes through May 2022 here.
Though the population of Fredericksburg is right under 12,000, it has SO much to offer! It still has that small town feel with so much charm and history, but it also has SO many great places to stay, things to do and restaurants to eat at. If you haven't been to this town, you really are missing out! It is such a gem!
Where to Stay in Fredericksburg TX:
Fredericksburg has a huge variety of accommodations to stay at from inns to cabins to bed and breakfasts to Sunday houses to also Airbnbs. Depending on whether you prefer to stay in town off Main Street or a more secluded stay out in the woods with a pretty hill country view and a hot tub, there is something for everyone!
Trueheart Hotel – We stayed at this hotel right off Main Street and loved it. The location was perfect walking distance to so many great shops, restaurants and tasting rooms. The hotel is comprised of several Sunday houses, and they are just the perfect amount of space for a girls' weekend or even a couple's trip.
The rooms have fireplaces inside, a nice relaxing tub, and some of them even have outdoor showers. The upstairs is one room, and the downstairs is another room. This hotel also has a nice fireplace with chairs outside and a cute little front porch to enjoy a glass of coffee on each morning.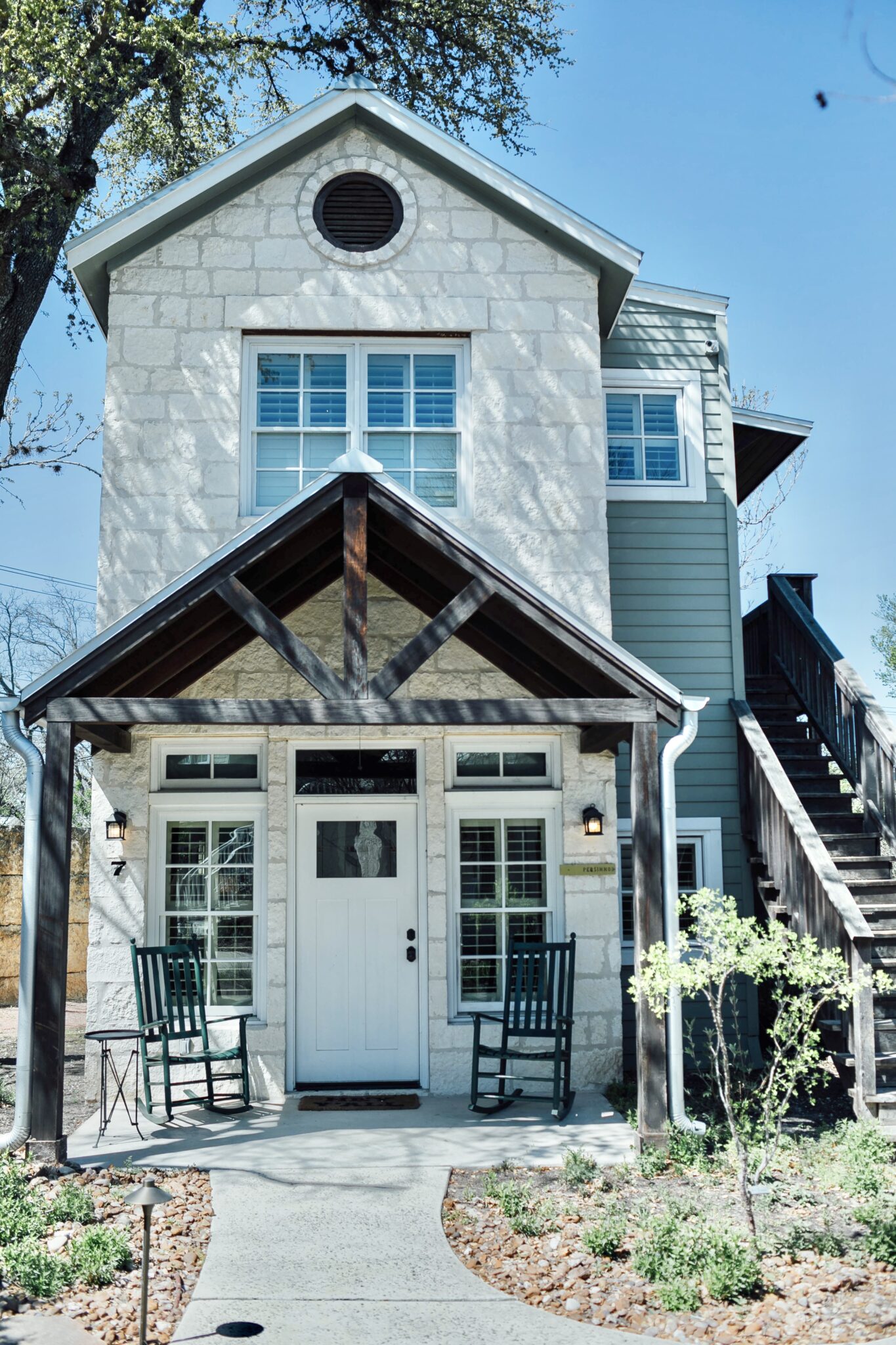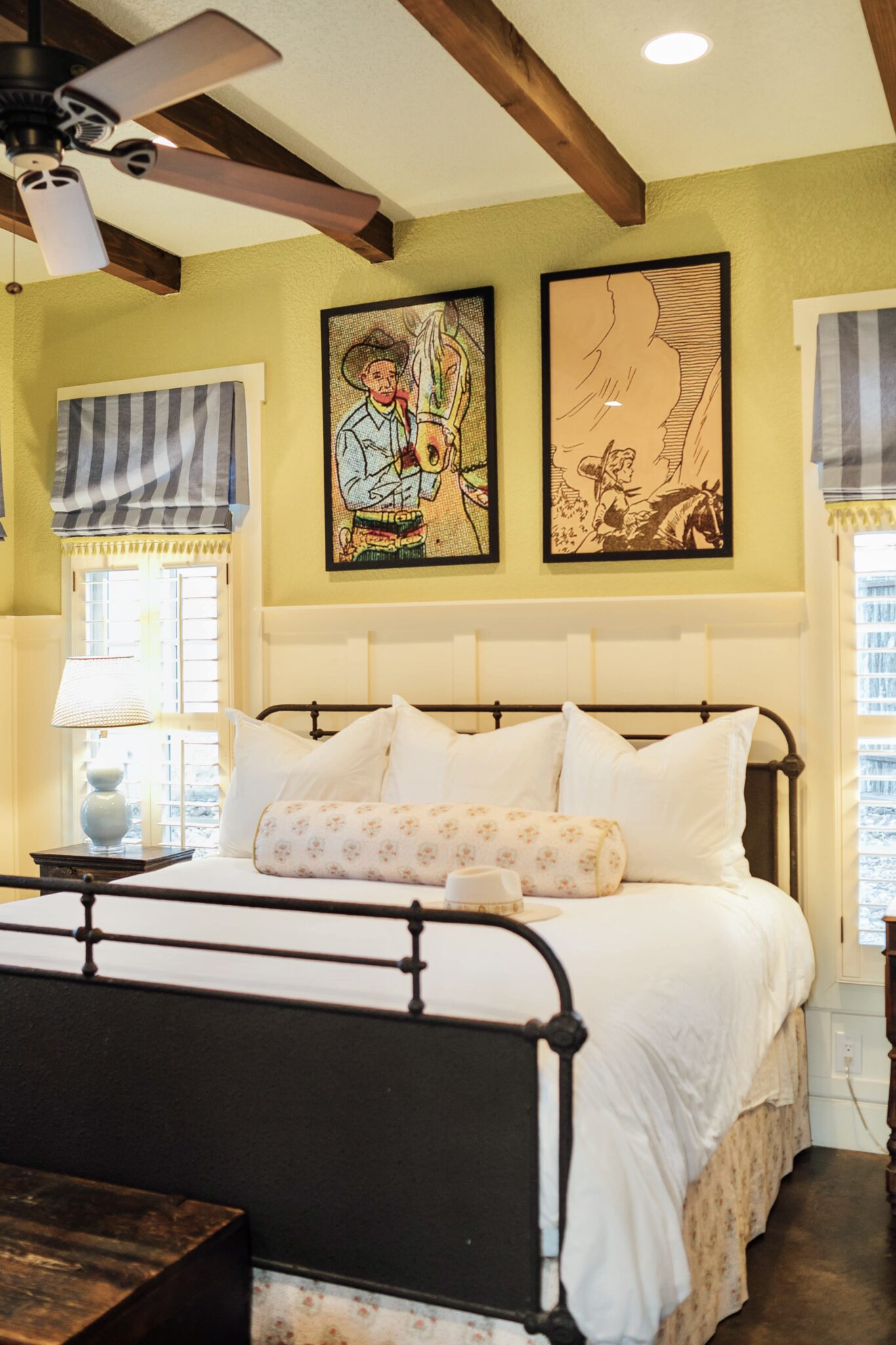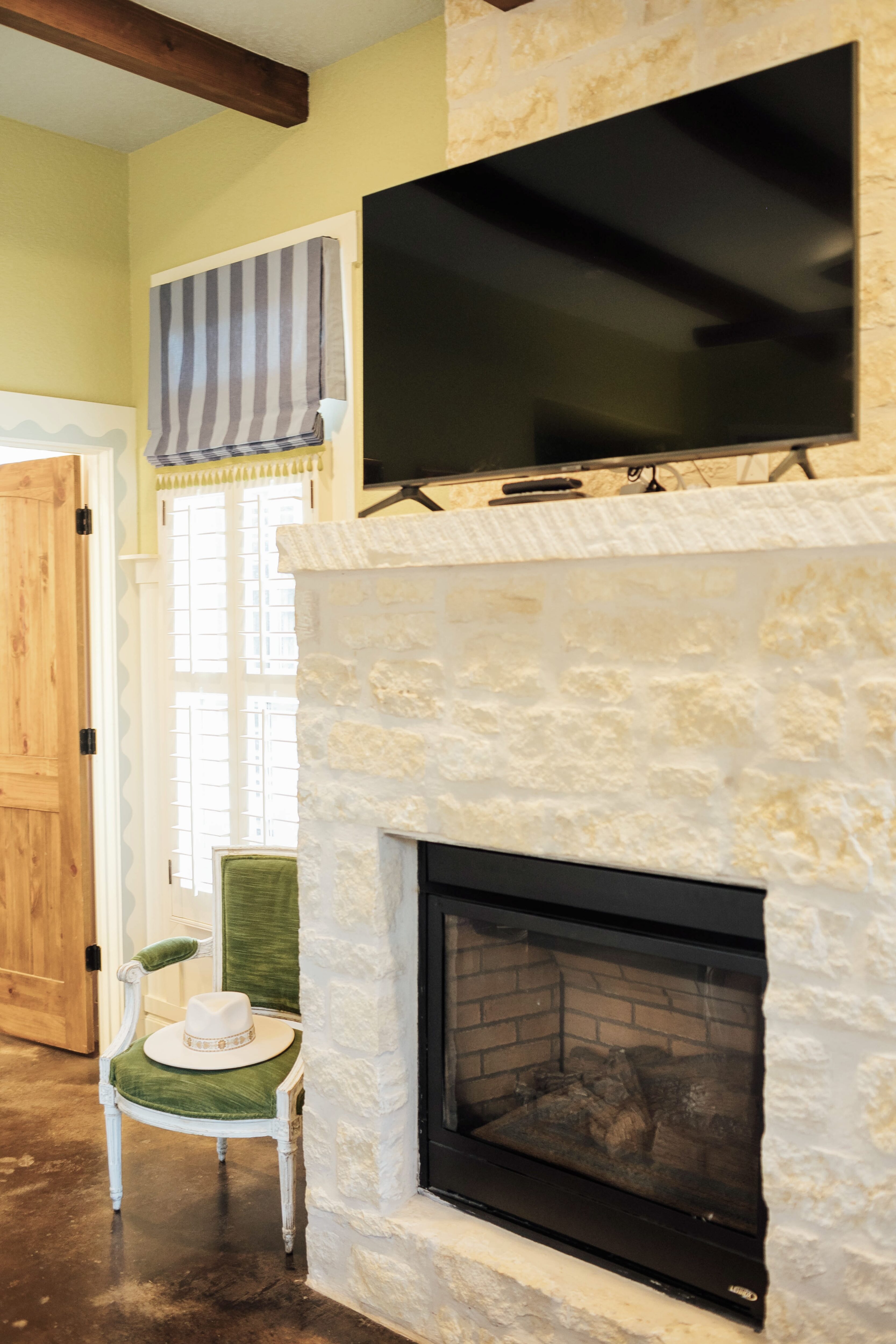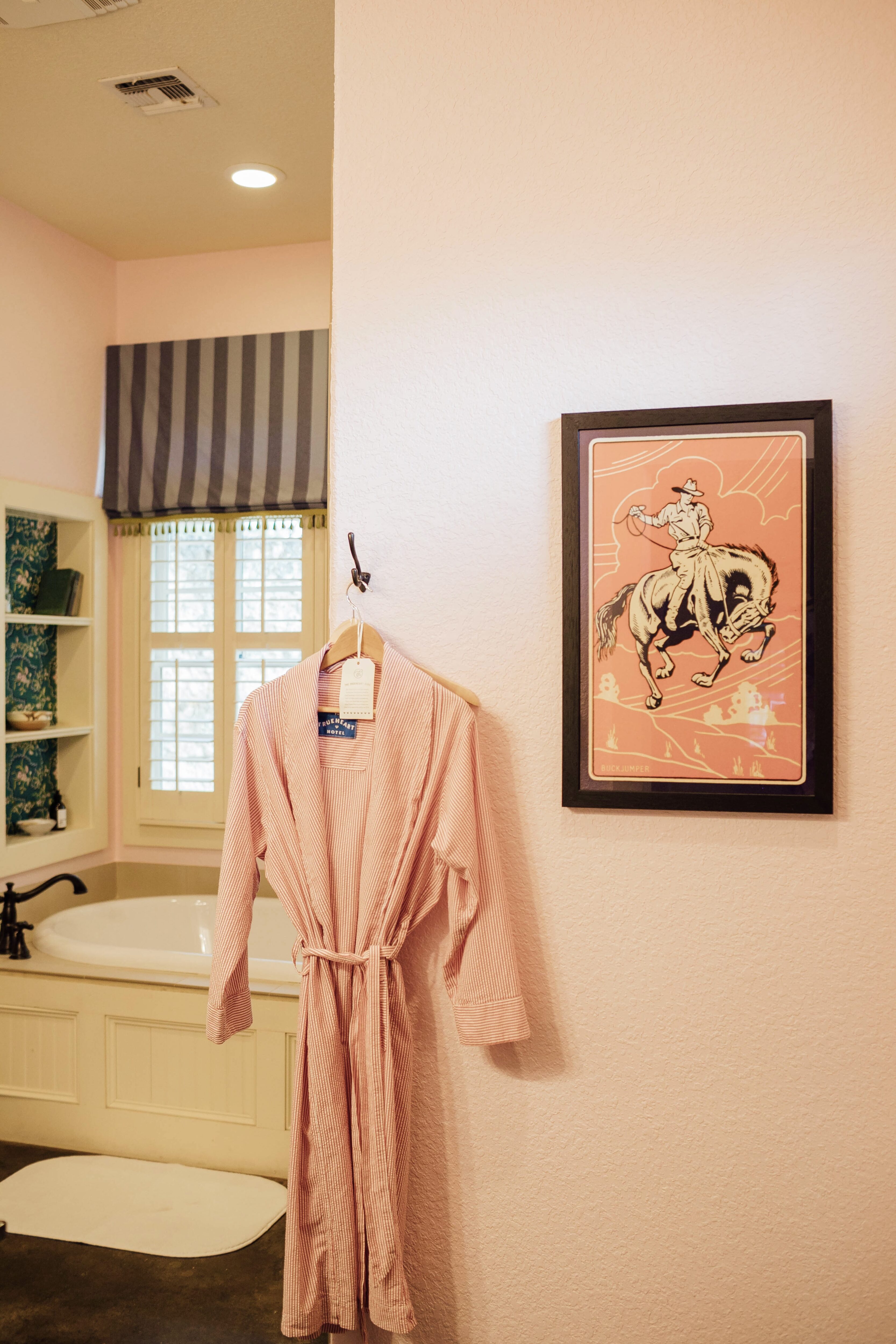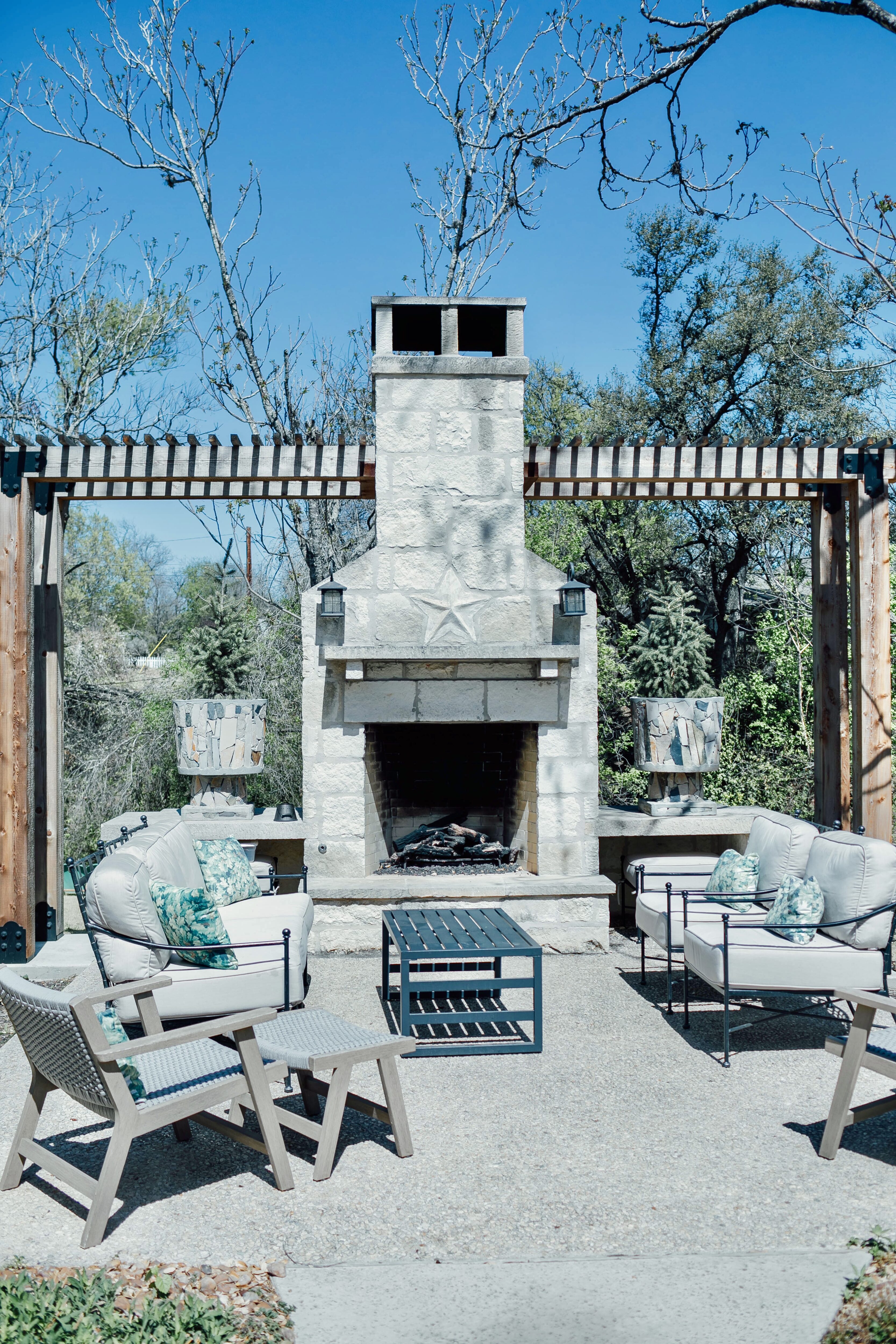 Onera – This luxury treehouse resort is anything but "glamping." Trust me, it is so much more. This resort is comprised of several different types of accommodations from wooden treehouses with glass windows all on one side to even a tented dome. They all have heat and air conditioning and tubs. And most everything about them is luxury. This is definitely not your typical treehouse.
Onera is a great place for a couple's getaway or a girls' trip. Depending on which treehouse you book, you could have romantic stay with an outdoor tub or you could have a fun girls' trip with a hot tub out back. And then don't forget to stop by their community area that has a shipping container pool, swings and tables and lounge chairs.
Onera is really about connecting with nature and bringing the outside in. It is definitely a luxury escape from your busy life to relax and just take in all the beauty that Fredericksburg has to offer. Right now there are 8 different properties on the resort, and none of them will disappoint!
Dining & Drinks in Fredericksburg:
Caliche Coffee Bar & Roastery – The coffee here was amazing! This shop was so cute, and the owners have several other restaurants (not to mention 3 kids), and are so impressive. I could have stayed and listened to the owner talk for hours. And with good coffee and food, it wouldn't have been hard!
I ordered the Chilaquiles that consisted of fried corn tortillas, barbacoa, salsa verde, fried egg, pickled onions and queso fresco. It was so good! I cannot wait to come back to Fredericksburg next time and try out even more of their properties like Hoffman Haus, Otto's German Bistro, Tubby's Ice House and La Bergerie.
Twisted Sisters Bake Shop – This little bake and coffee shop was so good on one of our mornings! I got the gluten free spinach and mushroom egg bowl, and it was so good! I make gluten free bowls all the time at home, and this one beat mine by a long shot! it was so yummy, and I loved that they had gluten free options.
Eaker Barbecue – Wow is the first thing that comes to mind when I think of Eaker. This new barbecue spot is on Main Street and has an indoor dining area and an outside dining area. It is Texas barbecue meets Korean, and it is amazing! The brisket was some of my absolute favorite ever along with the creamed corn, Kimchi, cucumber salad and fried rice. Do yourself a favor and try out one of everything. I am already craving this spot again, yum!
Frische Juicerie – If you're a juice fan like me, you've got to swing by this Juicerie. They have so many yummy (and healthy!) juices that are chocked full of good veggies, spices and herbs and fruits. So good! It was a great place to recharge, stay hydrated and get more veggies into our diet before heading back home.
Hill & Vine – This restaurant was one of my favorites in Fredericksburg! It is huge and has several indoor and outdoor areas, so you can find something that works for your party whether you are visiting with girlfriends or bringing the kids.
All the food was so good, and I really loved the decor and vibe of the restaurant both indoors and out. I highly recommend the Santa Maria Smoked Tri-Tip on the menu. It was cooked perfectly and SO good!
Sage – I cannot say enough about this gorgeous new restaurant in Fredericksburg. It is located on the corner just right off Main Street. Both indoors and out, it is upscale and attention to detail was clearly very important at this restaurant.
From the stunning patio out back with a water feature to the gorgeous bar and all the pretty wallpaper throughout, this place is so moody and sexy throughout. Yes, I just said a restaurant is sexy. And after sitting home a lot for the last couple years, this is EXACTLY where I would want to go for a date night with my hubby or a girls' night out for drinks. You will not be disappointed!
West End Pizza Company – This restaurant has a large outdoor area, or you can sit inside too. The pizza was amazing, and they had several gluten free options too. Their drinks were also so good! I would definitely recommend grabbing a pizza with friends, your spouse or with the kids if you're in Fredericksburg.
Fredericksburg TX Vineyards & Distillery:
Becker Vineyards – This has been a favorite vineyard of mine for years. We actually were just at the Georgetown, Texas location last month. We also love their Fredericksburg vineyard and their tasting room on Main Street. It's a must visit!
Kalasi Cellars – This was my first time visiting Kalasi, and I loved the cool vibe of this place. It was in a gorgeous wooden building with lots of windows and natural light. Kalasi is a newer winery, and they feature dry wines. I'm a huge fan of reds, so I loved these wines and their food with an Indian twist!
Messina Hof – This has been a longtime favorite winery of mine and Matt's. The wine is great, the views are so nice, and everyone who works there is always so friendly and helpful. We love visiting all of their locations!
Pedernales Cellars – This was my second time back to Pedernales Cellars, and it won't be my last! We did their grape stomp a couple years back and had a blast! The view from their location is so nice with the rolling hills, and there are lots of pretty places to relax outside with a drink.
Dietz Distillery – This new distillery in town is next to Das Peach Haus and owned by the same family. Inside it has a cool, moody vibe with a pretty fireplace and lots of cozy places to sit. I got the French 75, and it was super yummy! Their gin is great, so if you're a fan, you will definitely want to stop by!
The Best Things to Do in Fredericksburg:
Jenschke Orchards – This has been one of our favorite places to get peaches for years every summer when we come to town. This was my first time to visit in the spring, and I was excited to find out that they now have strawberries too! You can pick your own, and we did! They were so juicy and ripe! This place is family owned, and you'll definitely want to stop and grab some fresh fruit when you're in Fredericksburg.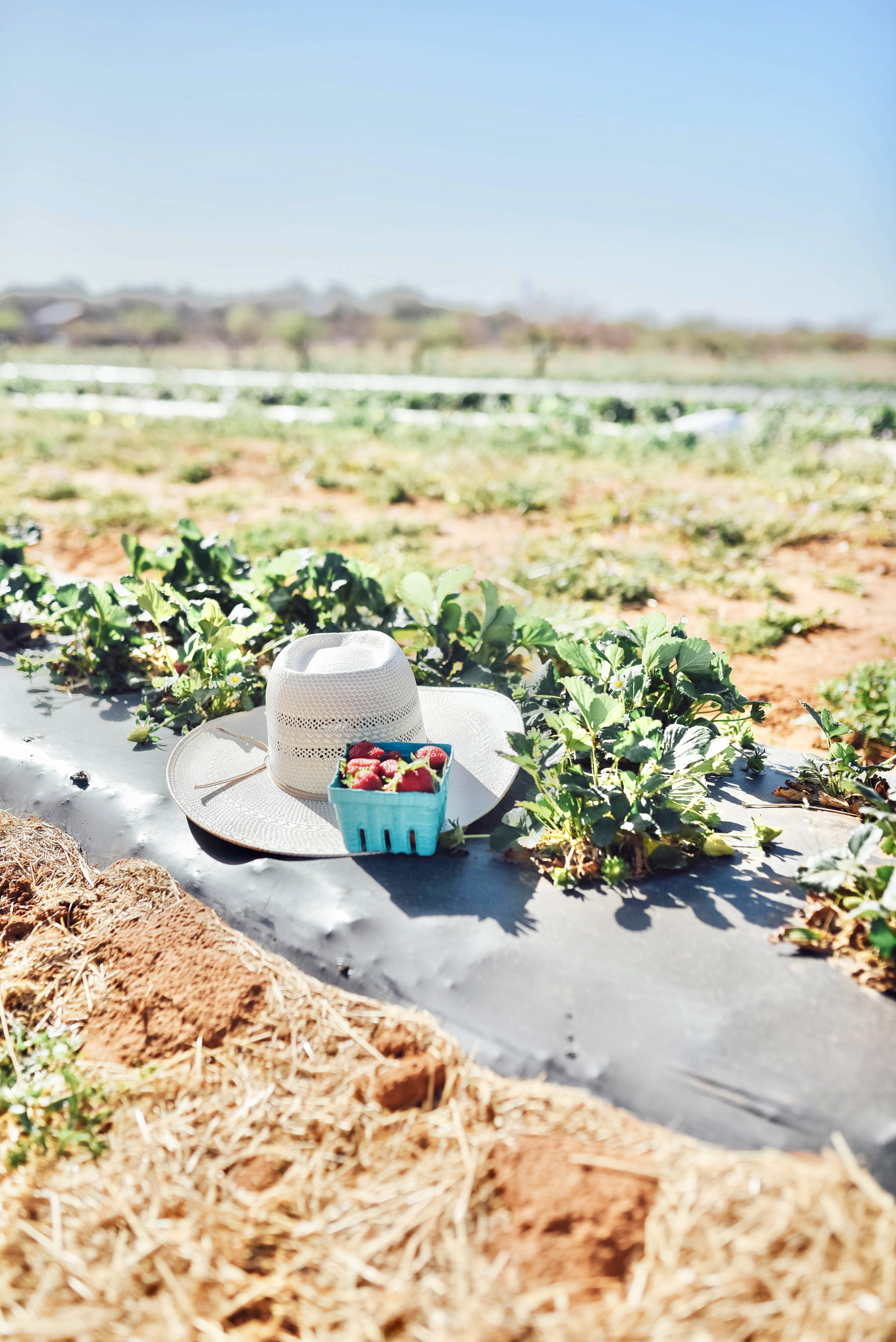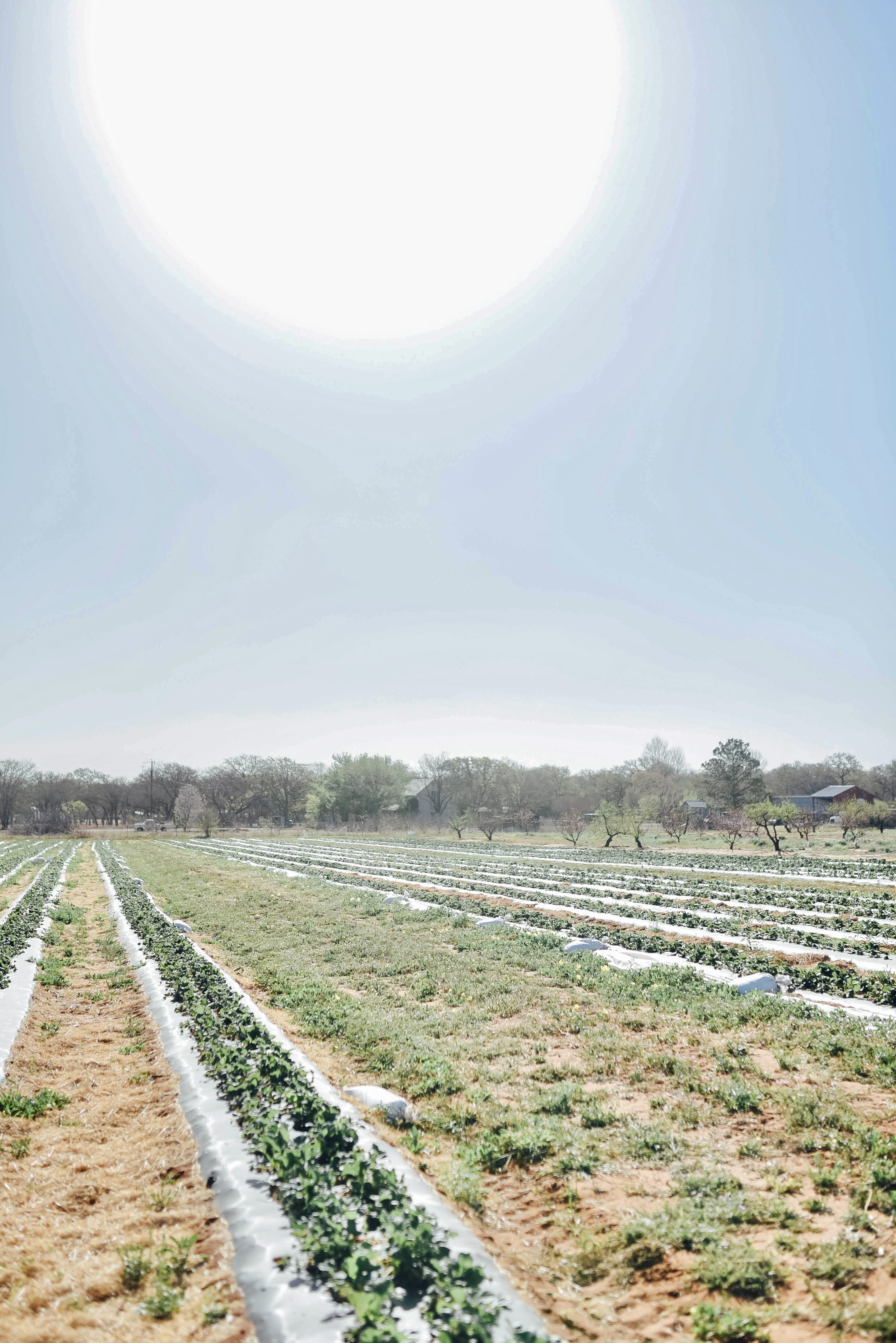 Wildseed Farms – Come take in the gorgeous views of the wildflowers here. From bluebonnets to poppies and more, their fields are gorgeous! They also have a tasting room inside, a spot to grab lunch and a little gift shop. There is so much to see and do here!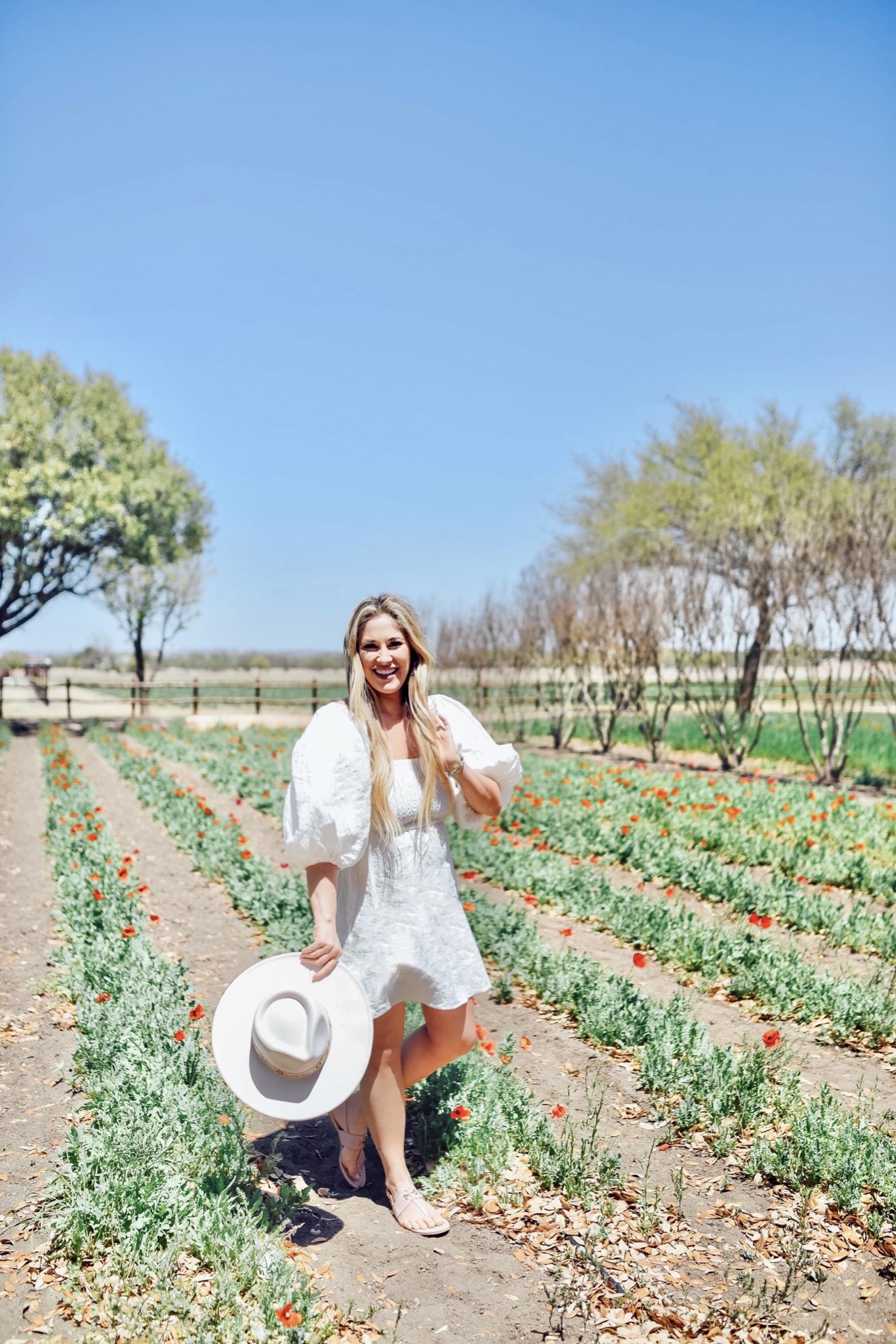 Hike Enhanted Rock – This was hands down my favorite thing I did in Fredericksburg last week, though several things were close behind! It was my first time to hike Enchanted Rock, but it had been on my list for years!
It was just so much fun going for a nice hike with friends. Don't get me wrong, it was definitely a workout, but once we got to the top, the views were gorgeous, and it was so peaceful and relaxing. I would definitely do this again when Matt and I come. And when the kids get a little older, we will be bringing them too because Leighton loves to hike up rocks!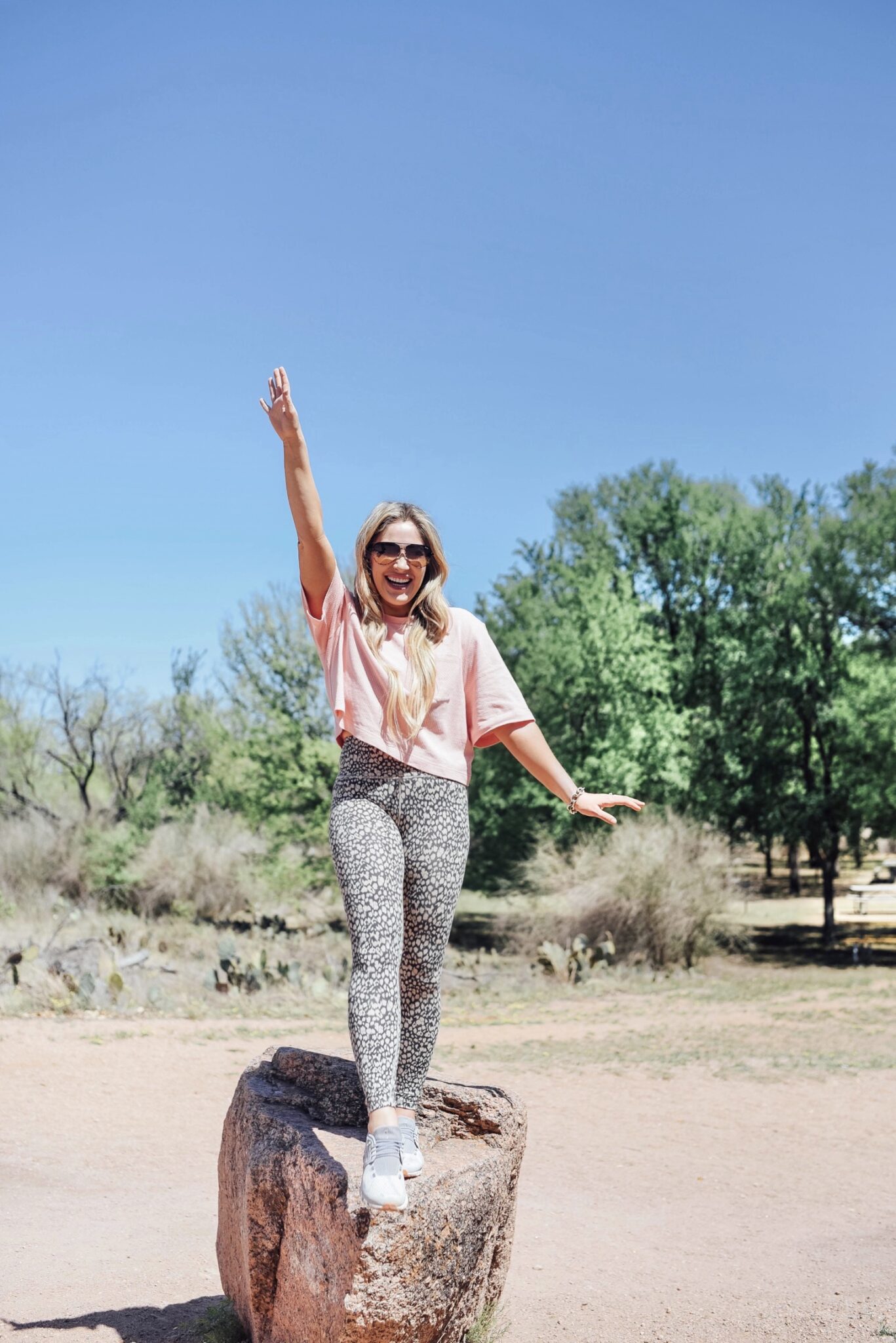 Places to Visit in Fredericksburg:
Fredericksburg Historic Trolley Tour – If your'e wanting to learn even more of the history of Fredericksburg, this trolley tour is a wonderful way to see and hear about it all! We rode all around town learning about the German history and architecture.
We visited several historical homes and buildings, Sundays houses, churches and historical markers. This was definitely a favorite on this trip as it was a great way to see all the gorgeous architecture that the town has.
Lyndon B. Johnson National Historical Park – This Texas White House is gorgeous. Though the inside of the house is closed right now, you can take a virtual tour. And there is still plenty to see and do here! The views are beautiful, and you can still take the driving tour through LBJ Ranch as well to learn all about our 36th president of the United States.
Lyndon B. Johnson State Park & Historic Site and the Sauer-Beckmann Living History Farm – This is exactly what it founds like, a living history farm. This farm has animals and historic homes throughout. We walked around and saw plenty of goats, turkeys and more. The homes were well preserved, and you can see how the settlers of Fredericksburg dressed in the 1800s, while they walk around and take care of the animals and cook.
Next time we come back with all the kids, we will definitely be stopping by here also. Though it doesn't seem that far off to me, I want my children to see what life was back in 1846 without all the technology and convinces we have today. And I just know they would love seeing all the animals too!
Pioneer Museum and Vereins Kirche Museum – Located right on Main Street, this is such a cool museum to walk around and tour and learn all about the town's German heritage. They have historic buildings that were donated by the founding families in the county. They even have a Sunday house you can walk around and look in.
As many times as we had been to Fredericksburg, we had never visited this museum. It was really cool to learn more about the town's history and see what life was like in Fredericksburg back when it was founded.
The National Museum of the Pacific War – This museum does a wonderful job educating visitors about World War II in the Asiatic-Pacific theater. This museum has a George H. W. Bush Gallery, Admiral Nimitz Gallery, Plaza of Presidents, Japanese Garden of Peace, Memorial Courtyard and the Pacific Combat Zone.
Shopping in Fredericksburg TX:
Buddylove – A favorite clothing store of mine for years, they just opened their Fredericksburg location. Of course I just HAD to stop in and pick up a couple things! They sell women's clothing, and they even have some matching little girl pieces too. = )
Das Peach Haus and Fischer & Wieser – This was another favorite on our last trip to Fredericksburg. I had never been to either of these, but you better believe I have been buying Fischer & Wieser products for years! Their Raspberry Chipotle sauce is amazing!
They sell so many things from jellies to sauces to dips, and they even having a cooking school that is open now. We had a wonderfully cooked dinner from there on our last night, and everything was so good and fresh. And the view out the back door was just amazing!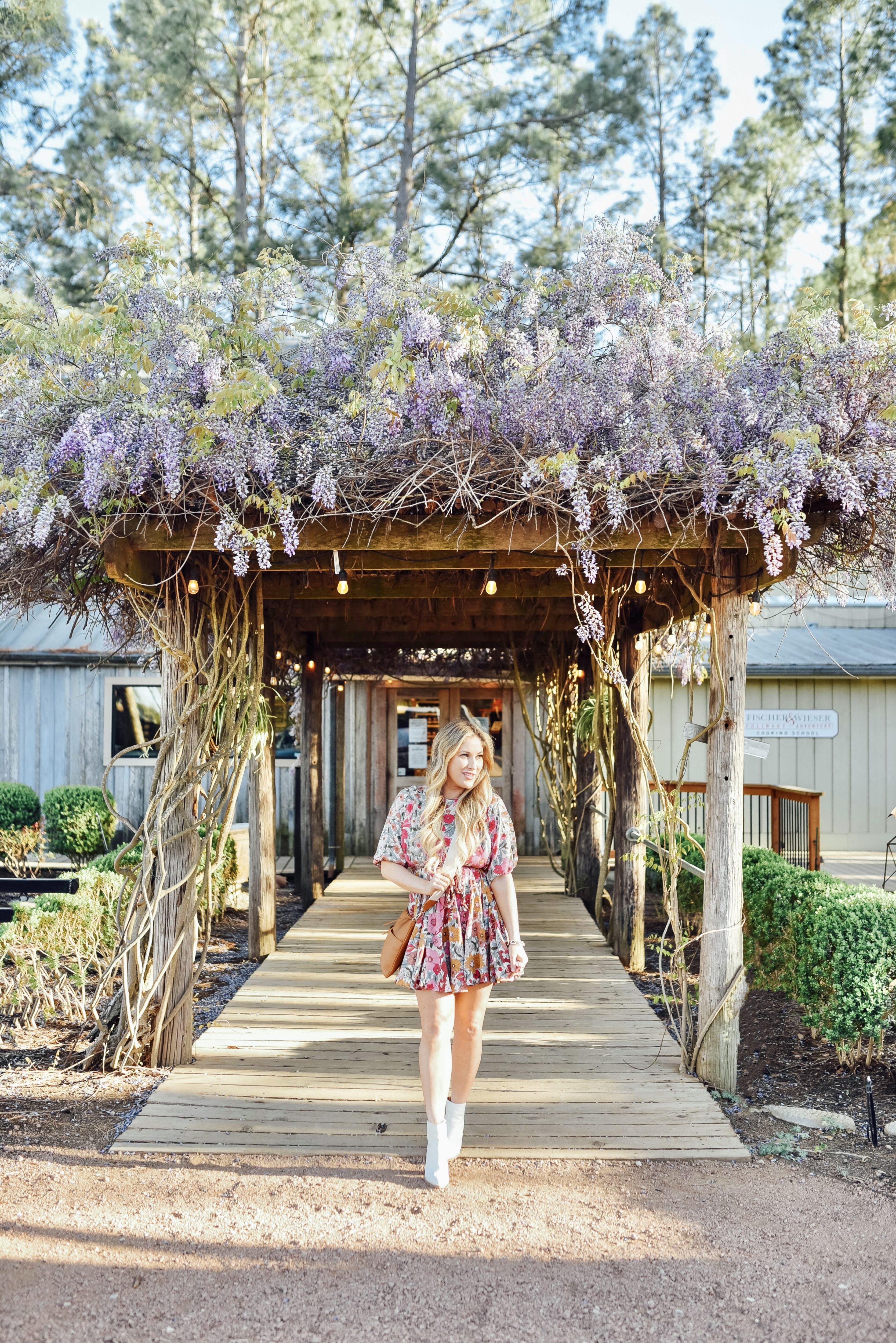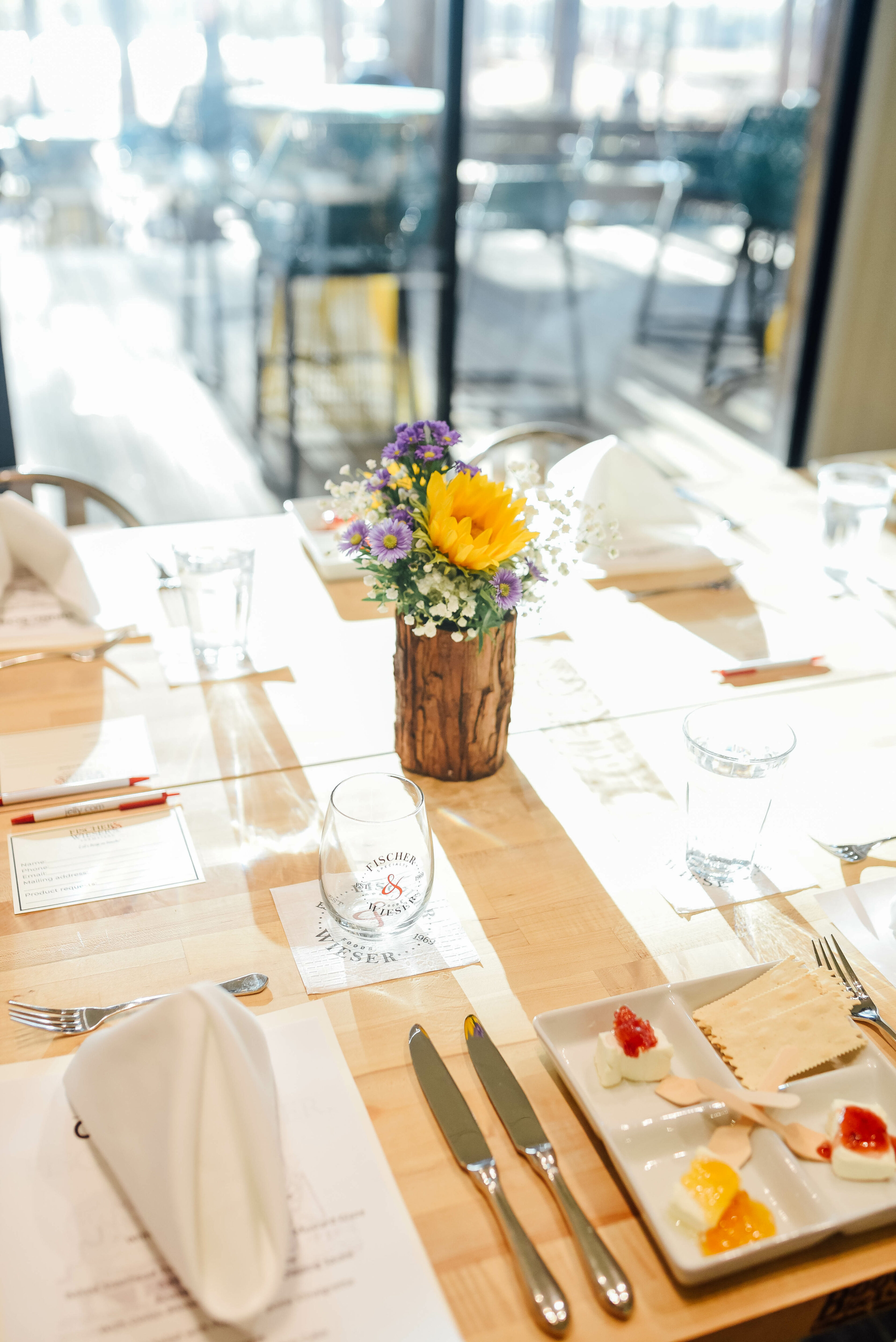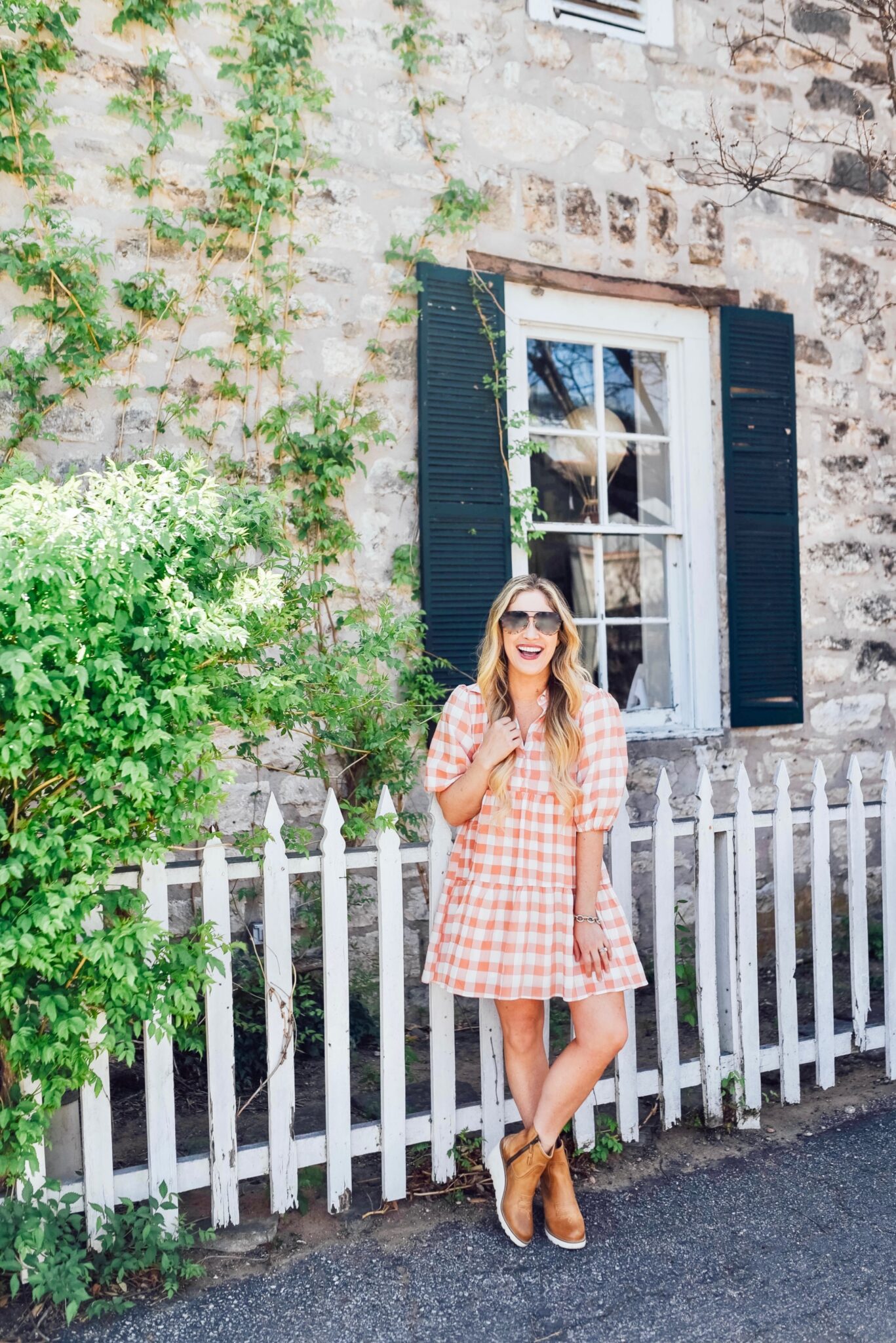 Felt Boutique Hat Bar – This cute little boutique not only had tons of cute clothing and dresses, but they had a really cool hat bar you could make an appointment at. How cool!
Fredericksburg Natural Baby – If you have kids, this is the perfect shop to stop at and get some toys or even clothes for your little ones.
James Avery – I always have to add James Avery onto my list. I love their jewelry, and this location is such a pretty store right on Main Street.
Flying Cow Natural Skincare – This was my first time to stop at this store, and I'm so excited to try my Frankincense Lavender Tallow I bought! This store is family owned, and all the products are handmade.